Kellyanne Conway Reveals Why Donald Trump Once Considered Quitting The Presidential Race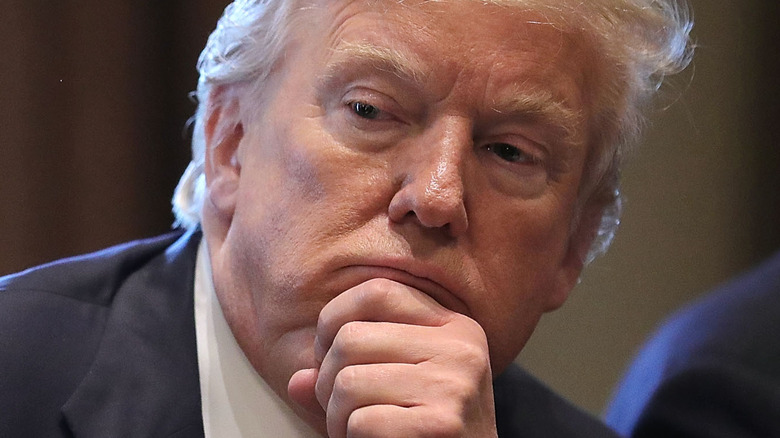 Chip Somodevilla/Getty Images
Despite everything we know about a potential 2024 Donald Trump campaign, it remains to be seen whether the controversial politician will choose to run again when the time comes. He certainly enjoys teasing fans and haters alike about the possibility, with Trump casually describing himself as "the '45th and 47th' President of the United States" while playing a round of golf, back in January (via Instagram). Prior to that, he told Fox News it would probably be after the midterms before he confirmed his plans either way. 
As USA Today notes, Trump continues to maintain the 2020 election was stolen from him by current President Joe Biden. For his part, Biden reckons it would be a stroke of luck if his former rival threw his hat in the ring. "[In] the next election, I'd be very fortunate if I had that same man running against me," Biden remarked during a March press conference. Per The Independent, Trump has been consistently fundraising for a potential campaign run ever since leaving the White House and remains confident he could easily win again in 2024. 
But, if former adviser Kellyanne Conway is to be believed, Trump doesn't have as strong of a stomach for politics as he'd have us believe — particularly when his own, dodgy behavior is under the microscope. 
Kellyanne Conway had to convince her boss not to quit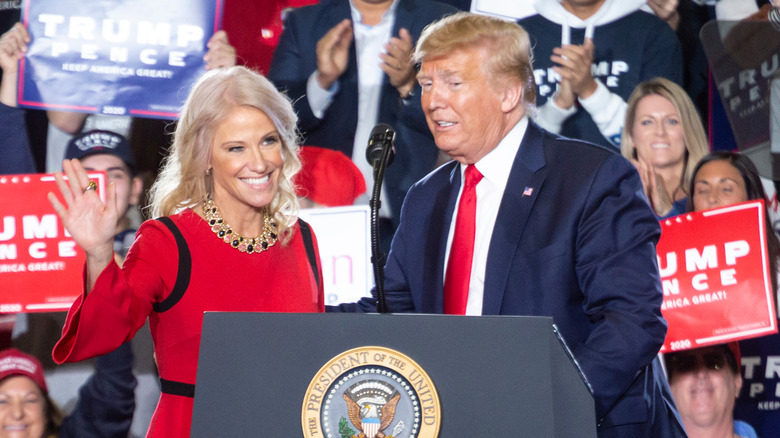 Benjamin Clapp/Shutterstock
Although he didn't seem to be sweating it at the time, according to Kellyanne Conway, former President Donald Trump was so thrown by the release of the infamous "Access Hollywood" tape that he considered dropping out of the 2016 race entirely. Conway made the shocking revelation in her new memoir, "Here's the Deal." According to the Daily Beast (via Business Insider), Trump's former campaign manager/senior adviser shared how she sat with her boss brainstorming how best to handle the situation. Trump was caught bragging about sexually assaulting women during an interview with Billy Bush, reasoning that he's allowed to behave however he likes thanks to his celebrity status. 
Bush recently revealed what life was like after his lewd conversation with Trump went public, admitting his career never recovered. According to Conway, the then-candidate worried he'd be squeezed out by prominent Republicans, many of whom condemned Trump's behavior at the time. However, in the midst of his crisis of conscience, Trump's buddy counseled him to stay in the race or risk handing it to his opponent, Hillary Clinton. "I know you don't like to lose, but I also know you don't like to quit," Conway told him, which seemingly helped convince Trump to keep going. USA Today notes her book also takes aim at the former presidential adviser's husband, George Conway, who denounced Trump. 
Conway's book deal is worth a reported seven figures, so she's fully expected to spill the tea.