All The Celebrities Who Have Been Blacklisted By Ferrari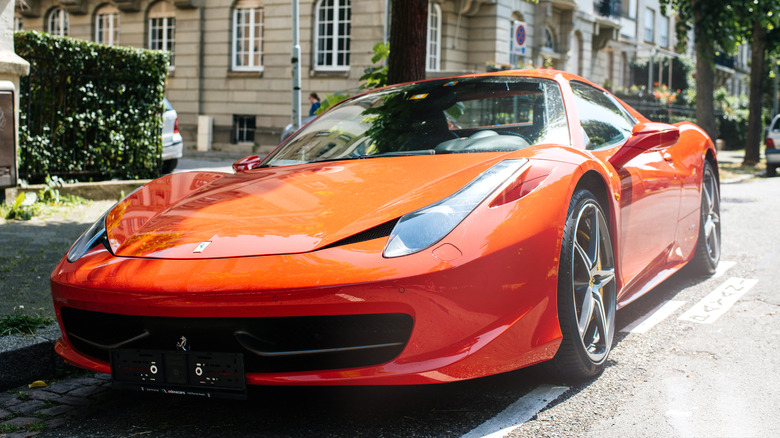 Hadrian/Shutterstock
Ferrari is a luxury sports car brand with high standards. Those standards extend beyond craftsmanship and include expectations of owners of their limited-edition models according to Auto Evolution. When it comes to the luxury limited series, expectations of new owners are rumored to include a background check; buyers must also make specific commitments such as agreeing not to sell the automobile within the first year of ownership, not to co-own a Ferrari with a rival Lamborghini, and not to make any significant alterations or customizations to the car. 
Simply getting on the limited Ferrari "list" is an achievement in itself, as businessman and supercar owner Robert Herjavec explained to Wired. "People assume that it's a financial decision, whoever has more money gets one. The reality is... they use it as a reward for people who are loyal to the brand." For those that don't follow these expectations, the result is that you likely won't get another special-edition Ferrari. While the brand has said they don't "blacklist" persons from ownership, they shared with Marca that Ferrari "reserves the right to decide on special editions." 
So, which celebrities have reportedly lost their reservations to this exclusive owners club?
Kim Kardashian allegedly cannot buy special-edition Ferraris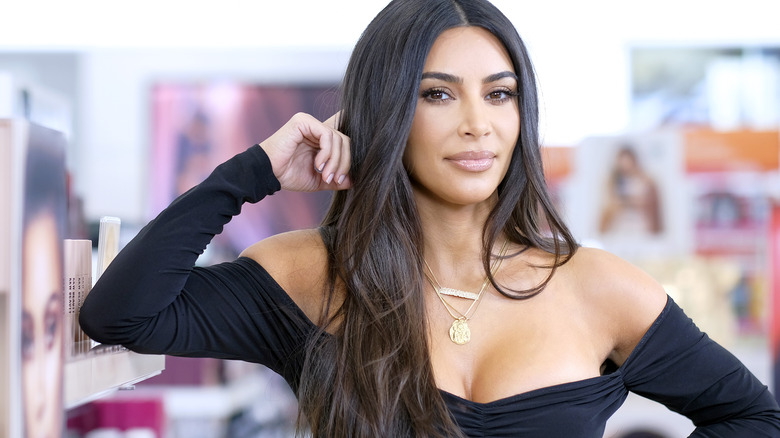 Dimitrios Kambouris/Getty Images
Owning a special Ferrari is a privilege, not a right. And it's a privilege that is not offered to all celebrities. Most recently, Kim Kardashian made headlines regarding a reported ban on Ferrari ownership. Ferrari clarified this ban is only related to exclusive models and special editions and noted the reality star can still purchase series models, according to Marca. If we had to guess, this limitation may be due to either her Lamborghini ownership or her known habit of color-wrapping her cars, according to PopBuzz. 
The car brand doesn't seem to be a great one for the Kardashian/Jenner clan. Mega fans might recall that Kylie Jenner and Tyga found themselves in the middle of their own Ferrari debacle back in 2017 (via CapitalFM). They made headlines after Tyga's ride was reportedly repossessed due to alleged lack of payment on the lease before being ultimately returned to the musician. Hot Cars noted that he's also allegedly banned from buying from the brand. At this point, one might hope the famous family is finally learning Ferrari's strict rules. That or they've found other car brands to buy from, instead.
Justin Bieber is another celebrity with a reported Ferrari ban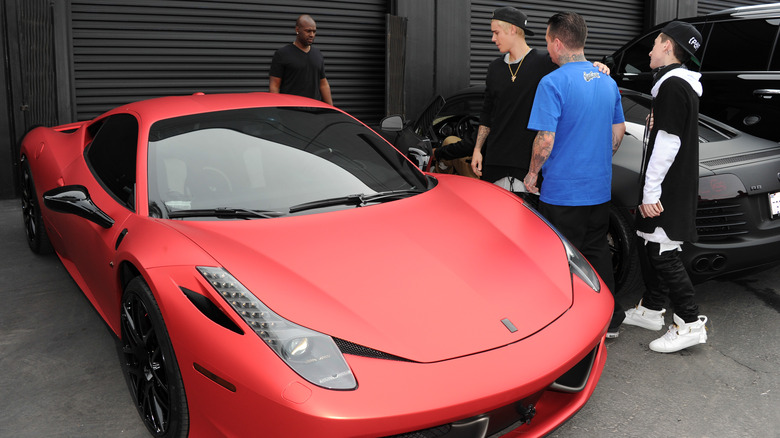 Allen Berezovsky/Getty Images
The Kardashians aren't alone when it comes into running into issues with Ferrari. One of the more famous cases of a Ferrari ban is probably Justin Bieber. The "Baby" crooner made headlines for customizing his 2011 Ferrari F458 Italia to a vibrant blue before selling it at auction in 2017 according to The Sunday Times. Making matters worse, Marca noted that the hitmaker reportedly couldn't remember where his car was parked once for two weeks.
Who else is on the rumored ban list? Journalist Chris Harris is reportedly not big with the brand after writing a 2011 article calling out thier journalism practices, according to Hot Cars. Floyd Mayweather's habit of quickly reselling cars reportedly grabbed Ferrari attention. Both Blac Chyna and music producer Deadmau5 have allegedly been dinged for colorful car wraps. Rapper 50 Cent reportedly upset the brand by speaking poorly about his ride, and actor Nicolas Cage caused offense after running into financial struggles that had him auctioning off his car collection.