Which RuPaul's Drag Race Queens Appeared In Lizzo's Music Video?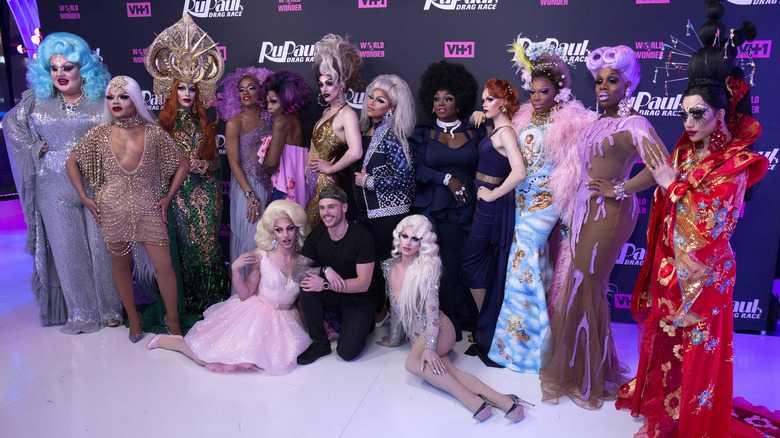 Santiago Felipe/Getty Images
"RuPaul's Drag Race" is the biggest reality show in the world right now, to the extent "Drag Race" switched up the prizes for Season 14, giving both the winner and the runner-up more money than ever before. Per Deadline, the Season 14 premiere marked the highest ratings the show has received since 2018, which is no small feat considering it's been going since 2009. There are a whole bunch of elements that make "Drag Race" what it is, from the crazy challenges to the inimitable host and, of course, the queens themselves.
And sometimes, the guest judges make just as much of an impact. Take Lizzo, who was first featured in Season 10. As she excitedly told Gay Times, "me and RuPaul were kind of matching on the show; we were very cute, we totally coordinated." Lizzo watched bottom two Kameron Michaels and Monét X Change duke it out during the iconic "Drag Race" lip sync battle, to "Good as Hell," describing the moment as "surreal" and "an extra bonus" for her career, enthusing, "They were just going for it, and I was living for it." 
Clearly, appearing on the hit reality show had a major impact on Lizzo, and not just because she now feels the need to look her absolute best at all times. When it came to doing a redux video for her track "Juice," the beloved pop star knew exactly where to turn.
Juice featured several Drag Race icons
Lizzo isn't one to do things by halves. So, when it came to releasing a second music video for her hit song "Juice," the beloved superstar enlisted the help of several of the most iconic queens in "RuPaul's Drag Race" herstory. Namely, per Spin, A'keria C. Davenport, Asia O'Hara, Detox, Morgan McMichaels, Kylie Sonique Love, Mayhem Miller, Mariah Paris Balenciaga, Silky Nutmeg Ganache, and Soju all showed up to eat fruit and lip-sync to perfection alongside Lizzo. "I TRIED TO DEEP THROAT A BANANA AND ALL I GOT WAS THIS LOUSY MUSIC VIDEO!" she wrote, while sharing the clip on Twitter.
The video, which was directed by Pete Williams, according to Pitchfork, was created in conjunction with "Drag Race" production company World of Wonder, so clearly, Lizzo made a major impression on them, and vice versa. Moreover, per Gay Times, Lizzo is an outspoken fan of the show and has been for years. The YouTube comments are filled with fans losing their minds over the collaboration, with one writing, "Lizzo is so cute and was such an amazing guest judge on drag race, probably the best one so far." There were also several calls for her songs to be used in forthcoming lip-syncs.
Lizzo has a lengthy history with the beloved reality show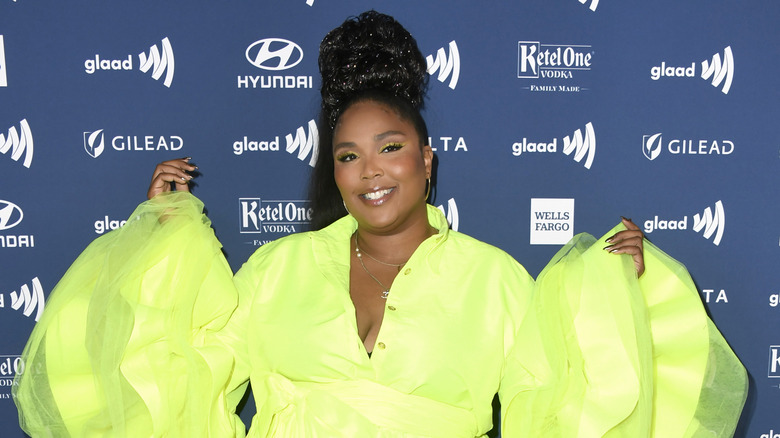 Frazer Harrison/Getty Images
It's not too surprising Lizzo featured several notable "Drag Race" alumni in her music video since the flutist is on record as a longtime fan of the hit show. The feeling is clearly mutual, too. During the Season 14 premiere (via YouTube), Lizzo stopped by the "Werk Room" to surprise the queens and even offer some sage advice for surviving in Hollywood. The "Juice" hit-maker told the excited participants, "Your life is about to change forever so just embrace it, soak it up, be a mother****ing star." Fans were similarly living for her appearance, with one tweeting, "Loved hearing @lizzo introduce herself on #DragRace as if we all don't already live for her," while "Drag Race Canada" star BOA joked, "I really hope @lizzo wins this season of @RuPaulsDragRace." 
Lizzo's support didn't end there, either. In an interview with Entertainment Tonight, it's noted that Lizzo was rocking some merchandise from Season 13 winner Symone. The "Drag Race" victor admitted, "It's kind of surreal, because it's like, you always hear the stories of the other queens getting fans, but at least for me, I was like, 'oh, these girls see me?! They're repping me?! They know the Ebony Enchantress, darling!'" Symone added, "I'm always just humbled by it. I don't know, it's probably a boring answer. But it really surreal, because it's, like, these people are loving what you're doing. That's crazy." Evidently, Lizzo's love of "Drag Race" runs deep.