Anne Hathaway And Zendaya Are The Famous Duo Twitter Didn't Know It Needed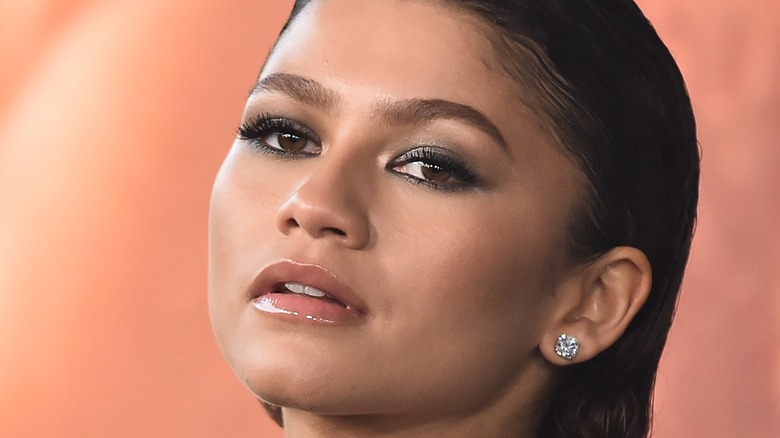 DFree/Shutterstock
Bulgari's new campaign is called "Unexpected Wonders," but it turns out the stars of the ads are unexpectedly the famous pairing Twitter is obsessed with. You may never have put the two actresses together but somehow, it works. We're talking about Anne Hathaway and Zendaya, who appear in the campaign for the luxury brand and are making people inexplicably happy.
Remarking on the YouTube video of the new ad, one person commented, "bulgari continues to give us iconic female pairings in their commercials and i liveee for it." Likewise, someone else simply said, "ANNE X Zendaya? TOTAL MAJOR YES." Over and over again, fans noted that the stars, who are seemingly from different worlds, just work together in Bulgari's ad.
Over on Twitter, this sentiment was agreed with, as fans weighed in about pairing the 39-year-old star of "The Devil Wears Prada" with the 25-year-old "Euphoria" actress. And judging from their comments, we can confirm this duo is giving folks something to smile about today.
Some fans consider the pairing of Anne Hathaway and Zendaya literal art
Although we can't explain why precisely, Twitter is overwhelmingly in favor of Bulgari having put Anne Hathaway and Zendaya together for their new ads. As one person commented, the stars appearing on screen together in the short "film" is "something i definitely needed." Someone else acknowledged the stars working together filled a void they never knew existed.
Other Twitter users took their obsession with this new duo even further, with one person declaring that the two women together in the same frame must be considered art! Another fan swore the ad featuring the gorgeous Hollywood fixtures made their entire year. Many fans started campaigning for the actresses to make a movie together based on seeing them in this clip.
Meanwhile, according to Cloud News, another iteration of this campaign will feature Priyanka Chopra, "The Transporter" star Shu Qi and K-pop star Lisa, combinations of celebrities that fans are equally excited to see in action.