Here's Where Jen Psaki Will Work Following Her White House Gig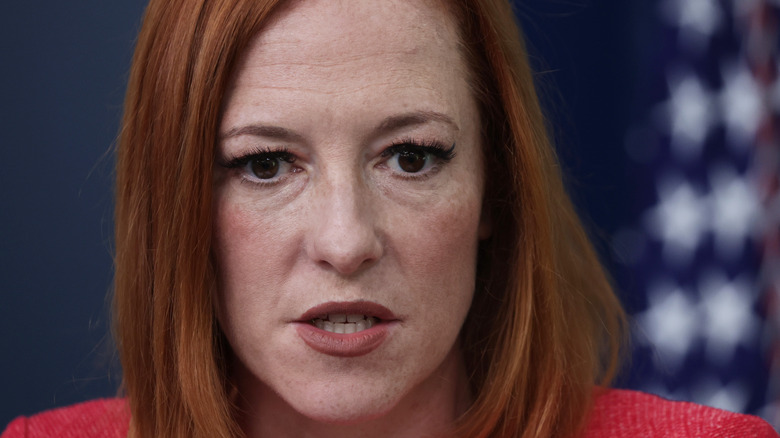 Alex Wong/Getty Images
As of May 13, 2022, Jen Psaki no longer worked at the White House. The former press secretary had long been rumored to be heading over to MSNBC to take on a role commentating, but now we officially know what the staffer will be doing as she transitions her career.
CNBC confirms that Psaki indeed has landed at MSNBC following her stint in the Biden White House answering tough questions and tussling with the likes of Peter Doocy. The network's president, ​​Rashida Jones, confirms that Psaki will host her own show and that MSNBC and NBC have plans to use her for election coverage this year and in 2024.
Jones explained her confidence in the soon-to-be TV host in a statement, saying in part, "Jen's sharp wit and relatability combined with the mastery of the subjects she covers have made her a household name across the nation." The network exec further noted that the former staffer's status as a Washington insider means she will be an important asset to MSNBC.
Jen Psaki finally confirms the news
Alex Wong/Getty Images
AOL reports that viewers can expect to see Jen Psaki on their TV screens via the streaming service Peacock beginning in the fall, although the new program she'll helm is not launching until 2023. Details are scarce about exactly what the show will entail, its format or even the name of the program as it is still "under development."
Meanwhile, taking to her Twitter account, the 43-year-old, who handed over her White House role to Karine Jean-Pierre, shared her excitement over her new position, writing on Tuesday, "Thrilled to join the incredible @MSNBC family this fall." The famous redhead further noted, "Breaking down the facts and getting to the bottom of what's driving the issues that matter most to people in this country has never been more important."
While many Twitter users simply congratulated Psaki and shared their enthusiasm for seeing her soon in this new capacity, others couldn't help but point out that it's time for the soon-to-be news host to ask the Biden administration tough questions.