How Nick Jonas And Priyanka Chopra Make Their Marriage Work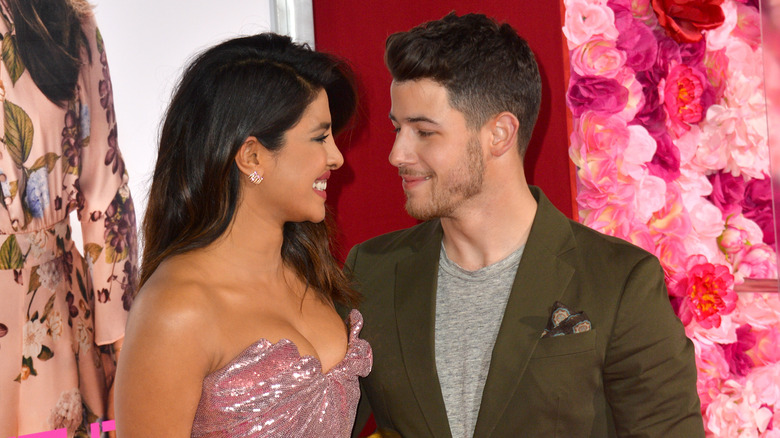 Paul Smith/Featureflash
The Jonas Brothers' Nick Jonas and his wife, actress Priyanka Chopra, have a pretty unusual marriage. Once they met one another at the 2017 Vanity Fair Oscars Party after exchanging Twitter DM's for a year, they spent much of their blooming relationship long-distance. After dating officially for only two months, Jonas proposed in 2018, leaving Chopra speechless.
Since tying the knot, the two have spent much time apart as they focus on their respective careers. The Matrix Resurrections star candidly told People in a late 2021 interview, "We know each other's hearts, and we prioritize each other in everything that we do. We've had individual careers, and we're both very clear about never interfering in each other's professional lives because we're always partners and assets."
Chopra also said to People that the two of them constantly talk through the distance. "This year was hard for me being in London. He would just drop everything — come in for even, like a day — just to have dinner with me and fly back. Stuff like that, you just have to prioritize each other, and then everything feels right."
New addition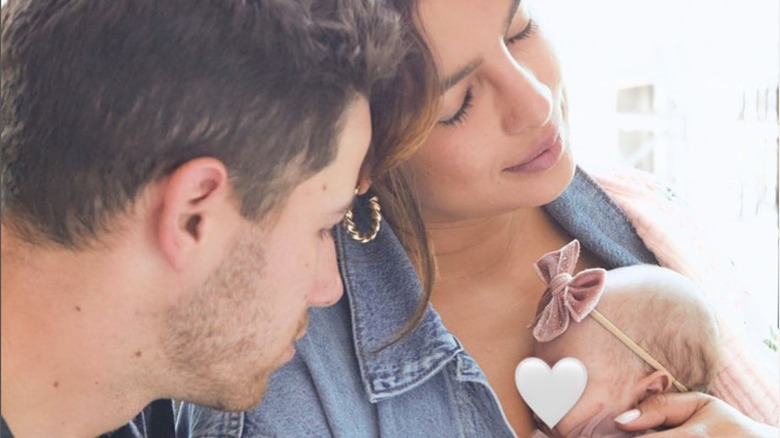 Instagram
Earlier this year, the two stars welcomed their first baby, Maiti, via surrogate. On May 18, Jonas appeared on The Tonight Show with Jimmy Fallon and spoke of his wife's first Mother's Day with their daughter, including buying a citrus tree and learning how to plant it via YouTube. He spoke of how the tree represents "new life and new things growing — and the beauty of citrus trees." Garnering a laugh from Fallon.
Maiti spent 100 days in the neonatal intensive care unit (NICU), and Jonas spoke on social media about how he feels about becoming a father and Maiti coming home in time for Mother's Day. In an Instagram post, the singer wrote, "...we can't help but reflect on these last few months, and the rollercoaster we've been on, which we now know, so many people have also experienced. Every family's journey is unique and requires a certain level of faith, and while ours was a challenging few months, what becomes abundantly clear, in retrospect, is how precious and perfect every moment is."
They make it work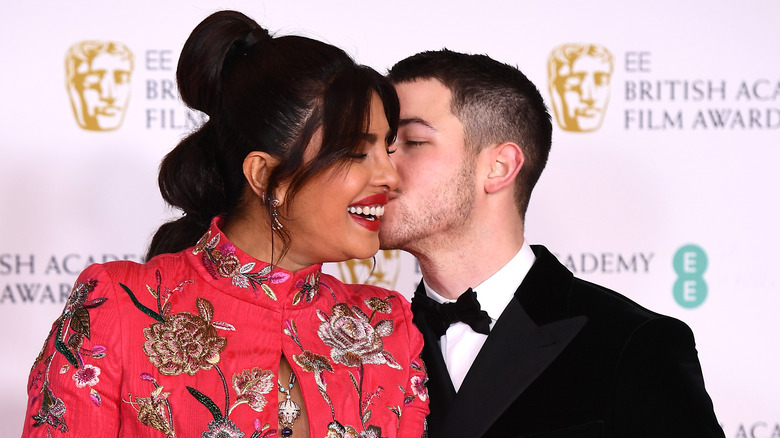 Jeff Spicer/Getty Images
However, through the distance and a new baby, the couple has found new and different ways to spend time together. On Victoria's Secret's first podcast episode in October 2021, the Indian actress told VS Voices about how she joined Jonas on tour in Europe. "I'm used to being in trailers that don't move, right? As an actor, you're not supposed to sleep in a trailer, eat in a trailer. Like, I only know that you do that on a road trip, not when you're working and have to wake up and do your job," she continued. "But my husband was convincing, and we did it in Europe, and I was like, 'This ... is so amazing.'"
So, while the couple may have started in a slightly unconventional sense, they continue on that path. Through distance, however, they have never let their love fall apart. With Maiti and the hopes of growing their family even larger, Jonas and Chopra are taking things one step at a time and with each other constantly in mind.
"But I think at the same time, it's very important to keep a check on another person's heart and how they're feeling. And I have to say, my husband's amazing at doing that."