The Most Hilarious Maid Of Honor Speeches Ever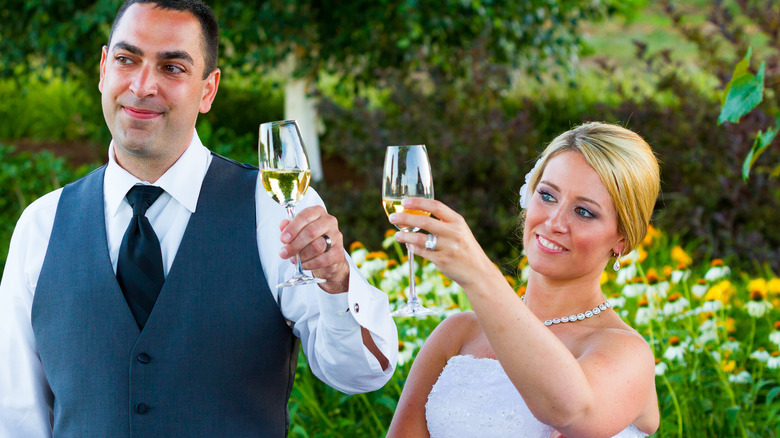 Shutterstock
We have all found ourselves at a wedding where the speeches and toasts just seemed to drag on. Either they're full of inside jokes to which we can't relate, the maid of honor or best man is clearly out of their element, someone is drunk beyond belief, or they just don't know when to call enough enough. If you're lucky, you've hopefully also been able to witness the opposite, where the speech is so good you're left in stitches from laughing so hard or wiping tears from your cheeks from the sweet message. 
While we may often think the best man is more likely to give the funny speech and the maid of honor to leave us tearing up, don't discount the maid of honor's ability to get the whole room laughing. I found some of the most hilarious maid of honor speeches and needless to say, next time I'm given the title, there's a lot to live up to!
Let's just set the bar low
"When I first sat down and started thinking about what I wanted to say here tonight, I kept thinking to myself, 'I can't believe Erin is getting married in less than an hour,'" said this maid of honor as she starts out the speech at her sister's wedding. 
What makes this speech especially funny though, is the nonchalant manner in which all of the jokes are told. She goes on to say how nervous she is and how she's trying the trick they were given in high school to picture the audience naked. "Yeah, it's not working," she said. "I'm still really nervous, and now I kind of want to puke."
As she goes on to welcome the groom into the family, she makes sure he knows how hard she's worked to set the bar low and hopes to keep it that way. "You remember that and we'll get along just fine," she advises.
Roasted and toasted
If you have ever been a maid of honor, then you know that the job consists of a lot more than you may have originally thought. Allie Cohen's sister, Shay, points out at the beginning of her hilarious speech, there's a lot more that goes into planning a wedding and oftentimes you're commanded into your role rather than simply asked.
When the mic is handed over though, it's all in the maid of honor's hands, regardless of the requests that the bride may have made earlier. In the case of this speech, the roasts and digs to the bride kept coming! "When I say I've learned a lot about who Allie and I are, I mean that I personally could care less about what the difference between a peony and garden rose is," she said, "but Allie does!"
You snagged a hubby and I don't know how
Just to get this hilarious speech started on the right foot, the maid of honor and little sister to the bride starts by calling her sister the wrong name. If you're hoping to break the ice and reduce the nerves, getting the crowd in a fit of laughter may just be the way to do it. Since talking in front of people can be a bit scary, why not toss your note cards to the side and instead just break into song?
This speech is a mash-up of a few songs you'll recognize like The Fresh Prince of Bel-Air theme song, "Popular" from Wicked, and "I'm Yours" by Jason Mraz, with new lyrics just for the bride and groom. It's hilarious, sweet, and definitely worth keeping a few tissues nearby just in case. 
Let's dance, dance, dance
When it comes to writing your maid of honor speech, chances are you aren't writing it for a hopeful standing ovation, but rather you're just looking to make it extra special, especially if you're like this maid of honor, Jess, writing for her one and only sister. What comes of this speech though caught everyone by surprise and was so hilarious and amazing that it earned her a standing ovation at the end.
If you know Justin Timberlake's "Can't Stop the Feeling," then you will definitely understand how this maid of honor earned her praise. "Cheers to Chases! Let's dance, dance, dance!"
When your sister does standup
When your sister is a stand-up comedian, it should come as no surprise that you and all of your guests will be left in stitches. "I want to start off with a little disclaimer," said maid of honor Adriane Hamilton. "A lot of you are aware that I do stand-up comedy, so I'm sure there's probably a level of expectation that I'm going to come up here and just like Richard Pryor the heck out of this thing." She goes on to say, "I'm not going to do that, mainly because I think it would be in poor taste to light myself on fire at my little sister's wedding."
Does she light herself on fire? Definitely not, but does she kill the speech? Absolutely.
Girls just want to have fun
As the youngest sibling in my family, I can't relate to the excited anxiousness this matron of honor felt when awaiting the arrival of her baby sister, but as she points out in the video, she was late. "She wasn't just late, she was nine days late!" she said. "Do you know how long nine days is for an almost three year-old?"
She goes on to tell the story about how on the evening of the eighth day, her mom picked her up and they danced around to Cyndi Lauper's "Girls Just Want to Have Fun" and the next morning, her little sister came to join the fun. I think it's safe to say after watching this video, the fun continued all through her hilarious musical speech!
Hopefully she doesn't pass out
"I am Katie's maid of honor, so for all you single guys, maid means that I am single so find me later," said Sara Snyder as she started her speech at her best friend's wedding. She went on from there to point out that her friend ended the bio on their wedding website making note of her hope that Snyder wouldn't pass out during her speech. In order to avoid the need for paramedics to make an appearance at the reception, she resorted to plan B, a hilarious and personalized rendition of Taylor Swift's "Love Story."
Everybody just toast with me
There seems to be a trend with hilarious speeches including musical renditions, remixes, and mashups, but does anyone have what it takes to rap their way through their speech? Jennifer Gabrielli proves that she definitely does. "There's going to be a lot of toasting, get your glasses ready," she forewarns everyone. 
If you have ever heard Eminem's "Without Me" then you will definitely enjoy this interpretation. "This looks like it's meant to be so everybody toast with me, raise your glasses if you're thirsty, cuz tonight we're here to party," she sings. 
If she wasn't funny enough on her own, take note of the guy getting the black hoodie ready. This guy had one job!
You are right
When giving a maid of honor speech, it seems that someone always has an opinion or request. For this speech, the maid of honor makes note of her mothers requests. "My mom told me two things: don't burp and don't curse," she said. "Well mom, you get one thing, I'm not gonna burp."
She went on to mention how it's hard to come up with anything else to say about her sister that her parents hadn't already said, "because she really is the favorite, I mean, ideal child." As she continued on with her speech and all of the sweet things that her sister has taught her over the years, she looked the groom directly in the eyes and reminded him to say those three special words every single day, "you are right."
Let's slow jam this toast
If you are a fan of Jimmy Fallon and his "Slow Jam the News" on The Tonight Show, then you are going to love this maid of honor's slow jam the toast for her speech. She pulls up the brother and cousin of the bride to join her in this hilarious performance! 
"Little cupid must have been in the air that night because his arrow found his sight," said Kevin, the brother of the bride. As the maid of honor takes the mic back she says, "Let me skip ahead a few years, you know, Leesha and Paul were living their life young, happy, and free, when all of a sudden Leesha fell ill with a case of pregnancy. Nine months later, here comes V, the perfect little baby who calls me D." 
Just in case you're not sure, they will make sure you know that this is how you slow jam the toast!
Memorable moments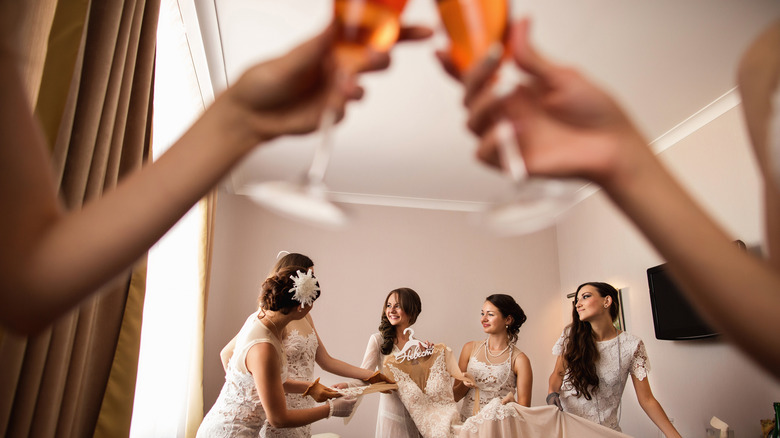 Shutterstock
While it may be tempting to try to recreate these amazing speeches, don't worry about trying to be the funniest person in the room if you have a speech to give and this isn't your style. If you're more of the sweet and sentimental person, own that and remember that regardless which route you take with your speech, the bride and groom chose you to stand next to them on their special day creating such beautiful memories.