The Average Cost Of An Engagement In The US Will Leave You Stunned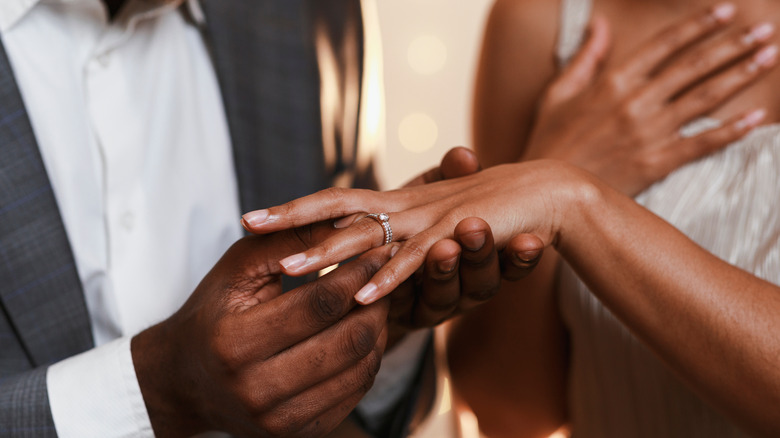 Prostock-studio/Shutterstock
Marriage in America seems to be changing, and the statistics don't lie. Though it may not come as a surprise that marriage over the last century has changed, Pew Research data revealed that marriage in the United States rate has declined and divorce rates have increased among older Americans. This is interesting, as the research also shows that the number of American adults co-living with a given partner is increasing. In spite of the scientific data of how people are either choosing to legally bind their love, there's no doubt that marriage has its benefits. 
That being said, engagements are still coveted in America. By the looks of YouTube, certain over-the-top proposals in international locations like Dubai rack up millions of views because who doesn't love a good heartfelt moment where love is both declared and celebrated?
Since luxurious engagement proposals are nothing new, as they do make for popular content, it doesn't come cheap. In fact, in 2013 The Atlantic reported that extravagant proposals can cost more than the actual wedding itself. All things considered, here's how much the average proposal costs in the United States.
The average cost of a marriage proposal in America is close to $10,000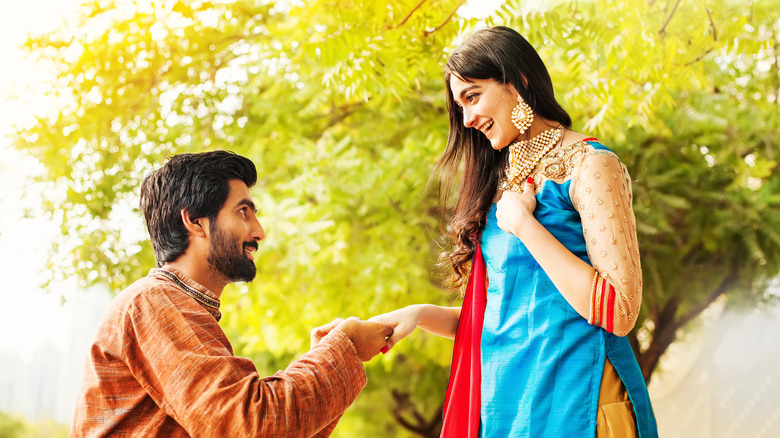 Mila Supinskaya Glashchenko/Shutterstock
You've done the blind dates, the endless swiping, the "introduction by a friend," and so many other cringeworthy firsts in the pursuit of romance, and now you've finally found your match. So it begs the question: When will the question be popped? Of course, deciding to spend your life with someone is a huge step to take, but it's not the only commitment that is a part of the proposal day in question. Aspects like a professional photographer (hidden out of sight, of course), a videographer, the ring, and dinner following the big moment, are all to be taken into account.
We know that marriages can be a bit heavy on the pockets, and as Business Insider reported, the average cost for Americans to get married was, at one point, $28,000 in 2019 before the pandemic hit and that average went down to $19,000 in 2020. However, in 2021, that cost crept back up to $22,500. Though many of us forget to also counter in the unforgettable moment of how this wedding all started — a (hopefully) memorable engagement. That special moment is typically priced at an average of about $7,817. So, what makes a proposal, a relatively matter-of-fact occasion, so expensive? Here are the costly aspects of your contemporary proposal.
Proposals include way more than just the engagement ring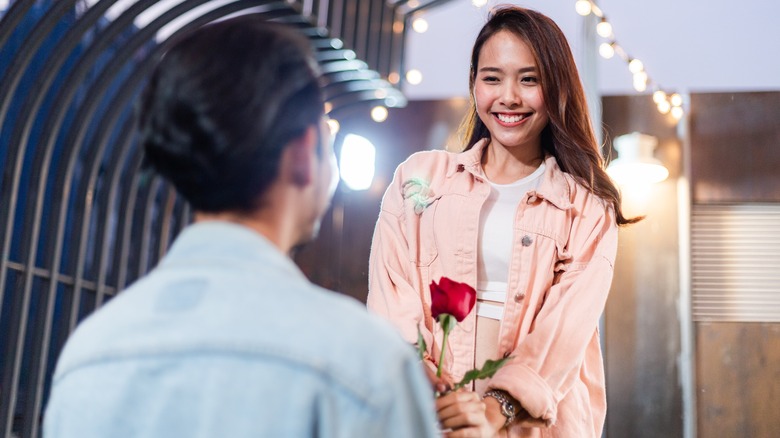 winnievinzence/Shutterstock
When we think of marriage proposals, it's almost inevitable to not inquire about the engagement ring. Stunning, glamorous, and oftentimes absurdly expensive, engagement rings are just one facet to consider when a proposal is underway. In fact, NBC News wrote in 2018 that "men who spent between $2,000 and $4,000 on an engagement ring had a higher rate of divorce than men who spent between $500 and $2,000." 
But besides the big star of the show — which is the engagement ring, WedMatch disclosed additional elements of an average engagement that makes the initial act of legally committed love so pricey. 
WedMatch took into consideration the average prices of the following proposal must-haves: engagement ring ($5,500), engagement party ($967.50), bridal shower ($1,025), and a photographer to capture the special moment ($325). And that's without bachelor and bachelorette parties which would go for about $537 per person for a bachelorette party with five-day bachelorettes costing as much as $1900 per person (via Hello, Bach Party).
With social media being a huge presence for elongated Instagram captions for big events like proposals, it's no surprise that people go all out in order to go big or go home.