Becky G's Makeup Line Has An Exciting New Development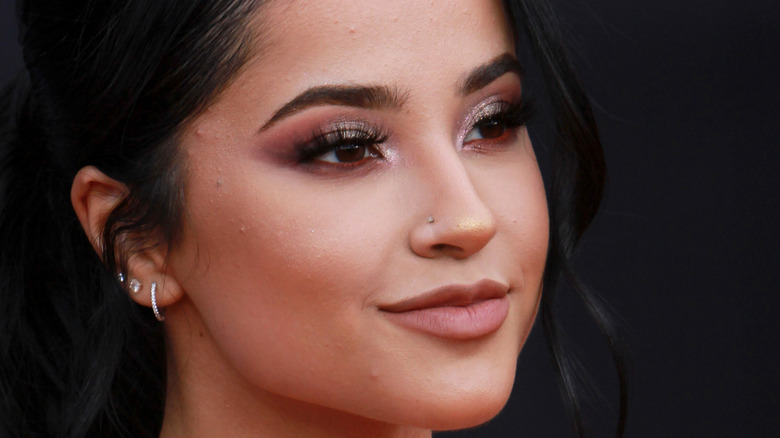 Kathy Hutchins/Shutterstock
Mexican-American singer, rapper, and actress Becky G has achieved a lot in the last few years. Still only 25 years old, she started out as a child actress in the film "La estación de la Calle Olvera" in 2008 before going on to create a music career for herself. Although she released a few singles beforehand, it was her 2014 song "Shower" that propelled her to mainstream success when it peaked at number 16 on the Billboard Hot 100 Chart.
Speaking to Glamour in 2021, Becky G revealed, "With all of my songs, I like to tell a story. Sometimes it's really simple, and sometimes it's very playful. Sometimes it's really emotional." This storytelling aspect shines through in her latest batch of singles, which range from a collab with Natti Natasha titled "Ram Pam Pam" to the feminist anthem "Sin Pijama" (via Grammy Awards). 
However in the last year, she has had more than one venture up her sleeve.
Her makeup line aims to celebrate Latinx culture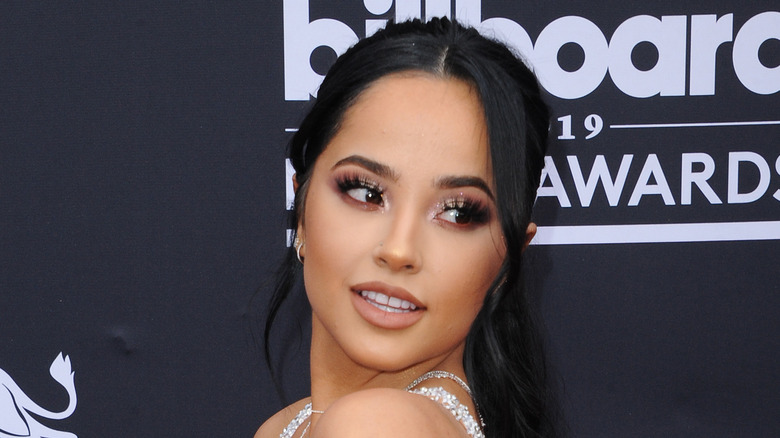 Tinseltown/Shutterstock
Billboard recently announced an exciting new update that Becky G's makeup line Treslúce Beauty will be stocked at Ulta Beauty. Inspired by Latinx heritage and culture, the line first launched in June 2021 (via Teen Vogue). When talking about her line, Becky revealed, "It's really about creating spaces in the beauty industry that elevate our voices and that elevate our stories." The quirky, colorful packaging stands out, especially the I Am Palette eyeshadow set, which Becky says was inspired by her mother always choosing "beautiful, vibrant shades" to use on her eyes. Plus, each item is priced at or under $35, making it a brand accessible to many rather than a select few. The whole line is also vegan and cruelty-free, making it a great option for those conscious of animals and the environment as well. 
By being stocked at Ulta, the singer and songwriter joins a host of other famous beauty brands, including Rihanna's highly successful Fenty Beauty. As part of the Ulta launch, 10 products will be available to purchase as well as some exclusive items in the form of two lip tints and an eyeshadow palette (via Refinery29). In Becky G's own words, she chose to collaborate with Ulta as it is a place she often frequents and that " it just felt right."
Becky G recently released her second album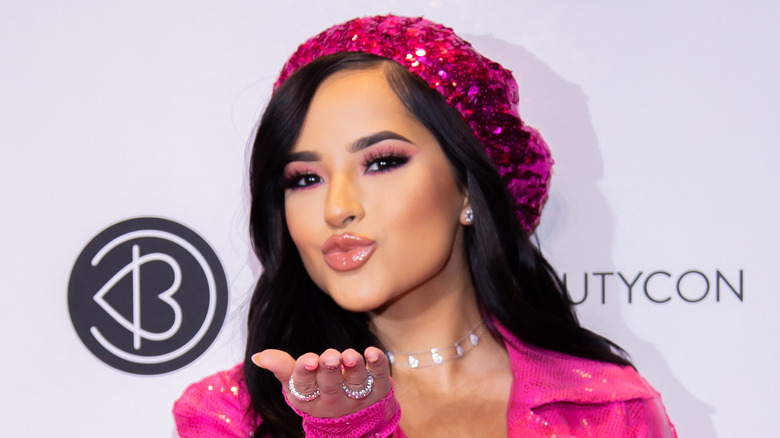 Aleksandr Dyskin/Shutterstock
Aside from her makeup line, Becky G also came out with her second album "Esquemas" in May of this year (via Variety). Her debut full-length album "Mala Santa" was released in 2019 and contained a string of hits, including "Mayores" with rapper Bad Bunny (via E! Online). The basic premise of "Esquemas" is Becky guiding listeners through her personal journey of learning to love herself. The "Shower" singer mostly sings in Spanish on the album, which makes her message feel even more authentic. 
It's hard to believe that this is only Becky G's second album. In recent years, she rose to even more prominence when she collaborated with BTS member J-Hope on the 2019 track "Chicken Noodle Soup" (via Seventeen). Sampling the original 2006 track by Webstar and Young B, the duo mixed J-Hope's native Korean with a mixture of Spanish and English to create a trilingual song that was super catchy and broke some previously held records (via Showbiz Cheat Sheet).
With everything under her belt and more to come, we can't wait to see what Becky G does next.