The Coronation Street Actor That Has Been Around Since The Beginning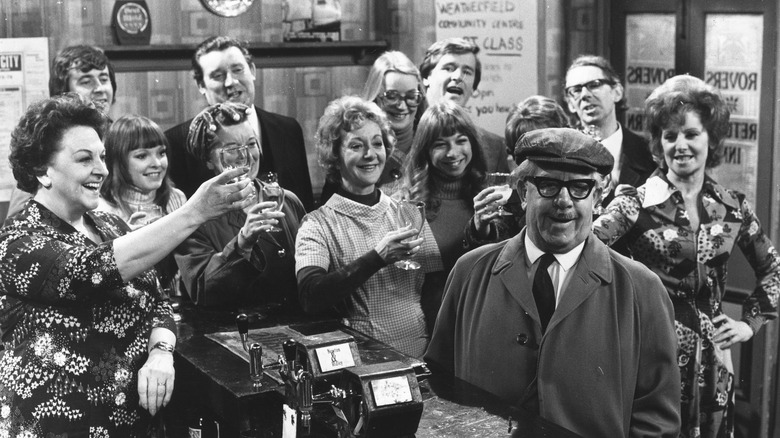 Evening Standard/Getty Images
Since its debut in December 1960, the English soap opera "Coronation Street" has been making television history. Life in the fictional Manchester town of Weatherfield continues to fascinate audiences and counts Queen Elizabeth among its fans. Over the decades, this beloved British soap opera has broadened its fan base — Canadian audiences have been keeping tabs on life on the street and Rovers Return Inn since the 1960s. Thanks to online viewing, people all over the world have become fans. Six new episodes air weekly, and between 7 million and 8 million people watch via ITV or streaming, per NDTV.
According to The Guardian, the landmark show's original name was "Florizel Street." However, Agnes, a possibly fictitious janitor at the studio, thought that name sounded like a cleaning product. Later, legend has it, Agnes' enthusiastic reaction to the pilot helped predict the show's success.
Besides being a mainstay of British popular culture, "Coronation Street" is a true record-setter. In 2010, the series was honored by the Guinness Book of World Records for "longest-running TV soap opera." Still going strong, the program continues to solidify this achievement. While cast members have come and gone over the last 61+ years, one actor has been depicting life — and setting records — on the cobbles since "Corrie's" premiere.
William Roache aspires to be a soap opera centenarian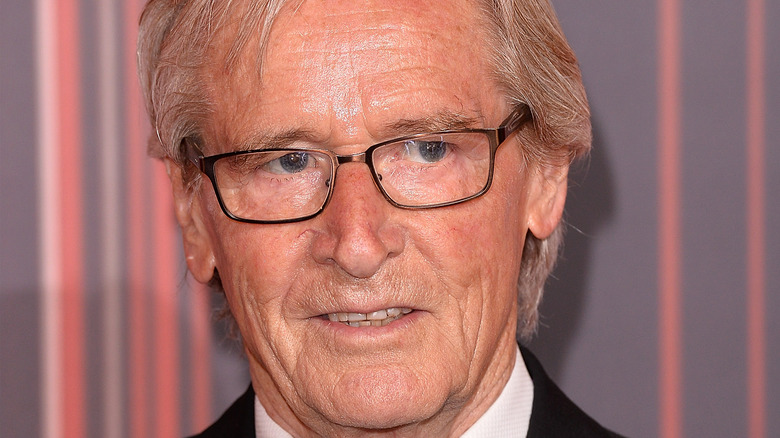 Jeff Spicer/Getty Images
Now 90 years old, William Roache has played Ken Barlow since the first episode of "Coronation Street," per Mirror. Roache was cast when the show's creator, Tony Warren, spotted him in the play "Marking Time," per ITV. In "Corrie's" early days, Roache could never have imagined the show's longevity. Originally, the program was slated for a 13-week run, but a journalist thought it would be over in three weeks (via Guinness Book of World Records ).
After well over 4,000 episodes (via IMDb), Roache has no plans to retire. While the veteran actor is already a Guinness Record Holder for "longest-serving television star in a continuous role," per Daily Mail, he has set his sights on a new goal. "I would like to be the first centenarian who is still cast in an ongoing drama," Roache told the Mirror. "That's my aim, to be 100 and still working on 'Coronation Street.'"
The actor/author is working hard to reach that goal. His book, "Life and Soul: How to Live a Long and Healthy Life," centers around his youthful approach to life, per Mirror. "The big thing in life is enjoy it," Roache advises. He endorses a balance between fun and a healthy diet/exercise, such as a weekly funfit class (via Manchester Evening News). "I always feel I'm still growing up," the actor told ITV. "I'm learning all the time and growing and developing myself." Some of these learning experiences have come from "Corrie's" wealth of guest actors, such as Ian McKellan.
Corrie character Ken Barlow's love life proved more interesting that a royal wedding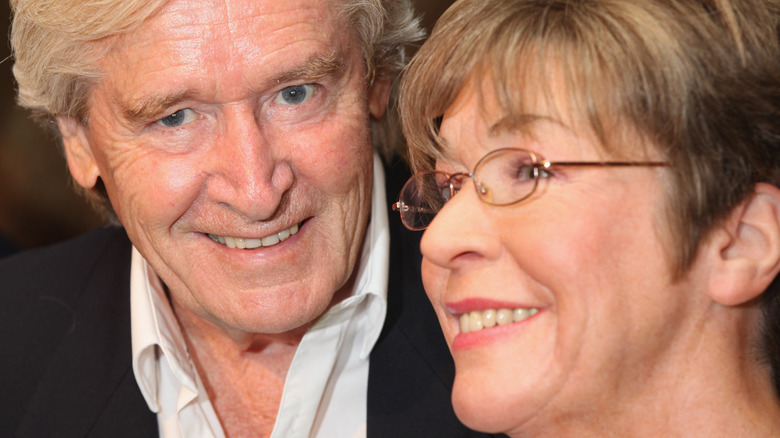 Christopher Furlong/Getty Images
Among the plethora of storylines over 61+ years, "Coronation Street" audiences have been captivated by character Ken Barlow's love life. As played by William Roache, Ken has had three wives during the series. Ken's first wife, Valeria, played by Anne Reid, was eliminated via a shocking tragedy. In true soap style, Valeria was electrocuted by a faulty hairdryer, per Manchester Evening News. After leaving the show, Reid explored comedic roles. After 52 years, Reid and Roache had the opportunity work together again and talk about old times on the ITV documentary "Happy Birthday Bill."
Ken's third wife, Deidre, played by Anne Kirkbride (above), featured in several of the Roache's best-known scenes. Kirkbride's character played a pivotal role on "Corrie" for 43 years (via Guardian). Ken and Deirdre's relationship was a tumultuous one, full of affairs, a divorce, and a remarriage after 24 years. Almost 13 million people watched the couple walk down the aisle a second time. This fictional wedding attracted more viewers than the 7.6 million people who watched Prince Charles and Camillia Parker-Bowles' nuptials the following day, per The Guardian.
Another storyline gave Roache the opportunity to work with his adult children on the show. His sons Linus and James played Ken's son and grandson, per National World. These characters were Ken's long-lost family from a relationship with Susan Cunningham, his first girlfriend in the early 1960s (via oneBigPoint).