The '90s Acting Icon Who Now Works As A Chef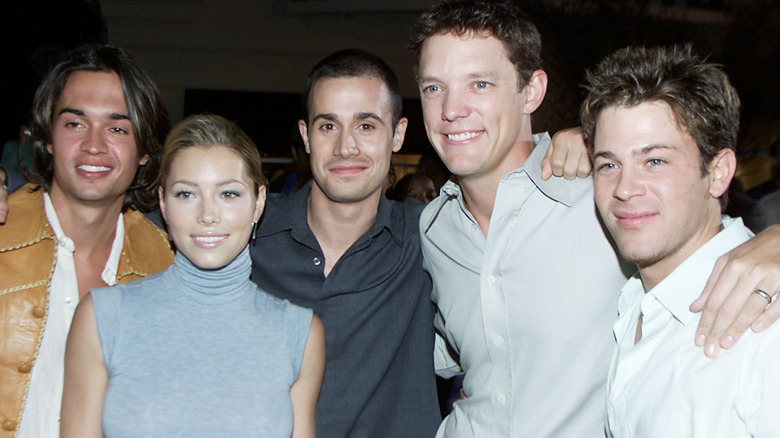 Kevin Winter/Getty Images
You've seen this actor's face on film posters, hanging on bedroom walls, and when you think of the iconic leading men of teen movies from the 1990s and 2000s. However, movie fans may have noticed that Freddie Prinze Jr. hasn't helmed a film since "Scooby-Doo: Monsters Unleashed" in 2004. So what has been keeping this A-list charmer busy?
It seems like there is always another celebrity cookbook coming out. These cookbooks have topped bestseller lists, including books from media personalities like Chrissy Teigan and Gwyneth Paltrow, whose lifestyle empire, Goop, is a lesson for any actor crossing over into entrepreneurship. There are also famed chefs turned authors like resident Queer Eye cooking expert, Antoni Porowski, who dropped his first recipe collection in 2019 and another in 2021.
Actors have been among the newest wave of cookbook creators to make "Best of" lists. Household names like Stanley Tucci, Reese Witherspoon and Oprah Winfrey bring together originality, delicious food, and memoir in their books. Actor Freddie Prinze Jr.'s debut cookbook, "Back to the Kitchen: 75 Delicious, Real Recipes (& True Stories) From a Food-Obsessed Actor" made a splash on the cookbook scene for good eats, and for the unexpected career pivot from the "She's All That" star. But he earned his reputation as a gourmand.
This dreamy actor almost went to cooking school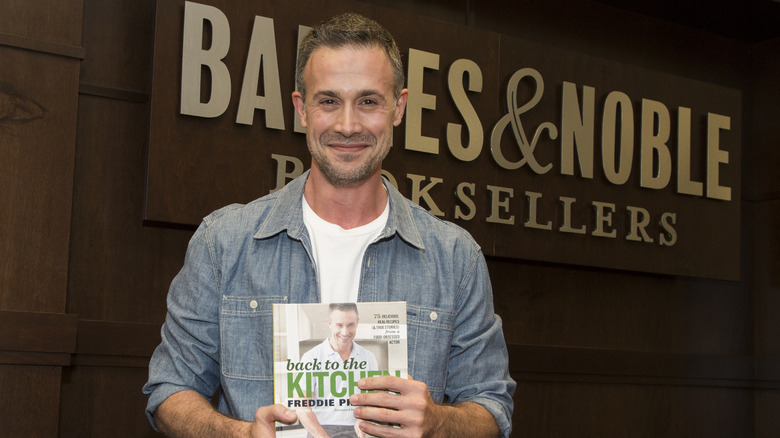 Vincent Sandoval/Getty Images
In 2016, Prinze joined the ranks of celebrity cookbook authors. Prinze has been living the dream, as he is married to another 2000s star and his former co-star, Sarah Michelle Gellar. They met on the set of "I Know What You Did Last Summer" and got together in 2002, as per Us Weekly. The pair have been together for over 15 years, and together they've made their long-time culinary aspirations real.
Prinze Jr. grew up valuing time in the kitchen, telling CBS News in 2017, "My mother worked in restaurants her whole life. That's where she met my father, at a comedy club in Reno, Nevada. She was the chef there." He went on to say "My cookbook is about saving time ... Everything is nine ingredients or less and two of those ingredients are salt and pepper so that doesn't count. I try to make everything very simple."
In a 2020 interview with The Kitchn, he said that cooking was his fallback. "When I graduated high school my mom encouraged (okay, "forced") me to attend cooking school as a backup plan to my acting ambitions. I was all set to go to Le Cordon Bleu College of Culinary Arts in Pasadena when I got my first real acting gig — and the rest is history. But I never stopped loving good food or cooking."
This famous family has two cooks in the kitchen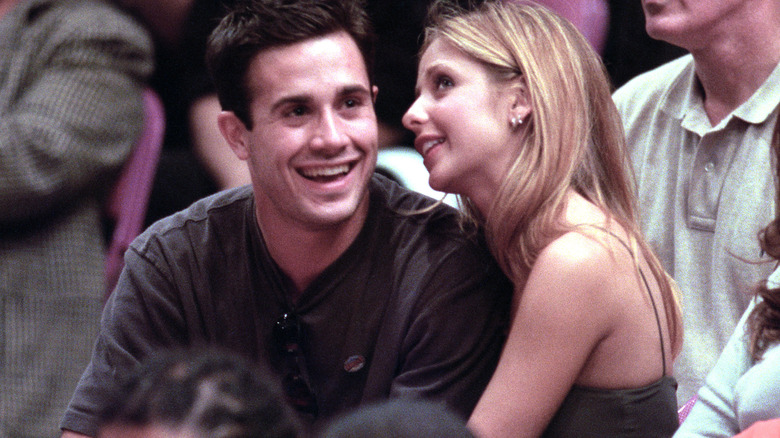 Kmazur/Getty Images
Prinze shared with Kitchn that he and Gellar had always bonded over their love of food and she supported him as he wrote "Back to the Kitchen."  When they met, Gellar wasn't much for cooking, but Prinze helped her find a newfound love for baking, per People. Gellar said to People, "For me, my husband had gone to culinary school so I used to leave that all to him and we realized that we were missing this great opportunity. It was about connecting and about making it easy."
The actress turned entrepreneur now has her own baking company, Foodstirs, which offers readymade baking mixes with healthy ingredients. Prinze told Kitchn that Gellar is his "go-to recipe tester and taster for 15-plus years" and "the baker in the house." He added, "In our house, everything revolves around the kitchen," and that Gellar's company "makes baking with your family super easy." 
Unfortunately for fans of Prinze's movies, he may not be on their screens for the foreseeable future. He told CBS News, "I've really stepped away from the acting. I don't really do that anymore." He's done some voiceover work, including a cameo in "Rise of the Skywalker" and Freddie Prinze Jr. fans can still get their dose of his perspective through his podcast with stand-up comedian Josh Wolf, called "Prinze and the Wolf."