Comedian Claims Piers Morgan's Team Silenced Her Over Meghan Markle Jokes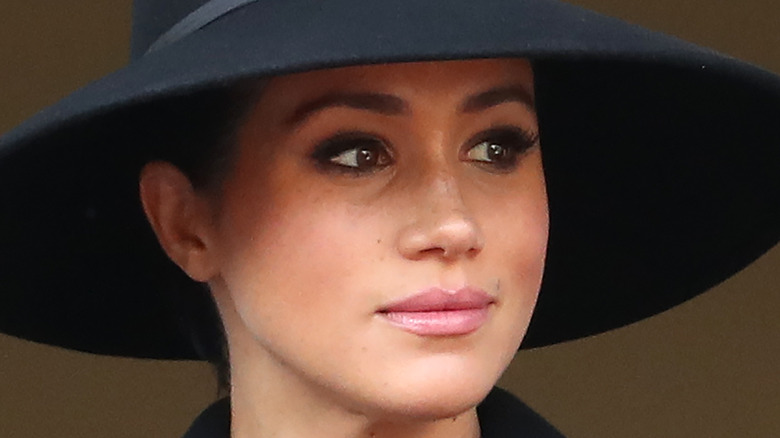 Chris Jackson/Getty Images
When Prince Harry and Meghan Markle left the royal family, everybody was shocked. During their groundbreaking interview with Oprah Winfrey, the celebrity couple shared the reasoning behind their exit explaining, per Deadline, how they simply couldn't endure the constant intrusion from the British press into their lives any longer. Meghan, in particular, was the subject of disturbingly racist and sexist reporting from the tabloids. Early in their relationship, Kensington Palace released a statement through Twitter condemning the abuse. 
In it, Harry fired back at what he described as a smear campaign unfairly launched against the former "Suits" star. Meghan still has more than her fair share of haters, not least her estranged father and half-siblings, but since the Sussexes currently reside in California, she's thankfully sheltered from some of the worst stuff the British tabloid press, and indeed social media, has to say. Piers Morgan remains a staunch critic of her, though, never wasting an opportunity to call her out. 
And yet, according to a recent interviewee, the opinionated TV personality only wants to talk about the duchess when it's on his terms. 
Was Kate Smurthwaite warned not to bring up the duchess?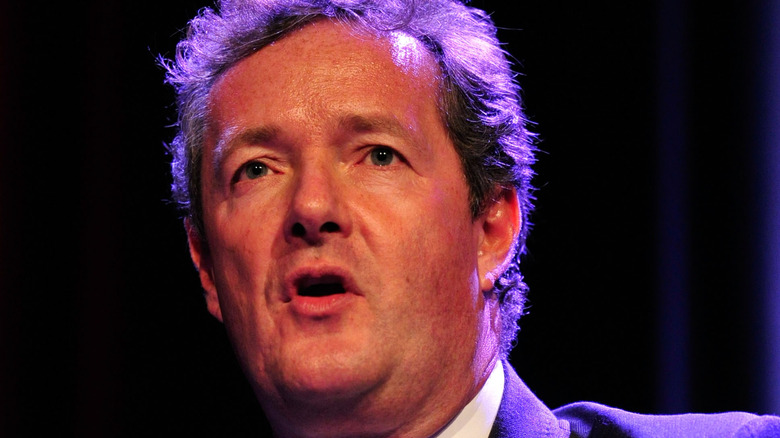 Frazer Harrison/Getty Images
Piers Morgan prides himself on saying things others are too afraid to say  — it even led Donald Trump to storm out of an interview with Morgan, over his line of questioning. But comedian Kate Smurthwaite argued that Morgan is considerably more sensitive when the spotlight is turned on him. Writing in The Mirror, the comedian revealed she planned to bring up Morgan's "obsession" with Meghan Markle during an appearance on his show, "Uncensored," but was warned against it by producers. 
"They didn't want me to get 'too personal' with Morgan. They didn't want me criticizing or seeking to explain his 'vindictive obsession' with her," she shared. As Smurthwaite pointed out, it was "a remarkable request for a show that is literally called 'uncensored.'" The comedian was planning to quip that, no matter how long Morgan spends discussing Meghan publicly, it won't change the fact that she has no romantic interest in him. Smurthwaite was referencing a story the TV star himself told on "The Late Late Show." 
Morgan infamously bragged about going on a date with the duchess, only for her to "ghost" him for Prince Harry. Morgan denied Smurthwaite's claims on Twitter, writing simply, "I just checked and nobody tried to censor you — we don't censor guests, that's the point of the show." The comedian shot back, demanding another chance to speak her mind. We'll have to wait and see if she gets it.
Piers Morgan has made his feelings on Meghan Markle abundantly clear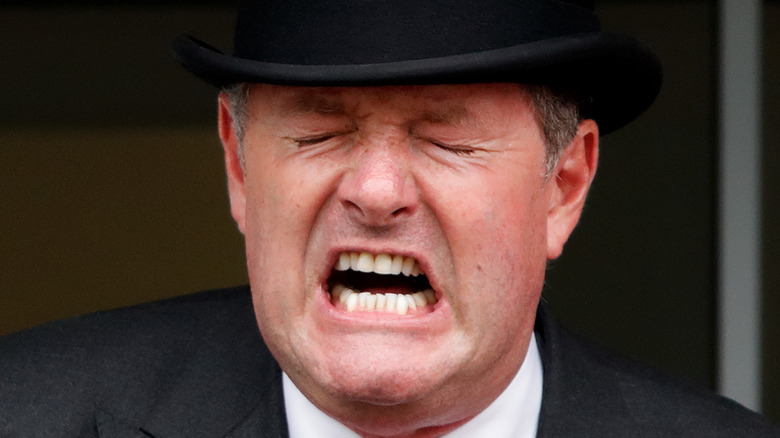 Max Mumby/indigo/Getty Images
Ever since Meghan Markle allegedly turned him down for a relationship, whether knowingly or otherwise, Piers Morgan has taken against her. In fact, the British star even gave up his lucrative position co-hosting "Good Morning Britain" after refusing to apologize for comments he'd made about the duchess. As The Guardian reported at the time, Morgan stormed off the show after his colleague, Alex Beresford, challenged his unhealthy fixation on Meghan. 
Beresford explained, "I understand that you don't like Meghan Markle, you've made it so clear a number of times on this program, and I understand you've got a personal relationship with Meghan Markle and she cut you off. She's entitled to cut you off if she wants to. Has she said anything about you since she cut you off? I don't think she has but yet you continue to trash her," only for Morgan to leave, refusing to engage any further in the conversation. 
He was heavily lambasted for claiming not to believe the duchess's revelations about being suicidal during her time with the royal family, too. Morgan has since pivoted to "Uncensored," where he's free to speak more freely. The TV personality most recently attacked Meghan and husband Prince Harry for being "selfish" and "fame-hungry," among many other things, per The Irish Sun. The couple, meanwhile, has yet to respond. To any of it.