MAC's New MACStack Mascara Has A Hold On TikTok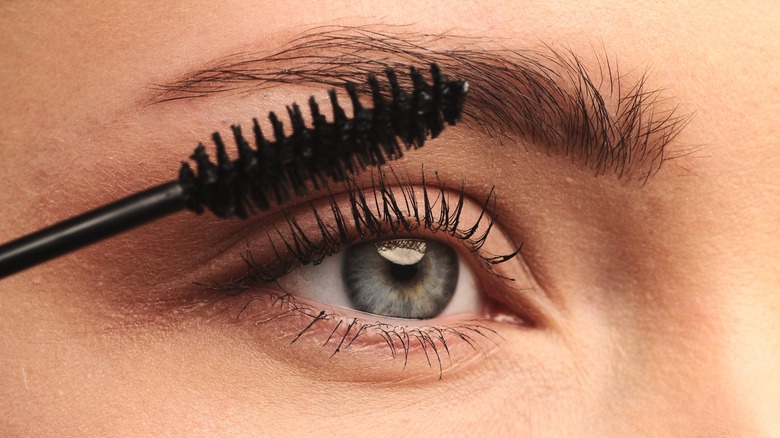 VALUA VITALY/Shutterstock
You may remember the 100 layers of makeup challenge that dominated YouTube back in 2016. The end result of the caked-on foundation that resembled latex masks and flaky arachnoid lashes looked like they were straight out of a horror movie, per Bustle. Generally, most people don't actually intend on wearing 100 layers of makeup. But over-doing mascara is a common makeup mistake, according to Bustle. Wearing more than five coats of mascara can cause your lashes to droop and even fall out.
Of course, only applying one-to-two layers of mascara may not give a bold lash effect if you like a more dramatic look. Not all mascaras are made equally, either. Makeup artist Merrady Wickes told Well + Good, "Beware [of] layering fiber-based formulas," adding, "Mascaras with a more dry texture or fibers are at the greatest risk for flaking if you layer multiple coats." Achieving the perfect long, luscious, lifted lash look can feel a bit like "Goldilocks and the Three Bears." Luckily, one of MAC's latest product releases, the MACStack Mascara may give you eyelashes that are "just right."
MAC's latest mascara has no limits
While applying 100 layers of mascara isn't advisable, there is a mascara that will allow you to build customizable volume — the MACStack Mascara (per PopSugar). As you can imagine, this magical mascara has taken over TikTok. No matter how many layers of the mascara you apply, the product gives spectacular results that look like false eyelashes, and not the nightmarish appearance of fuzzy spiders from the days of the "100 layers of makeup" challenge.
This endlessly buildable mascara is made possible due to the combination of Fibre Melt Technology, Vita Gel, and Lash Flex Polymer (per Happi). According to Ulta Beauty, the mascara offers a weightless feel, clump-free application, and 24-hour wear that doesn't flake off. The mascara even comes in two brush size options — the Mega Brush (for longer/upper lashes) and the Micro Brush (for shorter/lower lashes). Both of the brushes consist of malleable silicone material, allowing the bristles to hug and define each lash, per Glamour.
While this mascara may sound too good to be true, 111 women tested the Superstack Mega Brush Mascara and reported incredible results (via Ulta Beauty). Of the 111 women, 95% said they saw "gravity-defying volume and instant lash lift/length." Meanwhile, 110 women tested the Micro Brush with 95% of them finding that the mascara was "easy to build" and 92% noting a weightless feeling. Literally, the limit does not exist when it comes to how many coats of mascara you can apply.
Beauty enthusiasts can't get enough of MACStack Mascara
TikToker Kelly Rose Sarno fell in love with the mascara at first coat, calling it "one of the easiest one-coats" she's ever done. In just three coats, it looked like Sarno had a luscious pair of Ardell Wispies. She was even able to apply a fourth coat to her eyelashes that managed to lift, curl, and volumize her lashes without any clumping.
After seeing Sarno's impressive outcome, TikToker Mikayla Noguiera had to try the MACStack Mascara as well, saying, "I've seen a million mascaras, and never one that looks that good on everybody." PopSugar writer, Anvita Reddy tested out the Mega Brush after seeing all the hype on TikTok. Reddy was able to apply 20 coats that felt weightless and barely clumped. Her lashes were so long that they were hitting the lenses on her sunglasses. The mascara lasted all day sans flakes or smudging and removing it was surprisingly easy.
On the other hand, E! News writer, Marenah Dobin found one coat of this mascara was more than enough in giving her ample, clump-free volume; two coats would add extra drama for a special night out. Glamour beauty writer Bella Cacciatore liked the grip the bristles had on her shorter lashes, which helped lift and lengthen her lashes without using a lash curler. Cacciatore added, "The inky formula didn't get crunchy or hard; instead it keeps my lashes feeling fluttery and soft, and I didn't deal with any flakes or smudging."