How Nanny Faye Will Steal The Spotlight In The Upcoming Season Of Chrisley Knows Best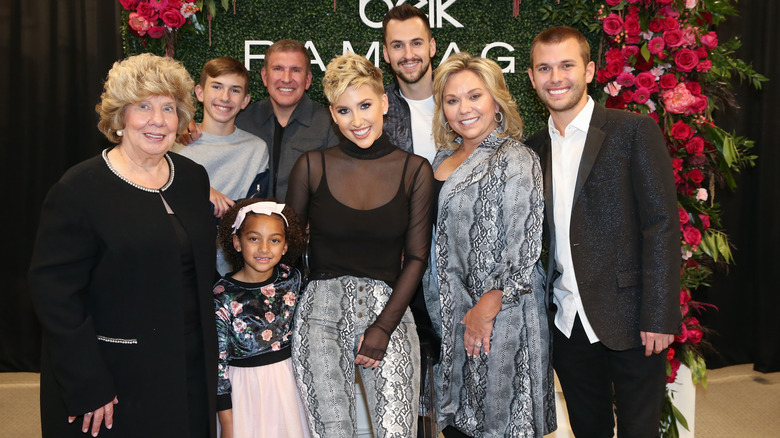 Terry Wyatt/Getty Images
Some families are just meant to be on reality television, and the Chrisleys are definitely one of them. Through their hit show "Chrisley Knows Best," we've followed proud patriarch Todd Chrisley and his gaggle of kids, grandchildren, and even his own mother as they navigate life, love, and loss. Aside from making the family rich and famous, as Todd told TV Insider, "It's also been very good for us because it has forced us to stay together to deal with whatever issues our kids are having." 
In fact, Todd shared, "I say the show in retrospect has been the best babysitter I've ever had because I've got six million eyeballs a week telling me what my kids are doing." The Chrisleys have remained impressively open with fans too, whether on social media or on the show itself. Todd and wife Julie Chrisley even shared their impressive, post-COVID weight loss, proudly telling People they'd dropped a combined 48 pounds thanks to sticking to a healthy eating plan and motivating each other. 
Their impressive journey is likely to be covered in the upcoming season of the show, too. "Chrisley Knows Best" Season 10 is finally almost upon us, and a teaser has fans dying over just how much the hilarious Nanny Faye Chrisley seems to be coming to the fore this time. Clearly, Todd needs to watch his back lest his fan-favorite crown gets snatched. 
Nanny Faye is giving the fans everything they want
"Chrisley Knows Best" has been around since 2014, but keeping things fresh is no problem with a cast of characters this eccentric. Aside from patriarch Todd Chrisley, the family is filled with outspoken types who couldn't care less what anybody watching at home thinks of them. Nobody is more representative of the "Chrisley Knows Best" ethos than Nanny Faye Chrisley, Todd's beloved mother, and in the upcoming season, she's taking center stage in a major way. 
In a teaser trailer shared on Instagram, Nanny Faye can be seen glugging gigantic glasses of beer, defiantly stating "I'm not no basic b***h" and even dragging her son to a sex party. A flummoxed Todd tells her, "Momma, this is a damn swinger party." Nanny Faye, completely nonplussed of course, responds, "I ain't going nowhere until I get me something to eat" before filling up her plate accordingly. Elsewhere in the trailer, Todd reveals his mom has "turned the senior sewing club into a sweatshop." 
Suffice to say, fans are loving seeing Nanny Faye break out, with one writing, "Nanny is my fav" while another described her as a "spirit animal." There was even a reference to the reality star getting her own spinoff series. According to TV Shows Ace, fans have been clamoring for Nanny Faye and possibly grandson Chase Chrisley to branch off on their own, while there were also calls for the hilariously frank grandmother to start her own YouTube channel.