Did Queen Elizabeth Finally Meet Lilibet?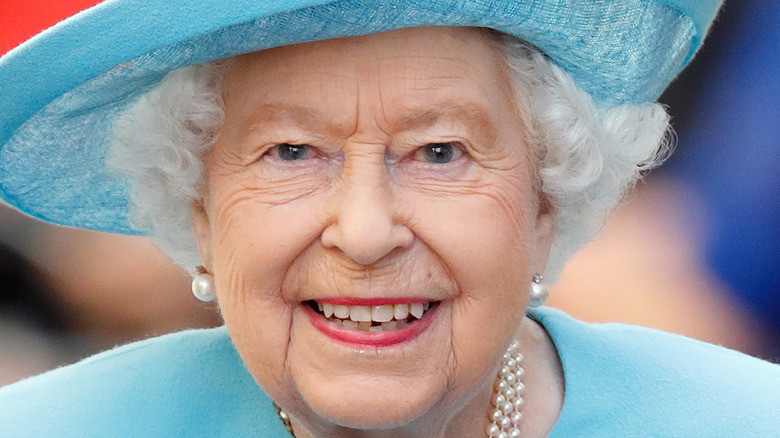 Max Mumby/indigo/Getty Images
The queen's Platinum Jubilee is in full swing, after many months of anticipation. As People notes, from June 2 to June 5, Her Majesty's historic, 70-year reign will be celebrated with a variety of events including her birthday celebration, Trooping the Color, a thanksgiving service at St. Paul's Cathedral, and lots more. Although the queen has endured some health issues in recent months, she's expected to appear a handful of times over the weekend, to celebrate with fellow royals and the public alike. 
According to BBC News, fans who gathered to catch a glimpse of the longest-reigning monarch in British history were overcome with emotion. As one onlooker gushed, "Seeing Her Majesty is something I've wanted to do all my life." Clearly, the Jubilee is a crowning moment for Elizabeth and her many constituents, but it's also an opportunity for the royal family to come together in their largest gathering since Meghan Markle's 2018 wedding to Prince Harry, per The Telegraph (via the Daily Mail). The queen's public interactions with her great grandchildren have already delighted fans, especially as she chatted with a misbehaving Prince Louis on the balcony during  Trooping the Colour. It seems that if anyone can get a bored four-year-old to stop making faces for a moment, it's Her Majesty herself.
Of course, all eyes are on the queen's interactions with the visiting Harry and Meghan. In fact, earlier this week, it was claimed that one photo op might save Meghan and Harry's relationship with the royals. And now, we know whether it actually happened.
Baby Lilibet has finally met her famous namesake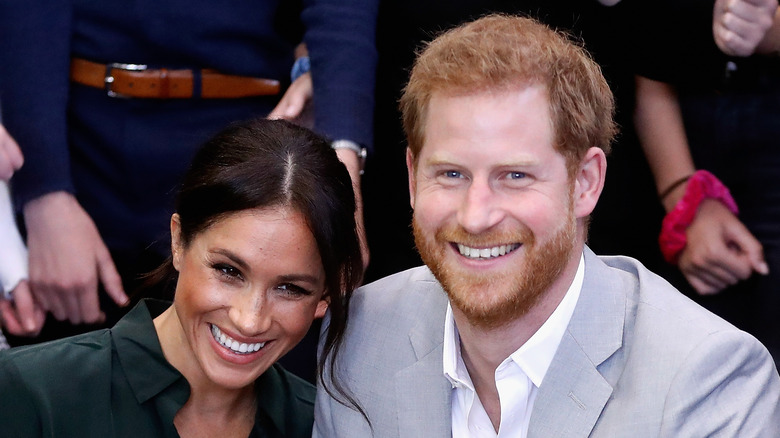 Chris Jackson/Getty Images
According to the Daily Mail, Queen Elizabeth and her great-granddaughter Lilibet, so called based on Her Majesty's sweet childhood nickname, were finally introduced in Windsor, immediately following Trooping the Color. Although all eyes are on the Sussexes during their first trip back to the UK as a family following their spectacular defection, thus far, the trip has been surprisingly low key. The celebrity couple is staying in their old digs at Frogmore Cottage, also in Windsor, and are expected to make their first major public appearance at the thanksgiving event at St. Paul's Cathedral. 
Royal expert, and the Sussexes' biographer, Omid Scobie, was the one to confirm the two Lilibets had finally met, during an appearance on "BBC Breakfast." In relation to the little girl's first birthday, which falls over the weekend, Scobie argued, "I think people are expecting some sort of big birthday extravagant event, that we're going to see photographs from. From what I'm told, we shouldn't expect anything." As the royal commentator explained, "Those moments with Lilibet are very much private between them and the Queen and of course we know how much she's been looking forward to it." 
According to Scobie, the celebrity couple doesn't want to draw too much attention to themselves, lest they steal focus from Queen Elizabeth. Meghan and Harry reportedly arrived in the UK in an unexpected fashion on Wednesday, with a spokesperson confirming to Page Six they were looking forward to celebrating with the queen.
The Sussexes are under the microscope at the Jubilee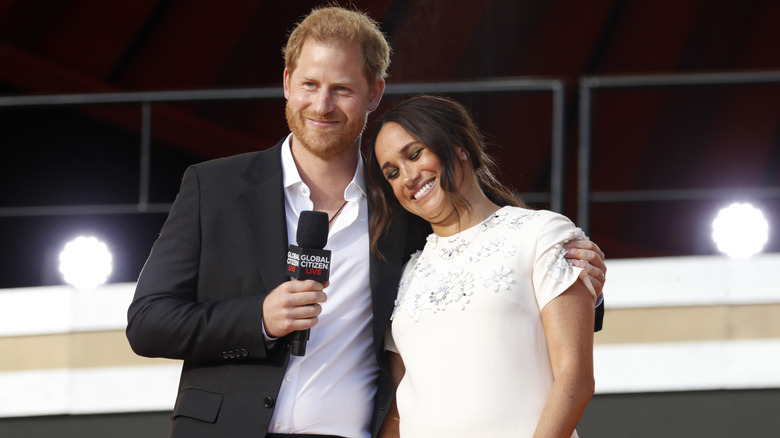 John Lamparski/Getty Images
In the run up to the queen's Platinum Jubilee, rumors swirled about whether royal defectors Prince Harry and Meghan Markle would be welcomed with open arms or snubbed by the rest of the family. As The Mirror reported, his older brother, Prince William, was concerned that anything he said or did at the event could later be used against him, in one of Harry's lucrative Netflix projects, or might even pop up in the prince's upcoming memoir. Equally, William and wife Kate Middleton were reportedly worried the Sussexes might try to steal the spotlight from Her Majesty. 
Page Six notes the celebrity couple isn't allowed bring Netflix cameras into any of the palaces or official royal residences during their trip, while Meghan and Harry were also prohibited from joining the queen on the balcony at Buckingham Palace for Trooping the Colour, per The Guardian. All things considered, though, the royal defectors appear to have been greeted with enthusiasm by the queen herself, at the very least. The Irish Sun confirmed she'd arranged for them to be picked up from the airport upon their arrival in the UK, and they received security protection accordingly. 
It remains to be seen whether the Jubilee will bring the royal family together again, but considering how eager Her Majesty was to meet Lilibet, and how well their meeting appears to have gone, the future looks bright for them.