Here's Why Most Royals Wore The Color Blue For Trooping The Colour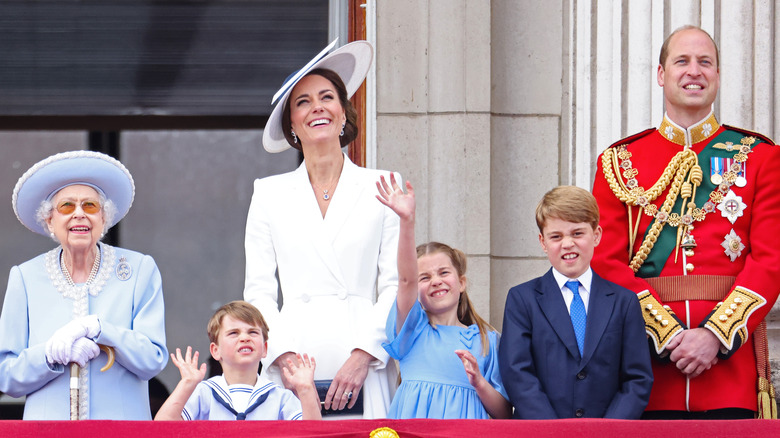 Chris Jackson/Getty Images
For nearly 300 years, Trooping the Colour has been a traditional ceremony that celebrates the birthday of Britain's reigning monarch (via Royal.uk). On each occasion, the public is treated to an appearance by the royal family on the balcony of Buckingham Palace. Throughout Queen Elizabeth's 70 year reign, the UK has watched her family increase in size as her children, grandchildren, and great-grandchildren stand by the queen's side as they watch the Royal Air Force perform a fly-by.
During her first year as queen, Her Majesty wore the Scots Guards uniform, which she would continue to wear for every Trooping of the Colour until 1986 (via Insider). After that, however, she would be driven to the parade, meaning she would no longer have to wear a military uniform.
And so began the rainbow of colors that Queen Elizabeth has worn to each Trooping of the Colour parade, with one color standing out in particular.
Queen Elizabeth has worn this color the most on royal occasions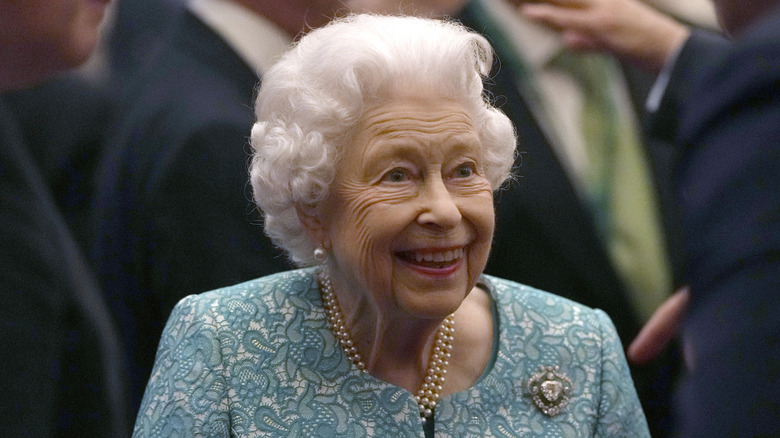 Pool/Getty Images
It's no secret that Queen Elizabeth's favorite color is blue. In 2012, Vogue conducted the ultimate study of the monarch's outfits over a year (via the Daily Mail) and concluded that she'd worn numerous shades of blue 29% of the time. Among purple and violet, blue is a color strongly associated with royalty — and the queen's wardrobe choice is undoubtedly an example of that trend (via The New York Times).
Looking back over the many ceremonies she's attended over the years (via Insider), a large proportion of the queen's royal attire consists of various shades of blue, most recently sporting an embroidered jacket for the 2021 Trooping of the Colour followed by a periwinkle blue ensemble for the 2022 fly-past.
But Her Majesty the Queen wasn't the only member of the royal family to be wearing blue on the balcony. In fact, her three great-grandchildren and the Duchess of Cornwall were also sporting different shades of her favorite color.
There's significant meaning behind why the royals opted to match the British monarch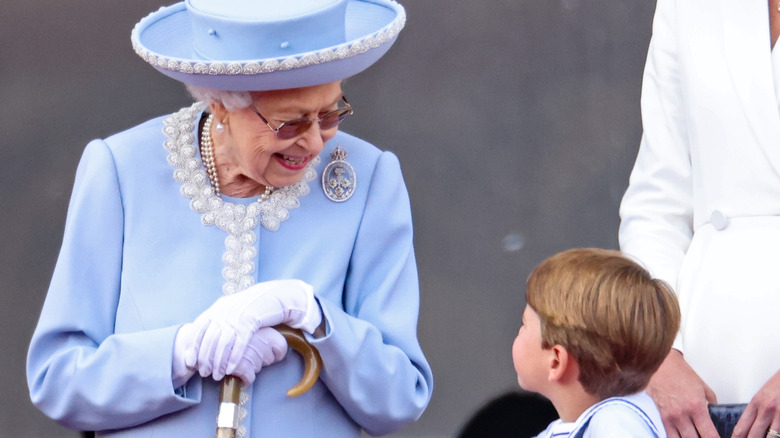 Chris Jackson/Getty Images
While Prince Charles, Prince William, and Princess Anne wore military dress, Kate Middleton and the Duchess of Cornwall complimented Queen Elizabeth's choice of color. Camilla Parker-Bowles opted for a pale blue striped dress with a formal hat (via People), while the Duchess of Cambridge wore a white gown designed by Alexander McQueen. Prince George, Princess Charlotte, and Prince Louis all coordinated with varying shades of blue, looking absolutely adorable standing alongside their great-grandmother.
Even though Prince Harry and Meghan Markle weren't present on the Buckingham Palace balcony, they were spotted with the rest of the royal family at the Major General's Office playing with Zara Tindall and Peter Phillips' children (via Town & Country). They both could be seen wearing blue to match the Queen's choice of color. As People noted, Markle was seemingly sporting the same navy dress she wore on the evening before her royal wedding in 2018.
Aside from complimenting Queen Elizabeth's favorite color, behavioral color psychologist Karen Haller told MyLondon that wearing blue "communicates you are in a position of authority, trustworthy, reliable and can be depended on." She added, "You have a sense of duty and take that seriously with committed focus."