How Jon Hamm Absolutely Crushed His Meeting With Kate Middleton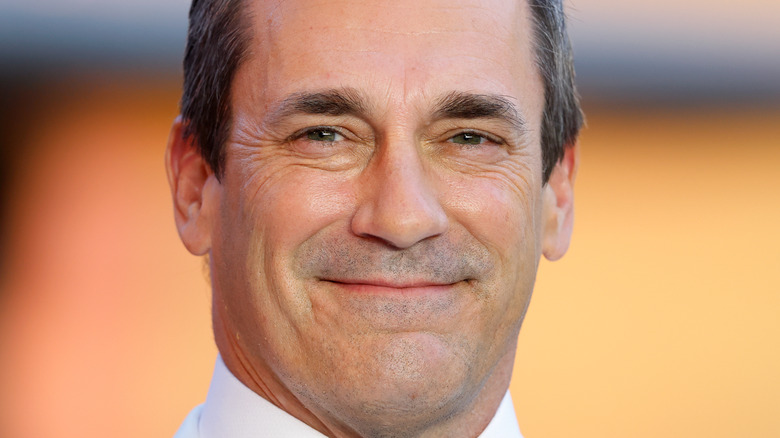 Max Mumby/indigo/Getty Images
"Top Gun: Maverick" is totally the summer's blockbuster hit, and it came on to screens in style when it premiered in London, England (via Sky News). The red carpet was fit for royalty, literally, with the Duke and Duchess of Cambridge being escorted to the event by none other than Tom Cruise.
The Hollywood veteran isn't a stranger to royal protocol, having first met royalty way back in 1992 when he and Nicole Kidman got the chance to greet Princess Diana at the premiere of "Far and Away" (via People). Since then, he's met Prince William and Kate Middleton at the 2020 Euro Final at Wembley and even presented an event to mark the Queen's Platinum Jubilee (via Time Out).
So, the cast of "Top Gun: Maverick" were in great hands when they had the opportunity to meet the Duke and Duchess of Cambridge for the first time. But as Jon Hamm recently revealed during an appearance on "Live with Kelly and Ryan" (via YouTube), it was a particularly "anxiety-producing" experience.
Jon Hamm tried his hardest not to slip up when it came to royal protocol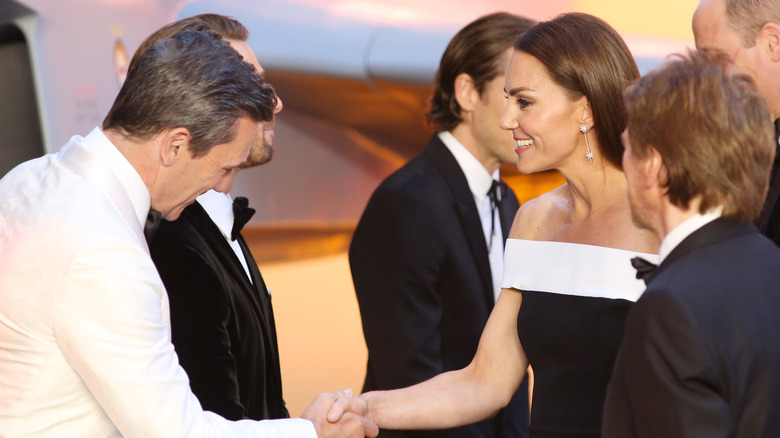 Lia Toby/Getty Images
"They give you these sort of rules that you're meant to sort of follow," Jon Hamm explained on "Live with Kelly and Ryan" (via YouTube), telling hosts Kelly Ripa and Ryan Seacrest about the complexities of what you can call them, when to shake and not to shake their hands, and the appropriate height of a bow. The actor followed the rules to the letter, and was very impressed with himself when a photo of the moment appeared on screen. "I did the right bow, and [Kate Middleton] offered her hand so I was then able to take her hand," Hamm added.
And while he absolutely crushed the exchange, in the moments leading up to it, Hamm was trying his hardest not to screw up. "You're like, 'Oh God, don't say Your Royal Harness, Harmless, Hamster," the actor said to a roar of studio laughter. And as for whether he replied to Middleton's greeting with a British accent, he "stuffed that right down" and thankfully fought the urge.
'Top Gun: Maverick' co-star Miles Teller had a tough time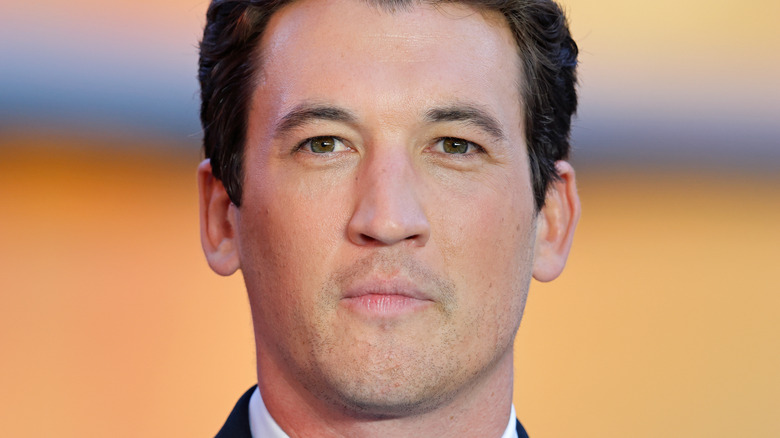 Max Mumby/indigo/Getty Images
As nerve-wracking as the experience was, Jon Hamm enjoyed every minute of it. "It's exciting. We were in the middle of Leicester Square, they had closed the whole thing down," he recalled (via YouTube). But, of course, Kate Middleton wasn't the only royal that Hamm and the rest of the "Top Gun: Maverick" crew had the opportunity to meet.
Appearing on "The Tonight Show Starring Jimmy Fallon" the same day (via Harper's Bazaar), Hamm once again shared the "guidelines that are not so much guidelines but hard-and-fast rules that you are made to follow" (via YouTube) before describing the cast's experience of meeting Prince William. Miles Teller, in particular, "geeked out a little on Prince William's eyes," according to Hamm. "I remember coming back afterward and he was like, 'They're so blue, I got lost in his eyes,'" the actor said, adding that Teller may have actually told William that during their encounter.
Hamm also noted William's shoes during their meeting, which happened to include an added detail of embroidered F-18s. "That means you made it," Hamm exclaimed. "So I no longer worry about the prince. I feel like he's made it; he's got it."