How George And Charlotte Completely Stole The Show At The Platinum Jubilee Concert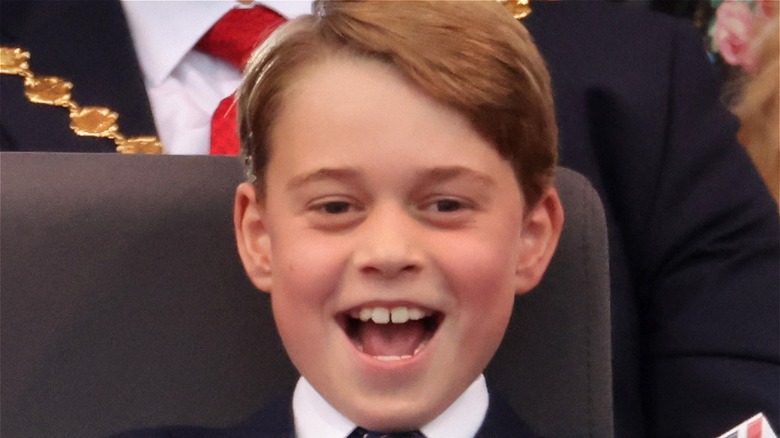 Chris Jackson/Getty Images
Queen Elizabeth II was the star of the Platinum Jubilee, but her grandkids were certainly a hit. The Platinum Jubilee celebrates the historic 70-year reign of the beloved monarch, with the Duke and Duchess of Cambridge playing a big role in the Jubilee events. On June 2, William and Kate's kids stole the spotlight during Trooping the Colour, the kickoff for the celebrations. Four-year-old Prince Louis seemed to have a blast, making funny faces and covering his ears. The Daily Mail even claimed Louis picked his nose during the ceremony! But the queen seemed tickled by her great-grandson's antics.
On June 4, Princess Charlotte and Prince George joined their parents on a royal visit to Wales. Kate was absolutely glowing and she beamed with pride watching her children greet the people of Cardiff. A source told The Mail, "Both children seem to be trying their best though, even if their expressions do suggest some shyness behind the fledgling smiles." Later the siblings stole the hearts of millions during a concert at Buckingham Palace.
E! News reported BBC's Platinum Party at the Palace concert was packed with stars performing for Her Majesty; Adam Lambert and Queen, Diana Ross, Rod Stewart, Lin Manuel Miranda with the cast of "Hamilton," and more. Charlotte and George delighted the global audience during the Platinum Jubilee concert!
Prince George and Princess Charlotte stole the show and loved the Queen's video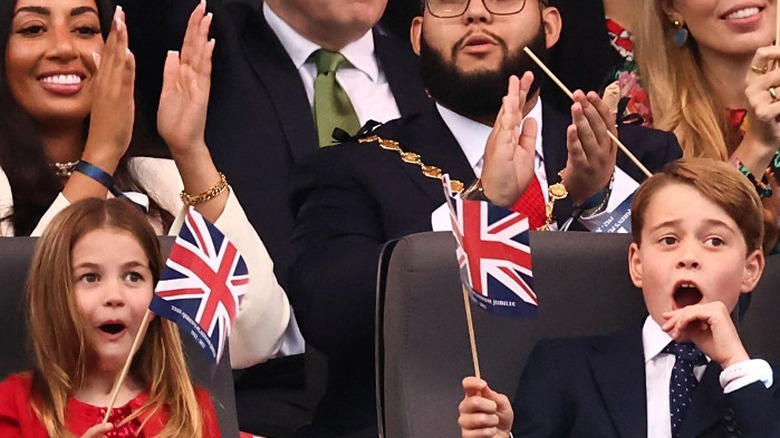 Wpa Pool/Getty
Prince George and Princess Charlotte stole the show at the Platinum Jubilee concert on June 4! Hearts melted watching the oldest Cambridge kids sing along and wave their Union Jack flags. E! News reported George and Prince William rocked out when Rod Stewart sang "Sweet Caroline." In contrast, Charlotte and her mother sang their hearts out as Diana Ross performed "Ain't No Mountain High Enough." But the royal siblings seemed delighted watching a surprise video with Queen Elizabeth and Paddington Bear. As their great-grandmother confessed to the bear where she keeps marmalade sandwiches, Charlotte and George laughed. Meanwhile, Twitter loved the Cambridge kids.
Royal watcher Kayla Adams posted a video of George and his dad and tweeted: "Prince George singing along to Sweet Caroline with his dad and waving his flag, a British classic." Another fan of the queen tweeted: "Aside from HM The Queen herself, the most magical thing was seeing just how adorable HRH's, Prince George, Princess Charlotte, and Prince Louis are. Really nice seeing more of them." One Brit tweeted: "Thoroughly enjoyed the concert and Her Majesty with Paddington Bear was classic ... the 2 that stole the night for me was watching George and Charlotte's faces, they were enjoying themselves. Thank you."
Hello! noted a priceless moment between the royal siblings, as Cheeky Charlotte waved her flag in her big brother's face, attempting to annoy the future king. Classic younger sibling move!