Malia And Sasha's Flawless Fashion Since They Left The White House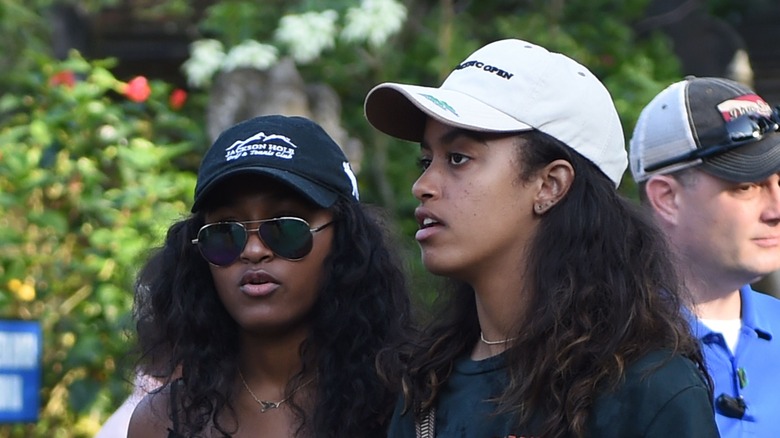 Getty Images
Malia and Sasha Obama were little girls when their dad was elected to be the 44th president of the United States. Barack Obama was first a state senator in Illinois, then was elected to be a U.S. senator representing the state of Illinois, and then became the Democratic party nominee for president in 2008. Their mother Michelle has, among other things, been considered an influential fashion icon for many years. 
The girls, for much of their father's time in office, were young and their fashion and style expertise really wasn't much of a consideration. They've grown up, however, and especially since leaving the White House in January 2017, they've shown off their flawless fashion and will surely continue to flaunt their individual senses of style — no longer in the immediate public eye — for many years to come.
Returning from vacation in Hawaii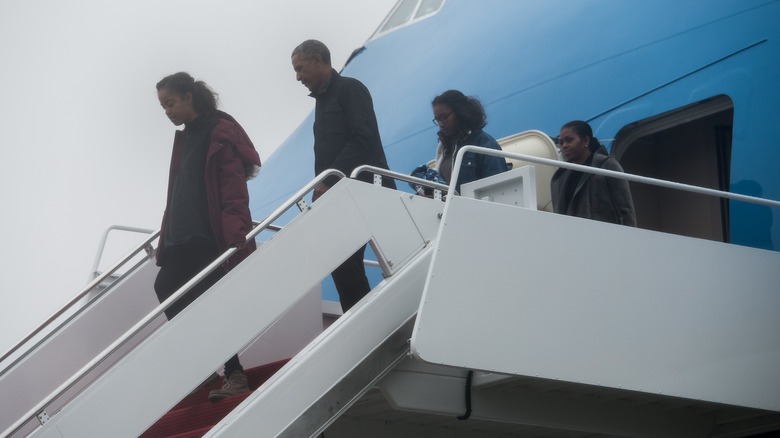 Getty Images
While they weren't technically out of the White House yet, the Obama family went to Hawaii over the winter holidays during their final vacation in the White House and returned to Washington D.C. after the New Year. While some choose to travel in their athleisure finest, Sasha and Malia still managed to be somewhat fashionable, even while traveling such a long distance. 
Malia stepped off the plane in an all-black, comfortable outfit with great shoes and a maroon coat, her hair pulled back into a slightly-messy ponytail, elevated with a twist on the side of her head. Sasha wore a fleece-lined denim jacket over her outfit with trendy, black-framed glasses. Sasha pulled her hair only partially back, but, like her older sister, had a twist on the side of her head. Fashionable after a long flight — that's the dream.
Malia leaving for Chicago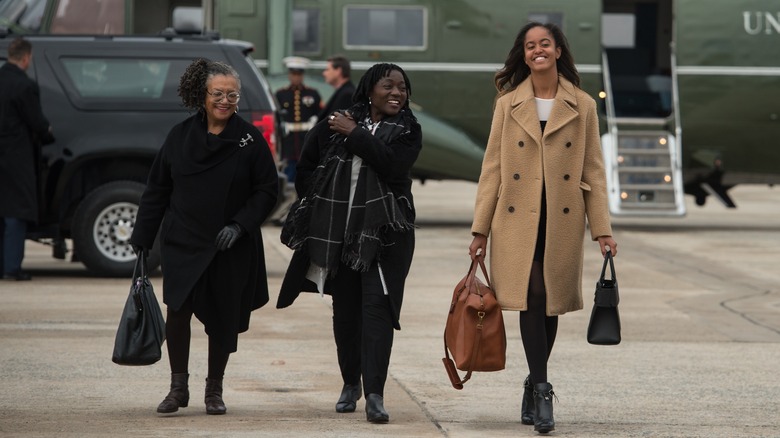 Getty Images
You already know that Sasha and Malia look flawless when traveling, but Malia's outfit while traveling to Chicago to attend her father's last major speech as president was definitely a standout. She wore her elegant black and white dress, black ankle boots and sheer black tights that she'd be wearing to the speech later that night, but she topped it off with a gorgeous camel-colored coat, a rich brown leather travel bag, and a structured black handbag. 
According to Teen Vogue, her camel coat is from 3.1 Phillip Lim. Channel Malia's keen sense of style this fall and winter by pairing camel and black for a timeless look.
Malia at the Chicago farewell address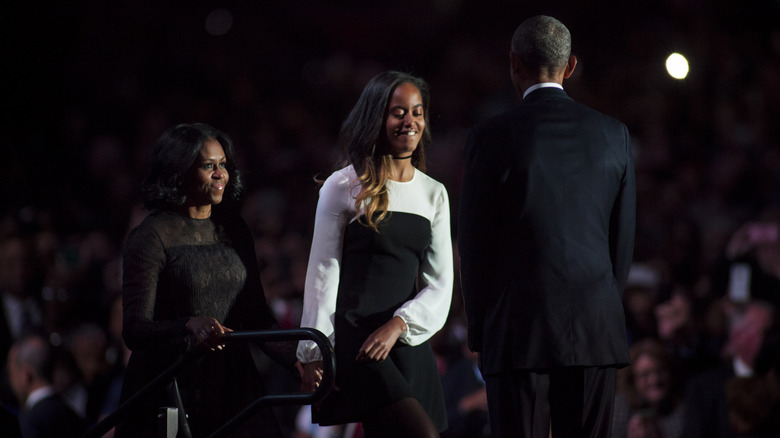 Getty Images
Former President Barack Obama gave his final speech to the nation on Jan. 10, 2017 from McCormick Place in Chicago. While his wife, Michelle, and daughter Malia (as well as Vice President Joe Biden and his wife, Jill) traveled to Chicago for the speech, Sasha stayed behind in Washington because she had a test the next day at school, according to Us Weekly. 
Malia's flattering and interesting, yet understated black and white dress was by Cinq a Sept and she paired it with sheer black tights, black ankle boots, and a black choker necklace. She wore her hair simply, as well. Classic, but still with a little bit of personality.
At Joe Biden's Medal of Freedom ceremony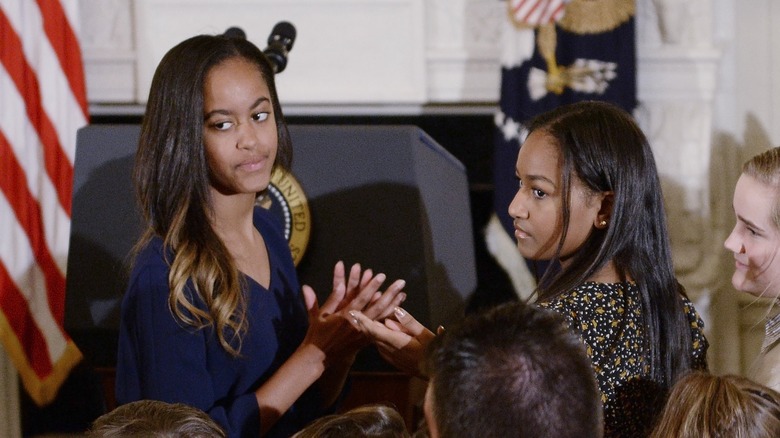 Getty Images
Then-President Barack Obama honored then-Vice President Joe Biden with the Presidential Medal of Freedom on January 12, 2017 in the White House State Dining Room, and both Malia and Sasha attended the ceremony. Malia looked elegant in navy, while Sasha showed off her great taste in a complementary navy, white, and gold patterned dress. These sisters certainly don't always dress alike, but when they wear complementary outfits, they both definitely make the best-dressed list.
Sasha's cute beachwear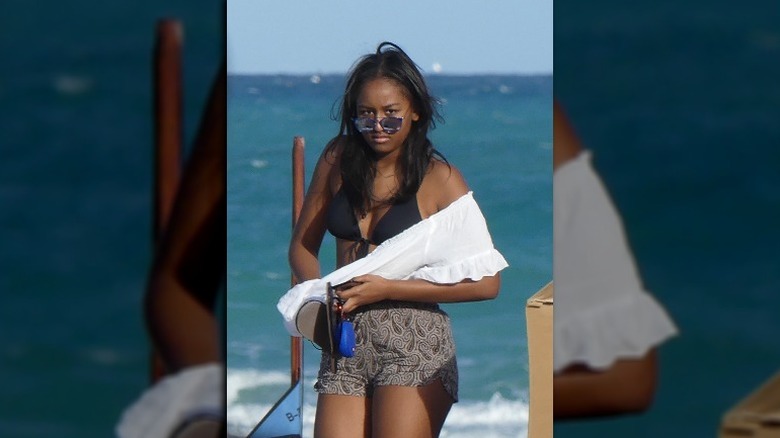 BACKGRID
Barack Obama took office on Jan. 20, 2009, when Sasha Obama was only 7 years old — meaning that, at one point, the youngest Obama daughter spent half of her life in the White House. So, as the first family began to prepare for their big move out of the nation's capital in January 2017, the 15-year-old took off for a much needed beach vacation with some of her closest gal pals. 
As reported by Us Weekly, Sasha spent time in sunny Miami during the days preceding Donald Trump's inauguration with some close friends, including Joe Biden's granddaughter Maisy Biden. Unlike the low temps in Washington D.C. for the month of January, the Miami weather looked near-perfect in the pics snapped of Sasha on her girls' getaway. Sasha totally pulled off her casual-chic beach day look, sporting shorts with an earthy, paisley print, paired with a black bikini top and a white ruffled cover-up. She accessorized with a pair of classic aviators, which are an absolute requirement for a day of fun in the sun. 
On vacation in Bali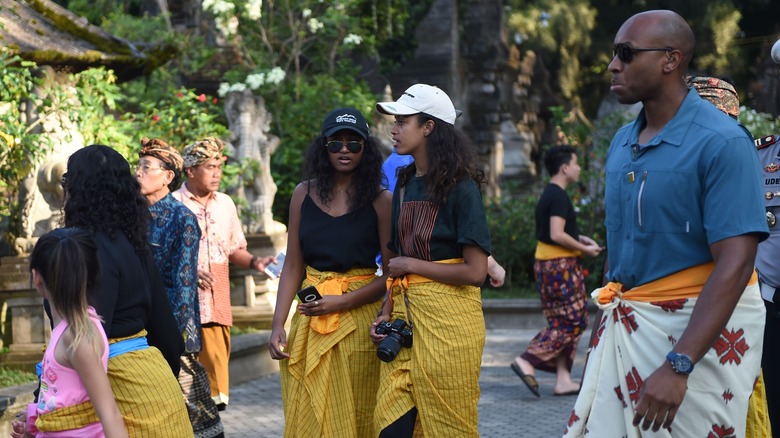 Getty Images
In June 2017, the Obama family traveled to Indonesia. The trip wasn't necessarily full of fashionable moments (the best vacations usually aren't), but while visiting the Tirta Empul Temple, Sasha, Malia, and Michelle wore yellow sarongs over their clothing, which is the custom when visiting holy sites, according to InStyle. 
Sasha wore a simple black spaghetti-strapped blouse, a baseball cap, and sunglasses, while Malia previewed her Harvard move-in outfit in the same Alexander Wang t-shirt she'd later wear there, leggings, and a baseball cap.
Malia and Sasha's fashion has evolved a lot over the years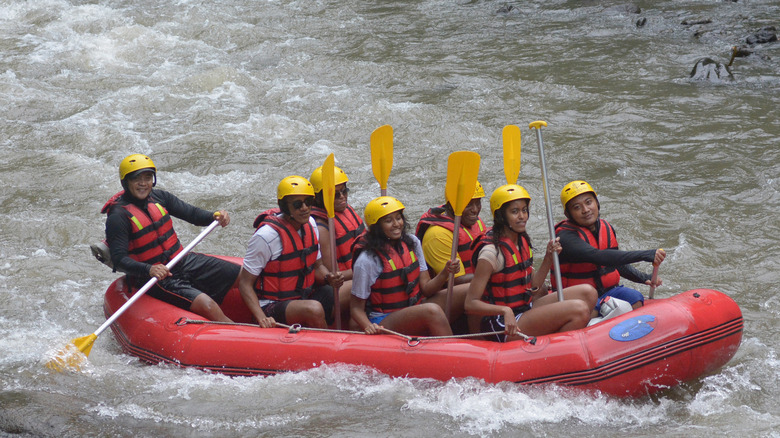 Getty Images
Now that Malia and Sasha have grown up and left the White House, they have more control over their fashion and sense of style than ever before. They're no longer in the public eye as frequently as they used to be and they're no longer members of the first family. 
"Everyone is keeping an eye out for what they're doing and who they're wearing," Hilary Novelle Hahn, founder of The Style Club, told me. "I think they're always going to be on everybody's radar, especially now that they're getting older and their styles are evolving and maturing along with them." Each of the young women has come into her own, taking after their stylish mother and becoming budding fashion icons in their own right.
Malia walking hand-in-hand with Rory Farquharson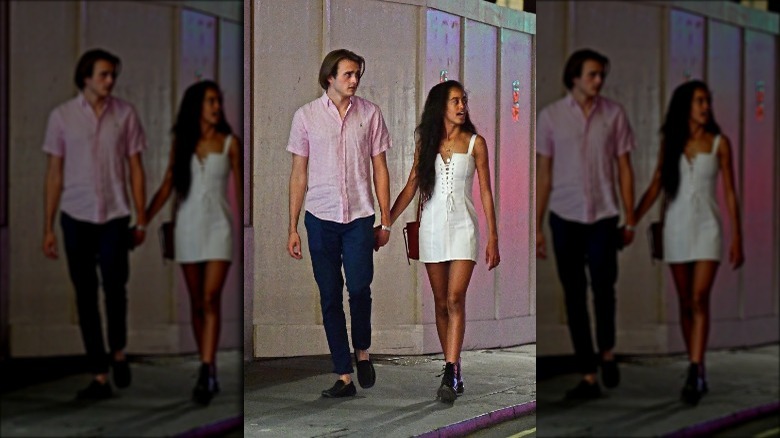 BACKGRID
In August 2017, the eldest Obama daughter began her studies at Harvard University – the prestigious Ivy League school from which her father earned his law degree. As reported by The New York Times, President Obama urged Malia not to "stress too much" about being accepted into a "name-brand, fancy, famous school," but the heart wants what it wants. Besides, we're pretty sure Malia wouldn't change a thing about her choice of college, considering Harvard is where she met her boyfriend, Rory Farquharson.
While Obama and Farquharson have managed to keep their relationship fairly private, the photos we've seen of the two lovebirds are serious couple goals — and Malia looks better than ever! In July 2018, the Ivy League couple were spotted taking an evening stroll and window shopping in London. Malia wore a white mini-dress with a lace-up corset bodice for the date, which she paired with black booties and layered necklaces. With long tresses nearly reaching her waist, this former first daughter looked every bit the part of a boho queen.
Malia's laid-back office look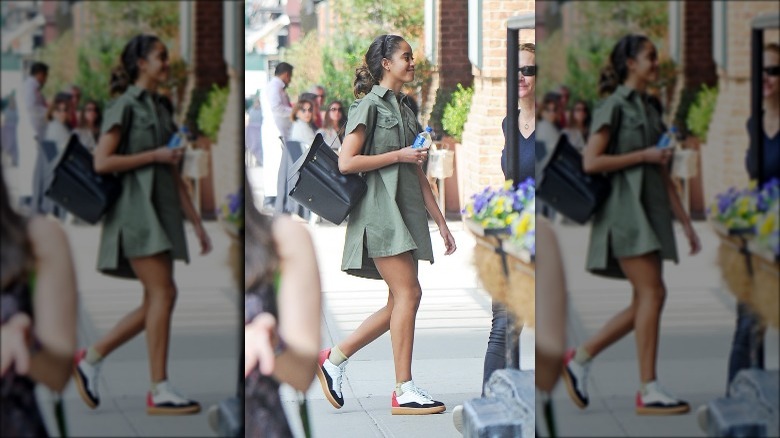 BACKGRID
Though it's still unclear to the public exactly what Malia Obama is studying at Harvard, it wouldn't come as a surprise if the former first daughter chose a more creative path, possibly within the film industry. In 2014, Malia served as a production assistant on the CBS sci-fi drama Extant before going on to score an internship on the set of Lena Dunham's HBO hit Girls in 2015. And according to The Hollywood Reporter, Malia continued her journey into the entertainment industry in January 2017 when she secured an internship with The Weinstein Company, working at the now-disgraced company for months before beginning classes at Harvard.
While she's since moved on to bigger, brighter, and less-controversial adventures, let us not forget this adorably casual outfit which Malia was spotted wearing while walking into The Weinstein Company in April 2017. Sporting an army-green, collared shift dress and black, red, and white sneakers, the eldest Obama daughter was all smiles on her stroll to work. If only we could all look this effortlessly put-together on weekday mornings!
Malia's '90s inspired friend-date outfit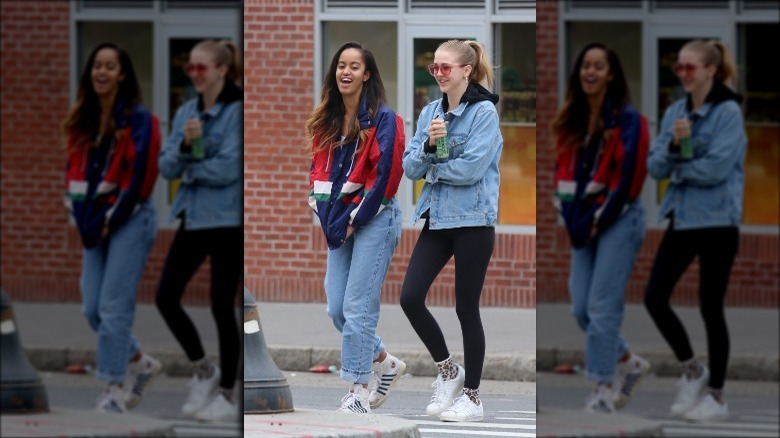 BACKGRID
Born on July 4, 1998, Malia Obama probably doesn't remember much, if any, of the '90s. However, she certainly paid homage to the decade with an outfit she sported for a Sunday out with friends in March 2017.
Wearing an oversize, multi-color windbreaker, white sneakers, and cuffed "mom jeans," Sasha's older sister looked like a model straight out of a '90s clothing catalog. Malia let her hair down for the day, quite literally, as she took a stroll with some gal pals around New York City, visibly laughing and enjoying the quality time with friends. Hey, if she inherited her father's famous sense of humor, we're sure she was cracking some jokes to keep her buds smiling. 
Malia might not have experienced much of arguably the greatest decade in a generation, but she definitely looks like the cool, laid-back girl we all wanted to be BFFs with in high school. We're totally here for this look, and judging by her friend's cute leggings and denim pairing, the '90s are back in a big way.