How To Replicate Brigitte Bardot's Iconic Hairstyle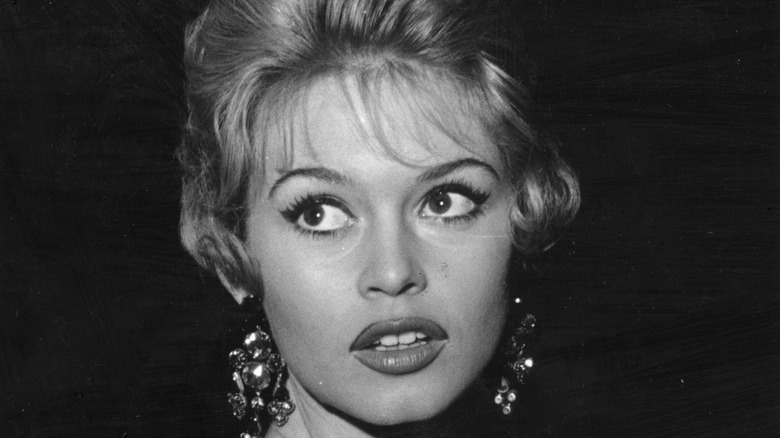 Express/Getty Images
Brigitte Bardot's famous hairstyle is one of the best hair trends pop culture history has to offer. The French actor/model/singer's hair has helped maintain her iconic reputation decades after she retired from the entertainment industry in 1973 (according to Variety). If you're looking to spice up your hairstyles and routines this year, looking to the past is a great place to start. Rather than going to the salon and venturing into unknown territory with new haircuts — even the ones everyone will be asking for in 2022 — it's better to play with what you've already got if you're concerned about going all-in on a new style.
A perfect combination of timeless yet retro, Bardot's fabulous pinned, half-up, voluminous locks serve as the ideal inspiration for your next look. Salon Sloane hairstylist Emmanuel Esteban joined Savoir Flair to walk aspiring Bardot look-alikes through the process of attaining her influential bouffant style. Whether using the Brigitte Bardot Foundation's line of products or other options you know you already like, these are the steps you can take to replicate Bardot's iconic hairstyle at home.
Attaining Bardot's bouffant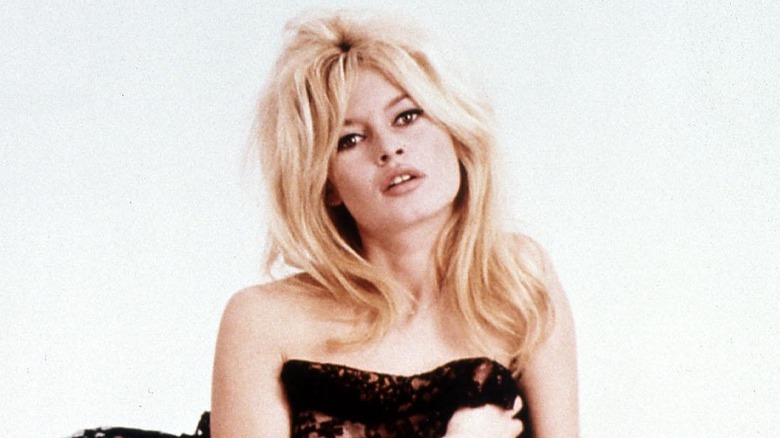 United Archives/Getty Images
Emmanuel Esteban recommends using the Bardot Lift + Volume Spray to help you achieve Brigitte Bardot's stylish bouffant (per Savoir Flair). If you don't want to invest in new products, any volume spray you have on hand will work. Make sure your hair is freshly washed and still damp, then spray the roots of your hair with your selected product. Next, be sure to apply a heat protectant spray closer to the middle and ends of your hair. Esteban told Savoir Flair that a paddle brush with "natural bristles" is his go-to when it comes to a seamless blow dry. Brushing downward, with your hair upside down, can create more volume for your look later on. 
Now that your hair is dry, divide it into two vertical sections: One going from your temple to the top of your neck, and one below with the rest of your hair. Esteban cites the Bardot Texture Spray in his walk-through, telling Savoir Flair that you should spray "at least six inches away from your head and curl in large sections using a curling wand to achieve a wavy, textured, messy look." Similar to the Lift + Volume Spray tip, you can use any texture spray you like when completing this step.
Adding the finishing touches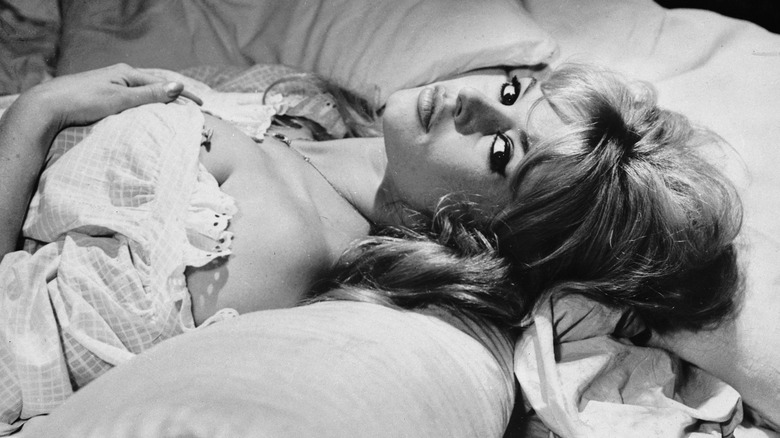 Keystone Features/Getty Images
Emmanuel Esteban, a hairstylist at Salon Sloane, next instructs aspiring Bardot look-alikes to use "a long-barreled tong" to recreate Brigitte Bardot's iconic hair. Once you grab your long-barreled curling iron, curl "starting from the back of your head, sectioning horizontally to the front towards your face, focusing on achieving root lift," per Savoir Flair. The secret to Bardot's look lies in finding the processes that give your hair the most volume. Using the "backcomb" method, comb the top section of your hair backward to add extra lift. 
To make the infamous Bardot bouffant shape, comb toward the back of your head and build volume at the crown. Spray a little hairspray in this area to secure your tresses. Pin strands of the top section of your hair back for the half-up look, pulling a few tendrils out to frame your face. That's it! Now you can hit the town feeling like the movie star you were always meant to be. No matter your hair color, these steps will help you embrace the blond French star's look with ease and efficiency.