Did General Hospital's Luke Spencer Really Kill His Parents?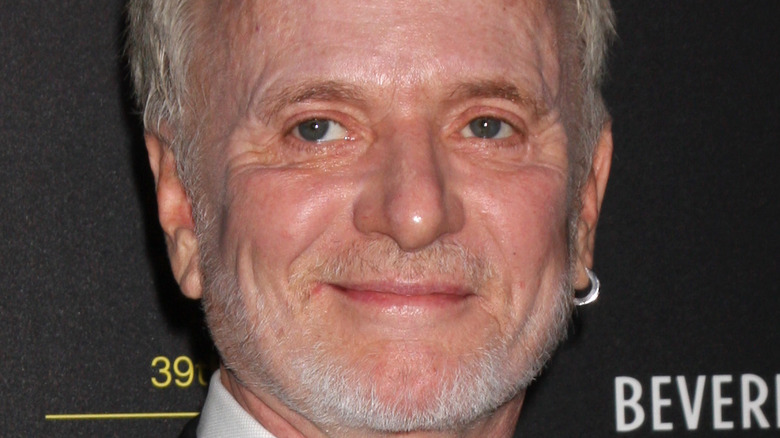 Kathy Hutchins/Shutterstock
The infamous Luke Spencer hadn't been seen on "General Hospital" for several years before the show killed him off in early 2022. Anthony Geary had portrayed the iconic character from 1978 until his retirement in 2015 and received eight Daytime Emmys and nine other nominations for his work. Though most viewers knew him as part of the super couple "Luke and Laura," or through his complicated relationship with Tracy Quartermaine, or as a greedy, adventurous conman, it is maybe Luke's last storyline that gave the greatest insight into who this man really was.
In 2014, Luke began acting strangely out-of-character. The usually happy-go-lucky man started showing a darker side by manipulating his loved ones, putting their lives at risk, and throwing in with dangerous criminals (via SoapHub). Fans quickly dubbed the alter-ego "Fluke" and wondered if the beloved character had been replaced with an evil imposter.
By 2015, Luke was on the run from the police after setting fire to The Haunted Star. In an effort to track him down, Tracy, along with his daughter Lulu Falconeri (Emme Rylan) and his younger sister Bobbie Spencer (Jacklyn Zeman) went to see his estranged older sister Patricia (Dee Wallace) who was dying (via SoapCentral). The two younger Spencer siblings hadn't seen their older sister since the night that their mother supposedly died from appendicitis and their abusive father walked out on them 52 years earlier. However, Patricia had a story to tell that would shed light on what really happened the night that the Spencer family was broken up — and why Fluke had suddenly appeared.
The truth about Tim and Lena Spencer is revealed
In a special "General Hospital" episode dedicated to Luke's past, Luke had gone to revisit his childhood home in an effort to remember what happened the night he lost his parents. "Flashbacks" scenes from that time were depicted by current actors on the show and were interspersed with scenes of Patricia explaining to Tracy, Lulu, and Bobbie what happened, per Soap Opera Network.
Tim Spencer (played by Tony Geary in the flashbacks) was a violent and demeaning man who was abusive to his wife Lena Spencer (Laura Wright) and his three children. During the night in question, teenaged Patricia and Luke began standing up to their father who was degrading their mother at the dinner table (via SoapCentral). In the following confrontation between Tim and Luke, Lena attempted to stop Luke from fighting with his father, and in doing so, the young man accidentally struck her in the head with a baseball bat he was holding. Patricia rushed her mother to the hospital but tragically Lena succumbed to her injuries and died. Tim blamed his son for his wife's death and a distraught and enraged Luke hit his father with the bat, killing him instantly.
Patricia further revealed that she and their cousin Bill Eckert returned to the house to find Luke in shock and unable to remember what happened. They made the decision to hide Tim Spencer's body and tell everyone that their mother had passed away from appendicitis and their father ran out on them as a result. Patricia then shipped her younger siblings off to Florida to live with extended family and vowed to keep her distance for fear that Luke would someday remember what he had done.
If you or someone you know may be the victim of child abuse, please contact the Childhelp National Child Abuse Hotline at 1-800-4-A-Child (1-800-422-4453) or contact their live chat services.
If you or someone you know is dealing with domestic abuse, you can call the National Domestic Violence Hotline at 1−800−799−7233. You can also find more information, resources, and support on their website.

Luke remembers and the Spencer family reunites
The whole Spencer clan and Tracy went to find Luke at his childhood home and, with their support, the memories of accidentally killing his mother and purposefully killing his father came back to him and Luke broke down (via SoapHub). Together, they realized that Luke's mind had hidden these memories from him as a coping mechanism to protect him from the overwhelming guilt he felt. Eventually, after decades of suppressing those feelings, Luke suffered a psychotic break. It was this break that led to the emergence of Fluke and his uncharacteristic actions.
The three Spencer siblings were finally together after many decades apart and they were finally able to clear the air and realize that all of the decisions they had made were in an effort to protect each other. Patricia and Bobbie explained to Luke that no one blamed him for what happened to their mother and he was finally able to forgive himself (via Soaps). Bobbie's children, Carly Corinthos (Laura Wright) and Lucas Jones (Ryan Carnes), along with Patricia's daughter Valerie Spencer (Brytni Sarpy) arrived and the estranged families were able to come together for the first time.
Lulu's husband Dante Falconeri (Dominic Zamprogna) was also present and was forced to arrest Luke for the crimes that he committed when he was acting as Fluke. Luke went willingly, wanting to make amends for his actions. Meanwhile, Patricia, who was ill from multiple sclerosis and had insisted on being taken out of her care facility to come to see Luke, peacefully and silently passed away in her wheelchair — in the very home that had pulled the Spencer family apart and brought them back together.