The One Aspect Of Lilibet Diana's Birthday Photo That Mom Shamers Aren't Happy About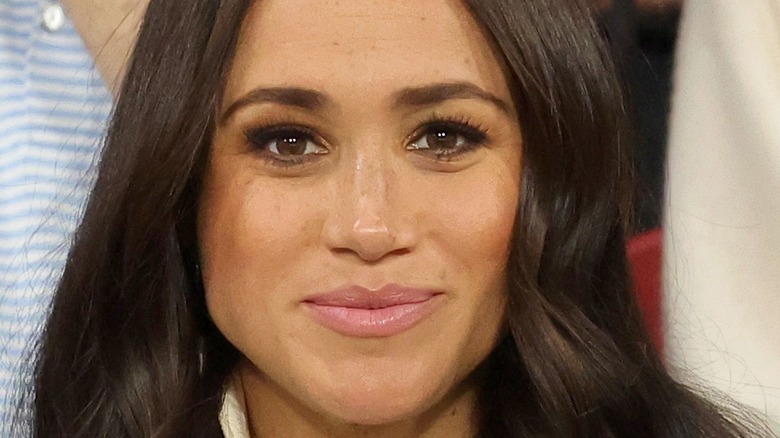 Chris Jackson/Getty Images
Prince Harry and Meghan Markle surely knew their "Megxit" from royal life wouldn't be well received, but perhaps they didn't quite realize how harsh their critics would be. Every decision they make has been met with skepticism or outright condemnation, and their recent appearance at Queen Elizabeth's Platinum Jubilee was no exception. First, the tabloids wondered whether the Sussexes would show up at all; then, when Harry and Meghan finally confirmed their plans to attend the Jubilee, some royals experts thought they should stay home. When the family quietly left for California on the final morning of the Jubilee, the press wondered why they couldn't be bothered to stay for the spectacular Platinum Pageant finale — though if they'd stayed, they would probably have been slammed for that, too.
June 4, the third day of the Jubilee, also happened to be the first birthday of Lilibet Diana, Harry and Meghan's daughter. The couple opted to spend the day throwing a modest party for her at their Frogmore Cottage estate, with a picnic, cake, face painting, balloons, and other kid-friendly treats, per the Daily Mail. Friend and photographer Misan Harriman was at the party with his family, and he caught some priceless moments on camera that the Sussexes allowed him to share on social media. Among them were two photos of Lilibet — the first shared with the public since Harry and Meghan's 2021 Christmas card. 
True, hundreds of Twitter fans couldn't get enough of the cute pictures. However, since this is Harry and Meghan we're talking about, the critics were still ready to find fault about an image of their one-year-old child.
Royals fans were kinder to the Cambridge children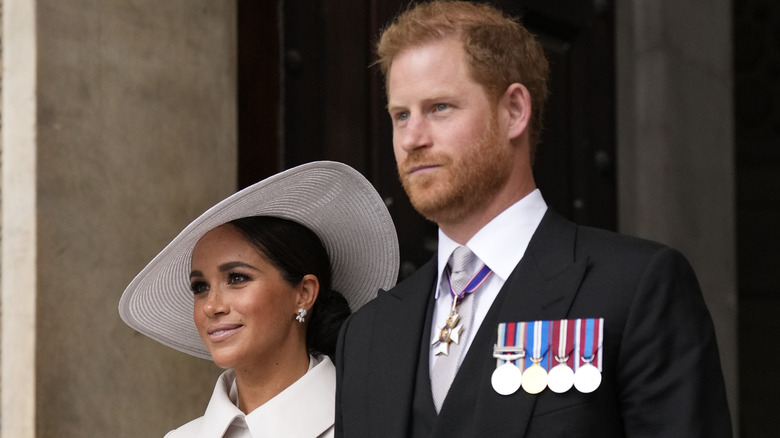 Wpa Pool/Getty Images
The unexpected birthday photos of little Lilibet Diana Mountbatten-Windsor are suitable for framing. One is a black-and-white shot that includes Meghan Markle (sans makeup!). The second is a stunning photo of the birthday girl in a pale blue sundress and lace hair bow, and Twitter exploded with cries of "adorable!" One fan said, "She is absolutely adorable. I love her red hair." Another added, "She's probably got [Harry] wrapped around her pinky finger." Still others posted baby pictures of Meghan and noted that they saw a mom-daughter resemblance, too.
Naturally, the critics tried to spoil the mood. One accused Meghan of trying to pull focus: "Guess she was put off by the world talking about Prince Louis so she dropped this photo of her kid to shut it down. Along the same line of announcing her first pregnancy at Princess Eugenie's wedding reception to grab attention." Some griped that there were no photos of big bro Archie.
Even more petty were the mom-shamers who found fault with the toddler's appearance. "Unkempt hair? Standards are slipping," sniffed a critic. Lilibet's dress also drew criticism: "Is it me or is the dress oversized?" asked one. "I have seen better party dresses." The The Sun U.K. even spotted some naysayers who said the blue sundress looked too wrinkled — as if they expected an active toddler to keep an outfit looking freshly pressed. The Sussexes got the last laugh, though, in the form of $100,000 donated to charity by well-wishers.