Alicia Keys Reveals What Really Happened During Her Performance At The Queen's Platinum Jubilee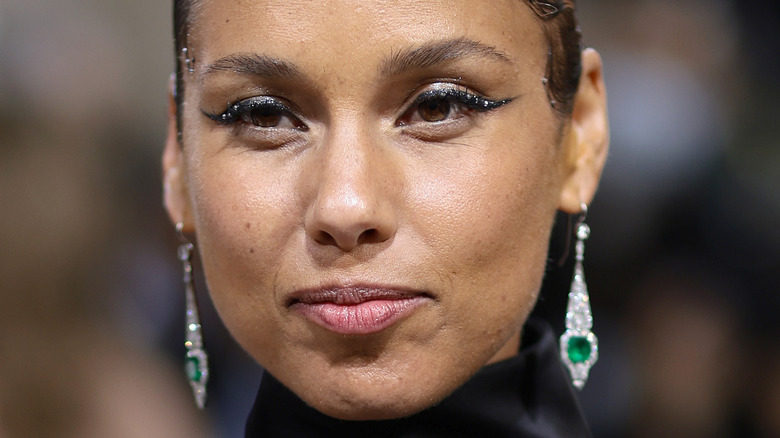 Dimitrios Kambouris/Getty Images
The internet fanned flames of controversy surrounding the "Girl on Fire" singer during and after her performance at the queen's Platinum Jubilee. The buzz arose when Alicia Keys — who has undergone a stunning transformation over the years —performed her hit "Empire State of Mind" at Queen Elizabeth II's "Party at the Palace" (though the queen had stepped back from some Platinum Jubilee events at that point).
Keys began her set by explaining how she was there to celebrate all powerful women. "We [are] here at Buckingham Palace. We are about to celebrate the queen's Jubilee, which to me is for all the queens," she said (per People). Since Keys included "Empire State of Mind" during her performance, the song, which is about New York City, confused spectators of the event on social media. However, Keys did change the lyrics to say "London" instead of "New York" at one point in the song, per the Daily Mail.
Every song was requested personally by the queen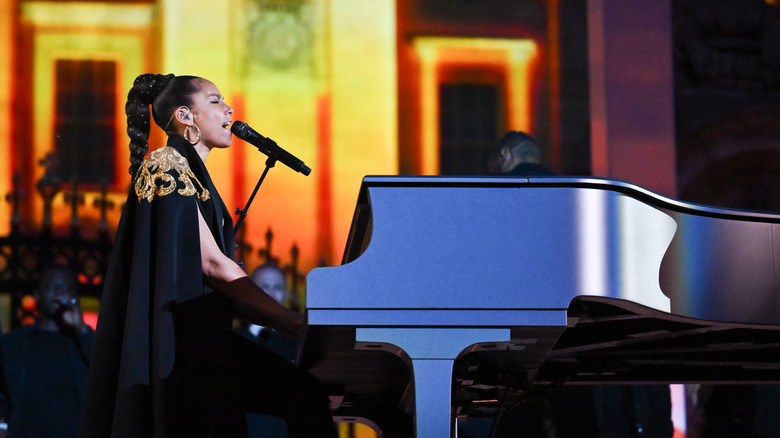 Jeff J Mitchell/Getty Images
Watchers of the Platinum Jubilee's "Party at the Palace" took to Twitter when Alicia Keys performed "Empire State of Mind," per the Daily Mail. One Twitter user wrote, "Alicia Keys singing 'Empire State of Mind' at the jubilee concert. Why?" Another person said, "Call me old fashioned, but why is Alicia Keys singing about NY when she is celebrating the Queen's Platinum Jubilee in LONDON?" But the responses weren't all negative. A more excited Twitter user wrote, "alicia keys performing empire state of mind at the queen's jubilee but changing any mention of 'new york' to 'london' is absolutely perfect."
After the controversy came to light, Keys released a behind-the-scenes video on Instagram that clarified some confusion about the set list choice. The video walked fans through her process of preparing for the "Party at the Palace," including a conversation with her sons that gave insight into how songs were selected. "Telling the boys that the queen requested the songs that I'm singing," Keys said in the video. "And they were like, 'You can't refuse the queen.'" "You can't refuse the queen. It's against the law here," Egypt, her 11-year-old son said jokingly.
And though Queen Elizabeth could not attend the performance due to reported mobility issues, Keys maintained that the songs were "personally" requested by her (per People).