Is Britney Spears Friends With Mariah Carey?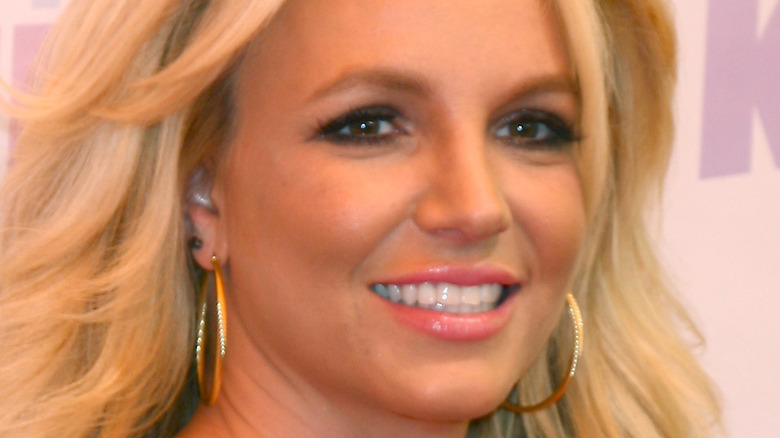 Kathy Hutchins/Shutterstock
The beginning and end of the 1990s were bookended by two of the world's biggest pop stars – Mariah Carey and Britney Spears. At 18 (via Biography), Carey started off the decade with her self-titled debut album, which featured the lead single "Vision of Love." The singer continued to dominate the nineties, releasing six albums by the time a 16-year-old Spears released her debut single, "Baby One More Time" in 1998 (via Yahoo! Life). Citing Whitney Houston, Janet Jackson, and Sheryl Crow as early influences (via Insider), Spears credits her love of singing to Carey — particularly her sixth record, "Butterfly," released in 1997 (via The Sun).
"You are one of the main reasons I started singing," Spears wrote on Twitter in 2020 while wishing Carey a happy birthday. "Your 'Butterfly' album never gets old even after 20+ years ... it's simply a classic." Outside that record, Spears also loves Carey's 1995 "Daydream." During her "Oops!... I Did It Again" tour in 2000 (via Concert Archives), she treated fans to a cover of "Open Arms" — which is a Journey song later covered by Carey on her album "Daydream" (via YouTube). Describing it as a "very special song," it's clear that Carey has meant a lot to Spears throughout her career.
Britney Spears and Mariah Carey first met at the 1999 MTV EMAs
Being two of the biggest names in pop, it was inevitable that Britney Spears and Mariah Carey would cross paths. The stars aligned in 1999, when Spears was able to meet Carey and Whitney Houston at the MTV Europe Music Awards. "They were both really, really cool," the young pop star said at the time (via Twitter), adding that she got to see Houston perform for the first time there, too. "Those were the two people that I was in awe over when I met [them]," she said. "I was really nervous! I was like, ' My God, what do I say? What do I do?' It was funny."
In 2018, Carey posted a throwback photo of their time together, wearing stunning black dresses. "We need a new picture, Brit," the singer wrote on Twitter. It wouldn't be long until that came to be, as the two reunited a year later at a dinner party. "You never know who you're going to meet at dinner parties!!" Spears wrote on Instagram, accompanied by a photo of the stars looking glamorous in black again. "Great night! So much fun," Spears added.
Mariah Carey reached out to Britney Spears during her conservatorship
During an appearance on "Watch What Happens Live" in 2018, a fan asked Mariah Carey what exactly happened during her dinner date with Britney Spears. "I don't quite recall," she said. "There were a couple things that happened night" — those "things" being cocktails, as host Andy Cohen pointed out. "It was great, we love her," Carey continued. "From the beginning when I first met her, she was always a sweetheart."
With that in mind, it's no wonder Carey reached out to Spears when she needed it most. "I think everybody deserves on this planet to be free and what [the press] did to her, what I saw, was horrific," Carey told NME, referring to Spears' conservatorship. "So I reached out to her through a mutual friend because I wanted her to know: 'Guess what? You're not alone.'" The "Vision of Love" singer recalled when she was going through a rough period, Prince was the one to reach out. "[He] gave me a Bible and talked to me for hours," she said. "He cared about the music business and the industry being so screwed up — which it is." In the end, Carey ended up being to Spears what Prince was for her. "You've got to be a giving person," the star continued. "It doesn't matter whether they're my best friend or whatever, I just felt like it was the right thing to do."