Home Work's Candis And Andy Meredith Finally Break Their Silence After Show Suspension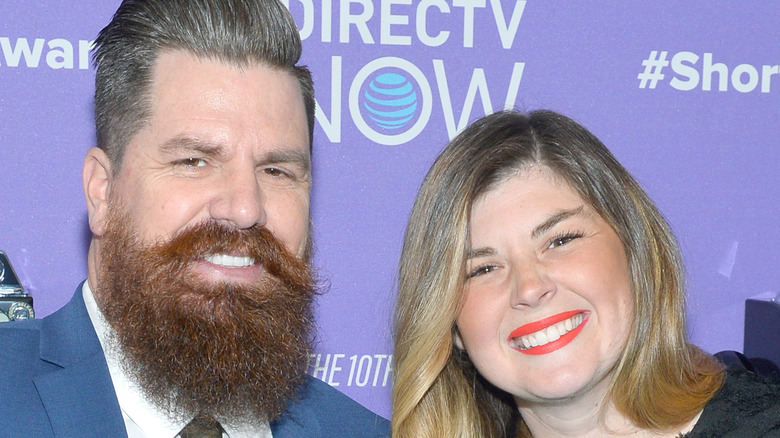 Noam Galai/Getty Images
When Chip and Joanna Gaines left HGTV to launch their own network, they probably didn't envision the drama that would ensue when bringing other people on board. "We don't do it the typical way. We're not the network that says, 'Send in your casting tapes,'" Joanna shared with Variety. "I'd say most of our talent didn't come to us and say, 'I want to do a show.' We came to them and said, 'Can we highlight what you're doing? It's so amazing and inspiring.'"
As Us Weekly reported, "Home Work" featuring Andy and Candis Meredith debuted on Discovery+ in July 2021 and moved to TV in January 2022. The show followed the central couple as they renovated their own family home while also tackling projects all over town too. However, "Home Work" was pulled just two days after premiering, as all kinds of allegations swirled about the Merediths.
Several homeowners and former clients came forward to accuse the couple of shoddy work, lack of communication, and spiraling budgets. Candis responded in an Instagram video, blaming the prohibitively short timelines for TV renovations. "I know better now that I should never have said these short timelines and set these expectations. That is on me, and I take full responsibility," she said at the time. 
Chip and Joanna, meanwhile, did not comment. Per People, the former "Fixer Upper" hosts discovered the Merediths on social media. Following months of radio silence, the Utah-based couple is updating fans on where they currently stand.
The former Magnolia stars updated fans on their current situation
Andy and Candis Meredith are finally opening up about the abrupt cancellation of their Magnolia Network show, "Home Work." The couple shared a photo gallery on Instagram, noting in the accompanying caption that they wanted to "share some feelings we have been having." The Merediths continued, "The world has felt very heavy, with so much pain being experienced from mass shootings to war in Ukraine that it makes our day to day problems seem almost trivial." 
Andy and Candis confirmed they'd been taking some time out of the spotlight to focus on their family and "catch our breath," while the couple is also thrilled to have been nominated for two Emmys, crediting their talented team for all their "hard, hard work" and promising to divulge more details shortly about "something exciting" they've been working on. They also thanked fans for their ongoing support. Followers were delighted to hear from the reality stars again, with one writing, "SO thrilled to see this update today!" while another gushed, "So so so happy to see your faces and know you are all doing well!" 
In January 2022, Magnolia Network confirmed in a statement to People that they were "aware that certain homeowners have expressed concerns about renovation projects undertaken by Candis and Andy Meredith," removing all episodes of "Home Work" from the service accordingly. They also hinted at "additional information" that'd come to light since, which required the show to be scrubbed entirely.