How CBD Can Help Treat Seizures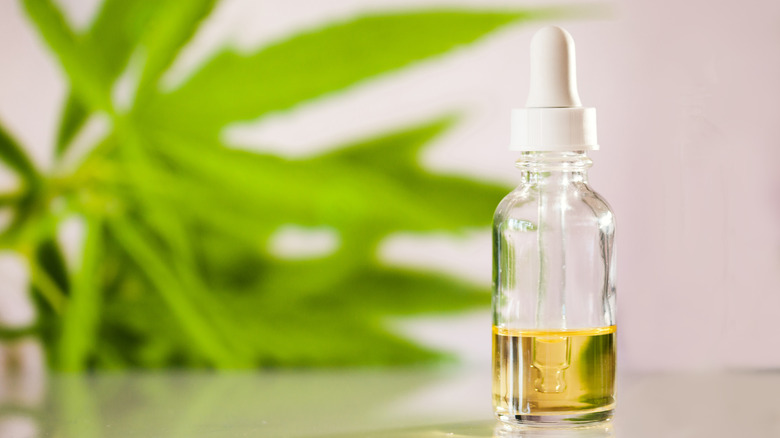 Irina Lev/Shutterstock
CBD is seemingly everywhere these days, and has a lot of uses you're probably not aware of. It's in skincare, in makeup, in seltzer water, and even clothing, with some people claiming it can help enhance your life and improve everything from anxiety to athletic performance. But is CBD everything it's hyped up to be?
CBD, according to the Cleveland Clinic, is a compound extracted from hemp, a type of cannabis sativa plant with a very low percentage of THC (the psychoactive compound in marijuana that causes highs). Because CBD is known to have a calming and not nearly as psychoactive effect as THC, it's often attached to trendy supplements and dubious naturopathic products. The world of CBD products and supplements is a hard one to navigate. While there is a CBD-infused version of just about anything you can think of, the FDA has only approved one cannabis-derived and three cannabis-related products. The rest, internal medicine specialist Dr. Paul Terpeluk told the Cleveland Clinic, are largely unregulated and their claims — while often enticing — should be taken with a grain of salt.
However, this shouldn't prevent us from taking CBD seriously. There are a growing number of studies exploring CBD's clinical usage and it's worthy of consideration for people managing a number of neurological conditions, such as seizures.
How CBD can help people with seizures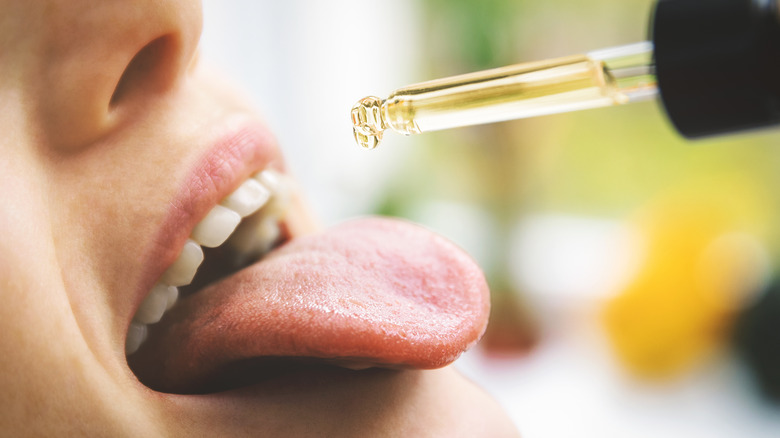 ronstik/Shutterstock
Epilepsy is one of the most common nervous system disorders. According to the CDC, over three million adults in the United States are living with active epilepsy and the number of people living with seizures is growing. But CBD can help, at least in certain cases. 
According to the Neurology Center for Epilepsy and Seizures, CBD is believed to interact with the body's endocannabinoid system to prevent seizures. The endocannabinoid system, which was only discovered fairly recently, is in charge of vital functions such as "learning and memory, emotional processing, sleep, temperature control, pain control, inflammatory and immune responses, and eating," per Harvard Health Publishing.
In 2018, the FDA approved Epidiolex for the treatment of certain types of epilepsy. Per the drug's website, it "is the first and only FDA-approved prescription cannabidiol (CBD) to treat seizures associated with Lennox-Gastaut syndrome (LGS), Dravet syndrome, or tuberous sclerosis complex (TSC) in patients 1 year of age or older."
CBD side effects for people with seizures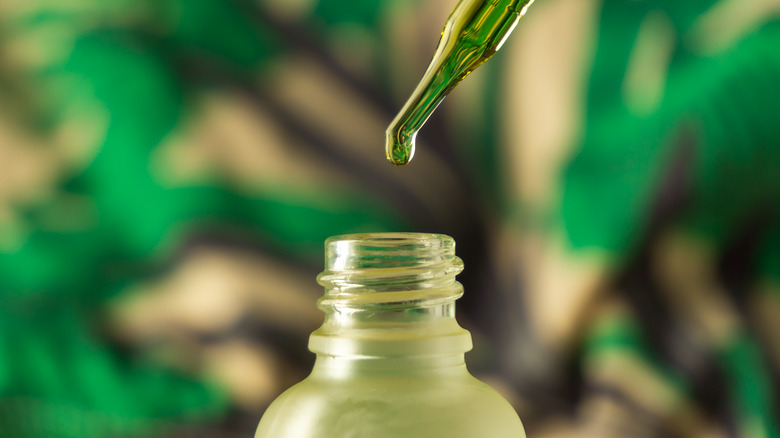 Semyon Nazarov/Shutterstock
While other CBD products claim to help with seizures, Epidiolex is the only one that's FDA approved and you should be wary of artisanal CBD products (any CBD product one might find outside of the pharmacy, most commonly in oil form). The FDA has had to issue continued warnings against such products, which contain dubious CBD percentages, as they are not reliable for treating seizures and can contain levels of TCH that aggravate seizures and related symptoms.
While Epidiolex can help some people with seizures, it's not a miracle cure. Epidiolex has a long list of side effects, including an "increase in liver enzymes, sleepiness, decreased appetite, diarrhea, fever, vomiting, feeling very tired and weak, rash, sleep problems, and infections," per the drug's website. While CBD is known to help with depression, some rare cases of suicidal ideation have been reported.
Harvard Health Publishing also reported that CBD can have adverse effects when combined with other seizure control drugs such as lamotrigine, valproate, and clobazam. It's also known to have negative interactions with drugs like warfarin, amiodarone, levothyroxine.
If you are considering using CBD to treat seizures, consult a medical professional.