Here's What Ariana Grande Looks Like Going Makeup Free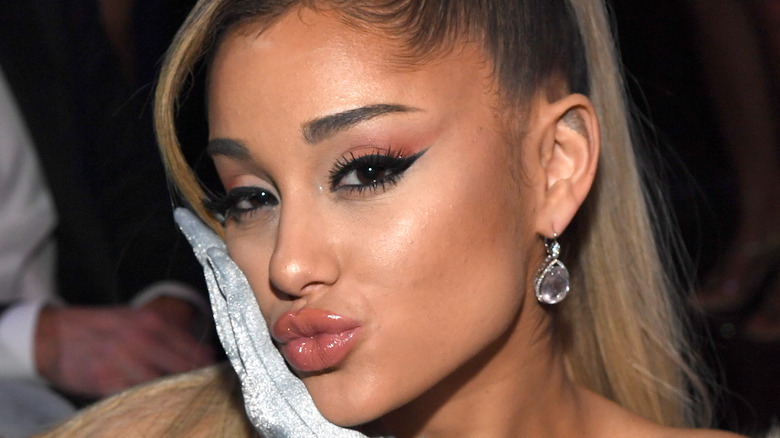 Kevin Mazur/Getty Images
Ariana Grande has had a stunning transformation, but she doesn't follow beauty and makeup trends. The high ponytail will forever be synonymous with the pop star, as will the perfect swoop of a cat-eye. But for the "Positions" singer, her makeup and beauty regime is less about how she looks and more about feeling like her best self. "I think makeup is about self-expression," Grande previously told Glamour. "It's not about following trends per se. The point of it is to express yourself and feel beautiful." 
Grande's affinity for self-expression has resulted in her own makeup line, r.e.m. beauty — named after the song from her 2018 album "Sweetener." "It encompasses a lot of the favorite parts of my sound. And also REM [stands for] rapid eye movement, focusing on dreams and the eyes," she told Vogue. "Eyes are our most effective communicators — you can say more with the way you look at someone than you can articulate with words sometimes, and so much beauty happens there."
Ariana Grande loves a good skincare routine
Aside from the bold colors of her makeup collection, Ariana Grande embarked on a skincare journey in March 2022 when the first products from r.e.m. beauty's skin prep and treatment range dropped as part of the brand's second chapter, which is called Goodnight n Go. "To me, those are some of my favorites from this drop because I feel like it's such an important part of the picture," Grande told Glamour. "And it's fun." 
Grande isn't shy about sharing her makeup and beauty regimes either, regularly providing tutorials from bare-faced to her personal style of glam in a matter of minutes. But the most important thing for the singer is a good skincare routine and sticking to what works best for you. "I don't love beauty rules, really. It should be so personal," she said. "I think we create and then we see what works and what doesn't work for us."
The pop star swears by these skincare products
As for what Ariana Grande's skincare routine consists of, it's actually not that complicated. The singer mainly sticks with Dr. Lancer's products. "He's a dermatologist in L.A. and his products are really, really great," the singer told InStyle. "They make your skin so soft and clean, and I use it every morning and every night." As a pretty high-end brand, Dr. Lancer's products are quite expensive. But Grande does use other tips and tricks to keep her skin fresh. 
According to Grande, taking the time to wash your face thoroughly is a must. "I know it's hard because we get tired, but scrubbing your face, washing your face ... and then moisturizing [is so important]," the "POV" singer told Popsugar (via Insider). She also tries to ensure that her face is makeup-free before going to bed. "It doesn't matter if I exfoliate or if I'm too tired — as long as my makeup is off, I'm fine," she told Byrdie.