How A Diamond Bracelet Is Helping Three Women Regain What The Tinder Swindler Stole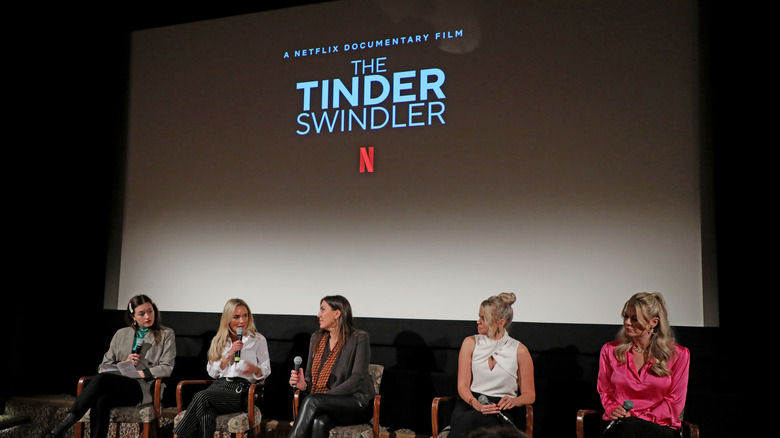 David M. Benett/Getty Images
The "Tinder Swindler" on Netflix shares the story of serial con man, Simon Leviev, who poses as a fake diamond heir to gain the trust and money of several women. These women include Cecilie Fjellhøy, Pernilla Sjoholm, and Ayleen Charlotte, as shared in The Movie Culture. While the Leviev diamond family is real, Simon — who seemingly isn't ready to get out of the public eye — proved to be a complete fake. Leviev was eventually revealed to be an "imposter" named Shimon Hayut. However, the documentary caught the attention of the true diamond heiress, Chagit Leviev, who contacted Hayut's victims, according to the Associated Press.
"These women were courageous enough to go on Netflix and tell the whole world how they were deceived. I felt their pain as a woman, and I wanted to reach out to them to offer our support to do something together," Chagit said. "My wish is that this inspiring collaboration will bring this unfortunate experience to a positive closure by demonstrating women supporting women, and speaking up to bring justice against all criticism, because women are STRONGER TOGETHER."
According to South China Morning Post, Chagit is more formally known as Chagit Leviev-Sofiev. She's described as "a businesswoman" who is "one of the nine children of oligarch Lev and Olga Leviev." A New York resident since 2012, she also supports the family's Leviev Group, which extends beyond diamonds to include mining, real estate, and energy.
Now, back to the diamond bracelet designed to help the three women conned by the "Tinder Swindler."
The stronger together bracelet is symbolic
The collaboration between Chagit Leviev-Sofiev and the women documented in "The Tinder Swindler" features a bracelet made of a gold chain and two interlocking circles, consisting of a mix of sterling silver and 18KT gold vermeil as described by Leviev. Each circle features a single diamond for a total weight of .14 carats and is inscribed with letters. One circle reads "STRONGER" while the other reads "TOGETHER." Cecilie Fjellhøy, Pernilla Sjoholm, and Ayleen Charlotte said in a press release, "Being able to come together and show that we are strong and powerful women through the collaboration has been amazing. We want to thank the real Leviev Diamond family, and specifically Chagit for bringing us all together and bringing closure to this nightmare."
Unlike "The Tinder Swindler" — which didn't show everything on camera — this collaboration is real and accessible to the public.
The gold and diamond bracelet begins sales on Friday, June 17 and retails for $169. According to the website, "10% of the profits will be donated to charity" on the women's behalf and the brand states profits are "going directly to the women to help them recoup their financial losses from [Shimon] Hayut."