This Is The Only Prop From The Original Full House To Make It Onto Fuller House
Fans were eager to bask in the nostalgia of the "Full House" cast's reunion in the Netflix reboot "Fuller House." Not only did it give them a chance to see what their favorite characters had been up to for the past two decades, but to relive the memories made in the three-story San Francisco home the Tanners once called their own.
Thankfully, Danny Tanner didn't put the house up for sale once his girls were all grown up. But by the time "Fuller House" rolls around, he's about to (via Decider). That is until DJ moves back into the family home with her three boys following the death of her husband. As the pilot episode of "Fuller House" concludes, DJ decides to move into the home permanently while Danny pursues his career in Los Angeles. And in true "Full House" fashion, DJ's sister Stephanie and their childhood neighbor Kimmy Gibbler move in to help raise the three boys.
While the house may have the same inhabitants and layout, it's much different than it was in the '90s. That is until you look closer and spot a particular prop that has been there since day one.
The Full House Is Over Two Decades Old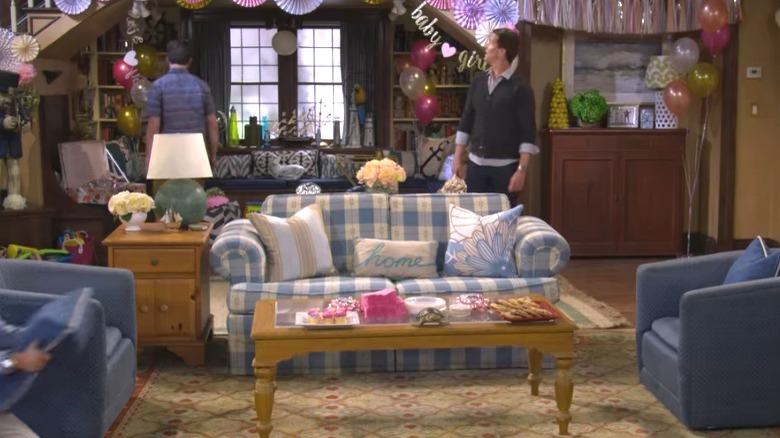 Netflix
The average homeowner goes through several couches during their lifetime, but Danny Tanner has managed to hang onto the same one for over two decades — and it looks as good as new. Danny's need to clean has undoubtedly been put to good use with this piece of furniture, which has been the centerpiece of the Tanner household since the first episode of "Full House" in 1987. Everything has functioned around that couch, from birthdays to Christmases and general family time.
And it's not like the "Fuller House" production team went out of their way to make a replica, either. According to Collider, it's the exact same couch used all those years ago. Someone behind the scenes has some serious preservation skills to keep it in that condition.
But as "Fuller House" ended in June 2020, the future of that precious couch was uncertain. That was until a certain cast member decided to take it home.
This Cast Member Is Now Looking After The Full House Couch
Out of all the "Full House" alumni to claim ownership of the couch, it was, of course, going to be John Stamos (via House Beautiful). Uncle Jesse was always a favorite among viewers, even so much as being crowned the number one character in terms of likeability, courtesy of ScreenRant. Stamos himself has an undying love for the show, as does his son Billy (via Entertainment Tonight). And now, the father and son pair can watch the show together on the iconic blue and white couch.
Stamos revealed his ownership of said couch in April 2020, posting a photo of it sitting in front of the stairs with his young son standing by it. "Baby safety gate or one of the most iconic couches in pop TV history?" Stamos wrote on Instagram. "You, make the call." It was a major surprise to his cast mates, with Jodie Sweetin exclaiming "WHAAAAATTTT?!" in the comments, alongside the late Bob Saget writing that it "comforts" him to know he has it. And, of course, Dave Coulier just had to point out the obvious — "A lot of my farts are still in that couch." Gross, but hilarious.