The Real Meaning Of An Orchid Tattoo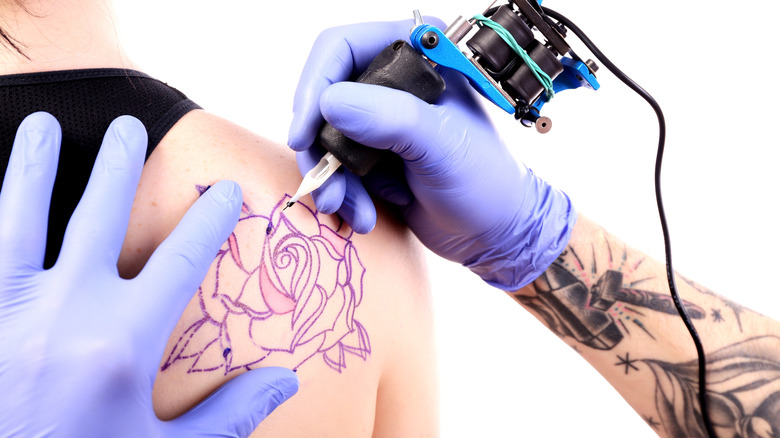 Africa Studios
When it comes to tattoos, it's no shock that flowers are among the most popular subjects. Tatt Mag wrote that people love flower tattoos because each flower has its own representation. They can be for anyone who wants one, not just women. The rose tattoo might be the most popular, with different meanings surrounding the idea of love. Sunflowers are also very popular, representing positivity in many different ways. It's also common for people to get different flowers honoring loved ones tattooed (via The Trend Spotter).
But there is one flower tattoo that can be slightly unexpected: the orchid. The Almanac explains that the once rare flower is in the Orchidaceae family. Orchids are absolutely stunning and can be found in any color imaginable, which means there's a rainbow of colors to pick from for an orchid tattoo. The meaning behind this particular flower, however, may be a surprise.
Orchids tattoos have a plethora of meanings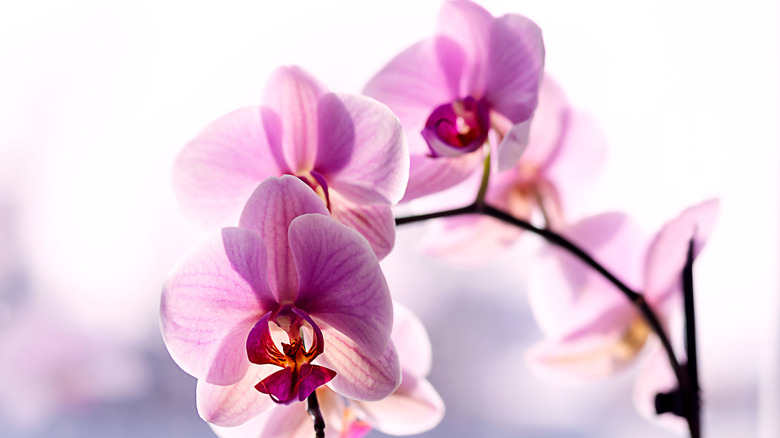 Anna List
One of the most special things about the orchid is there are so many different types, styles, colors, and meanings behind it. Tat Ring explains that many cultures consider the orchid to hold high merit. Some cultures considered orchids "a love potion and aphrodisiac," and the orchid was believed to help with fertility and sex of a child. Tatt Mag adds that the act of getting the tattoo will help a couple's chances at conceiving as well. A few cultures also believed that if a man ate the flower, the child born would be a boy, and vise versa for women. 
Tatt Mag also explains that orchids can be a representation of class. They show grace and dignity, and give the implication of refinement. Internal strength is another meaning behind the gorgeous flower. They can have a whole range of other hidden meanings, from luxury to purity to mystery. It's astonishing how many different definitions can come from one single flower.
What of the orchids types would you get?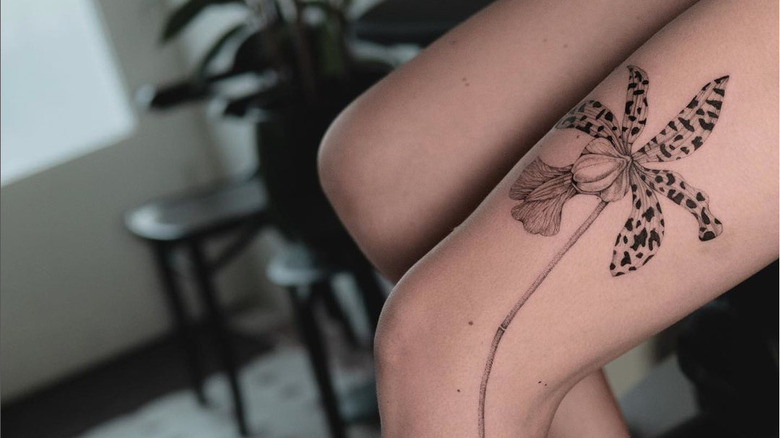 Instagram
Tatt Mag explains how each color of orchid — from orange, black, or blue — can represent very different things. For example, the blue orchid presents rare beauty. This is because they are one of the rarest flowers that can be found. Then there's the white orchid, which means elegance. The color that most represents refinement is the black orchid. There are so many different orchid tattoo styles that it's impossible to name them all. But there are many to choose from. There are even watercolor designs for the creative people. Any chosen orchid can match to the type of person that receives said tattoo.
Actress Kristin Bauer van Straten has her own artwork of white orchids tattooed from her right shoulder blade and up her shoulder and down her arm (via Steal Her Style). Her orchids are in shades of blues, pinks, and whites. She told Tattoo Magazine she wanted "something light, feminine, and timeless" in her orchids.
No matter what kind of person wants an orchid tattoo, there will always be a color and style that will suit them.