What James Charles Really Looks Like Underneath All That Makeup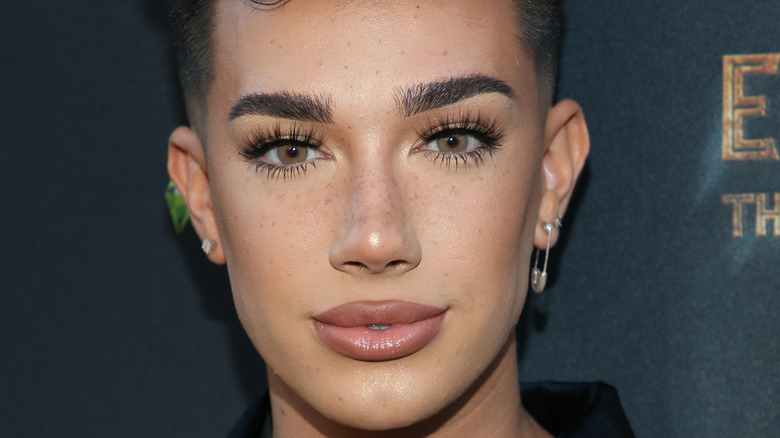 Phillip Faraone/Getty Images
James Charles is one of the biggest beauty influencers working today. According to USA Today, the guru made history as CoverGirl's first CoverBoy in 2016. His Twitter reminds us that it all started because he went viral after bringing a ring light for his high school graduation photos. Since then, he's built his brand and social media presence and collaborated with prominent YouTubers including Jeffree Starr, Emma Chamberlain, and the Dolan Twins. 
The rise to fame did not, however, come without drawbacks. Charles has been involved in a series of scandals ranging from inappropriate comments to full-out feuds with fellow influencers like Tati Westbrook. Nevertheless, he persisted in his career, serving up content to his 24 million subscribers on YouTube. As the YouTuber has grown and evolved, so has his style. He is known for his elaborate eye looks and frequently-freckled face.
It's normal to wonder what our favorite celebrities look like under all that makeup, and in the case of James Charles, it's also a matter of seeing the before and after of his makeup transformation. Luckily, he has shared plenty of makeup-free pictures to give us an idea.
James Charles shares makeup-free selfies on social media
As a beauty YouTuber, James Charles' videos often begin with him showing us his bare face. But the young influencer is also known to post makeup-free selfies and photos where he at least appears mostly bare-faced. From selfies on Instagram, we know Charles' skin is dotted with adorable freckles and moles. 
In this selfie we can see that he isn't immune to the occasional breakout. In another, we can clearly see the pattern of Charles' 5 o'clock shadow, moles, and some under-eye darkness. In yet another pic — captioned "it's been a while since i posted a no makeup photo" — Charles shows off his freckles and brushed brows. According to Seventeen, the creator often appears 100% makeup-free on Instagram stories but sometimes appears to be wearing minimal makeup to emphasize his features in photos on Instagram.
He also shares more candid, less filtered photos on Twitter. In December 2017, he uploaded a selfie where his face appears swollen "This is so funny but also extremely inconvenient and scary what do I do," he captioned the snap.
James Charles likely uses a ring light for his makeup-free photos
Remember that just because a celebrity claims to post a makeup-free selfie, it doesn't necessarily mean that the photo is the bare truth. Celebrities employ a range of clever techniques to make even their makeup-free photos look enviably good. Ring lights — a beauty YouTuber's favorite tool, according to Racked — are known to blur out pores and brighten the face. James Charles is a big fan. In a YouTube video he explained that, while natural lighting is best, a ring light "highlights all your features" because the ring-shape distributes light evenly.
Additionally, no makeup selfies can be enhanced by beauty treatments, minimal makeup, and filters. James Charles has been open and transparent about his love of lip filler and botox, according to Insider. In an episode of "No Filter with Naomi Campbell," Charles admitted to the supermodel that "I have lip filler, I have Botox, I'm very open about it." He's also copped to using services like Photoshop and Facetune to enhance photos so they look their best and has challenged his followers to edit his pics, too (via Twitter).
No matter what, we think Charles looks stunning with and without makeup!