​​The Truth About Jason Thompson's Wife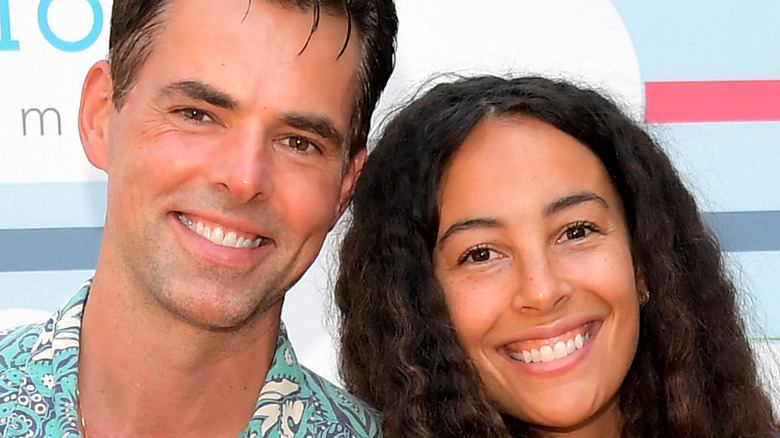 Charley Gallay/Getty Images
Jason Thompson is a soap opera veteran. The actor played the role of Dr. Patrick Drake on "General Hospital" from 2005 to 2016 before joining the cast of "The Young and the Restless" as one of the actors to play the complicated Billy Abbott. He has remained there since (via IMDb).
The year 2016 wasn't only a milestone for the actor in terms of jumping from "GH" to "Y&R," but it was also the year he and his wife Paloma Jonas welcomed their first child. The couple were married in Mexico in 2015 and celebrated their seventh wedding anniversary in April of 2022. In addition to their son Bowie, they have a daughter named Rome who was born in 2017.
In an interview with Soap Opera Digest, Thompson gushed about his wife. "She's just an amazing person and doesn't have a selfish bone in her body. And as a mother, as a partner, that's huge. It means a lot to me," he said. It's not just their home life that has Thompson singing Jonas' praises — she also encourages him professionally. "She gave me a lot of confidence because she just not only accepted who I was, but pushed me to push myself, and there's so much value in that," he told the publication.
Jonas is no stranger to pushing herself. In addition to raising two children with Thompson, she also runs a successful business, models, and works as an online influencer.
Paloma Jonas is a model and influencer
Paloma Jonas started her career in the modeling world around the year 2000. She has been represented by Chadwick, Model Team, and Ford Models, according to Heavy. According to her bio on Instagram, Jonas is currently represented by LA Model Management. She has had great success in her career and was featured on the cover of Nine to Five magazine in 2010.
Jonas also uses her social media platform to collaborate with brands and showcase products she loves, including adult and children's clothing, housewares, jewelry, and other accessories. She has worked with companies like Frank & Eileen, Lincoln, Oso & Me, Heather Taylor Home, Please Repeat, J.Crew, MIDLAND, Caroline Constas, Kit Undergarments.
Paloma spoke to Create & Cultivate about how these business relationships have helped her professionally. "I worked with big companies for a while and learned about how the fashion industries worked," she said. Jonas' experience in the modeling industry as well as her frequent collaborations with successful retailers gave her insider knowledge into the world of fashion merchandising and helped her bring her own company to life.
Paloma Jonas started her own company
In 2012, Paloma Jonas collaborated with her friend and fellow-model Whitney Brown to start their own lingerie company called Valentine NYC. The project began as an "online photography and interview editorial" with the purpose of providing a place for creative women to find connections by being vulnerable and expressing intimacy. The success of the project led Jonas and Brown to turn Valentine into a lingerie line that would help women from all walks of life feel beautiful.
Valentine's products are made in Columbia where they only employ single mothers in an effort to promote the independent female spirit. The company is also working to create a foundation that will allocate funds from proceeds directly to these workers.
"We wanted to create something that was really beautiful, that makes women feel good when they're wearing it," Jonas and Brown told Harper's Bazaar. The company has since expanded to include candles and fragrance. Jonas remains the principal designer for Valentine's bras and panties.