Savannah Chrisley Breaks Her Silence On Her Parents' Guilty Verdict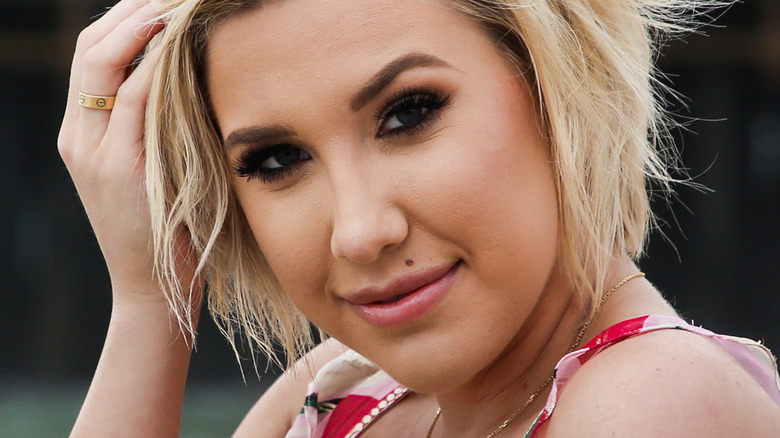 Paul Archuleta/Getty Images
The sad truth of reality TV shows is that, more often than not, the "reality" is messier behind the scenes than it is in front of the camera. Series that started off as fun —  for instance, "19 Kids & Counting," "Welcome to Plathville," and "Here Comes Honey Boo Boo" — suddenly turned cringey when members of the starring families became involved in personal feuds, substance abuse problems, and even serious crimes. The latest show to fall victim to real life is "Chrisley Knows Best." Seems that what we didn't know best about the Chrisleys was that they weren't exactly open and above board with their finances. Capping a two-year legal ordeal, parents Todd and Julie Chrisley were found guilty on June 7, 2022 of federal tax evasion and bank fraud amounting to some $30 million. Their lawyer released a statement on their behalf, saying they were "disappointed in the verdict" and planned to appeal (via Us Weekly).
The one thing that seems to be genuine about the Chrisleys is their family bonds. Their adult children have supported them at various times on social media. Even daughter Lindsie, who has been estranged from the family following accusations that she helped turn Todd and Julie in to the authorities (per People), declared on Instagram right before the verdict that she is "stand[ing] with" her father and stepmother. "I know you are innocent, I pray that the system does not fail our family & the jury sees the truth," she said. 
Now the Chrisleys' other daughter has spoken out.
Savannah Chrisley is leaning on her faith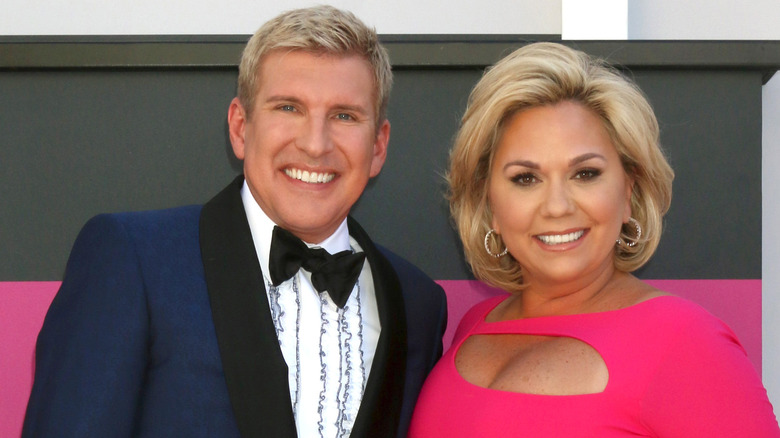 Kathy Hutchins/Shutterstock
As "Chrisley Knows Best" fans now know, Todd and Julie Chrisley's extravagant Atlanta lifestyle was financed through multiple bank loans obtained with false documents, according to ABC News. The Atlanta Journal-Constitution adds that the two also conspired to hide millions from the government in order to avoid a huge tax bill. The charges are serious, and Todd and Julie could find themselves serving 30 years in jail when the sentence is handed down. One of their daughters is hoping that won't be the case.
Nearly two weeks after her parents' trial ended, Savannah Chrisley finally spoke out about what she feels was an unjust verdict. In a lengthy Instagram post, she first asked her followers to "please be kind" about commenting on the ordeal. "I will continue to stand by my family and fight for justice. Justice for ourselves and for others that the system has failed," she continued.
Savannah, who transformed from a shy teen to a beauty pageant queen and influencer, confessed that she felt "unheard" by God because she had been praying for her parents to be found innocent. "But I do believe that He will use every hardship and adversity we go through to strengthen us and prepare us for an even greater purpose," she added. "So I will continue believing in our Lord and Savior...I pray for strength, hope, and love." Declaring that "this fight isn't over," Savannah then concluded — oddly — with a self-affirmation about "break[ing] the glass ceiling" as a makeup entrepreneur.