How Much Does Steve Harvey Really Make From Family Feud?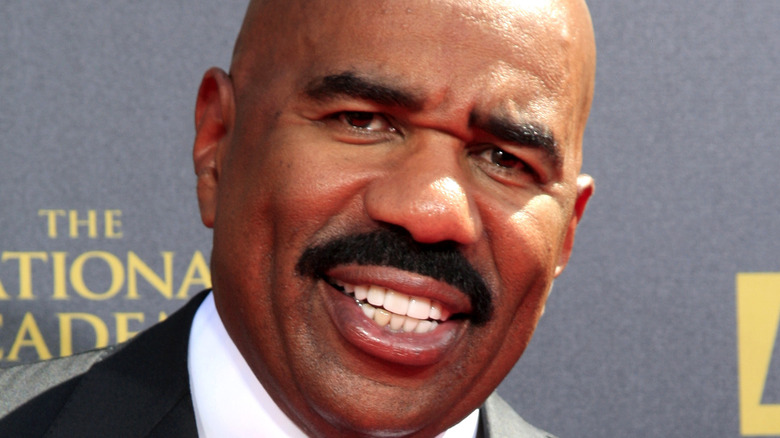 Joe Seer/Shutterstock
From his signature mustache to his deadpan humor to his snazzy personal style, Steve Harvey is truly a one-of-a-kind entertainer. 
He's been a fixture in show biz for more than 30 years, ever since Harvey — the son of a coal miner and a Sunday school teacher — decided to chase his dream of becoming a comedian. In 1985, he took the stage at an open-mic night, and, before he knew it, the Cleveland native was performing on "Showtime at the Apollo."
In the years that followed, the hard-working showman toured with top comedians like Cedric the Entertainer and Bernie Mac, starred in several movies like "Love Don't Cost a Thing" and "You Got Served," wrote three best-selling advice books, and hosted a morning show that's been on the radio since 2000. With such a diverse resume, it's not surprising that he earned a star on the Hollywood Walk of Fame in 2013.
Despite his success in other media, Harvey is best known for his work on television, for which he has won seven Emmys.
Steve Harvey has been a TV staple for years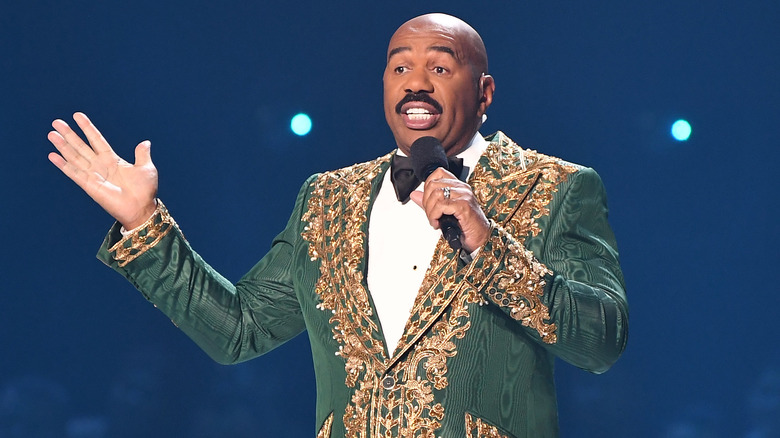 Paras Griffin/Getty Images
Thanks to his quick wit and warm personality, Steve Harvey has been in high demand for television gigs over the years, whether he's hosting, acting, producing, or writing. His hosting credits include "Me and the Boys" on ABC, "The Steve Harvey Show" on The WB, "Steve Harvey's Big Time Challenge" on the WB, and "It's Showtime at the Apollo" on Showtime, the latter of which he helmed for eight years.
However, not all of his hosting jobs have won him acclaim. In 2015, Harvey hosted the Miss Universe pageant, and, when it came time to announce the winner, he accidentally read out the name of the runner-up, Miss Colombia Ariadna Gutierrez, per USA Today. Then, when he realized his mistake and told the audience that Miss Philippines Pia Alonzo Wurtzbach really won, everyone was left confused and conflicted.
In 2021, Harvey reflected on the cringeworthy moment while on the "Comedy Gold Minds with Kevin Hart" podcast. "It was a painful (expletive) night there, dog," Harvey said. "Oh God. I didn't know the pain I was in. I didn't know how bad the mistake was."
Thankfully, his mixup didn't cost Harvey his lucrative hosting gig on "Family Feud."
He's been hosting Family Feud since 2010, making a pretty penny
First aired in 1976, the game show "Family Feud" pits two groups against each other in guessing the most popular responses to random questions for cash. Steve Harvey began hosting the series in 2010 and continues doing so today, beating Richard Dawson as the longest-running "Family Feud" host. 
Per Harvey's website, record-high ratings were reached after he took over hosting duties, and "Family Feud" became the "first nationally syndicated TV series ever to increase its ratings for seven consecutive years." It even spawned the popular spinoff "Celebrity Family Feud," on which famous names like the Kardashians, NBA players, and "Shark Tank" stars play for charity.
Given his success on "Family Feud," it's no shock that Harvey makes a pretty penny as host. According to LiveAbout, for every 30-minute episode, he earns $20,000. Considering that Season 23 had 180 episodes, Harvey took home about $3.6 million for that season alone. 
Compare that to original host Dawson — whose paycheck was $500,000 per season — and we'd say Harvey's Miss Universe gaffe doesn't keep him up at night these days.