Why You May Want To Consider Using Melatonin-Infused Skincare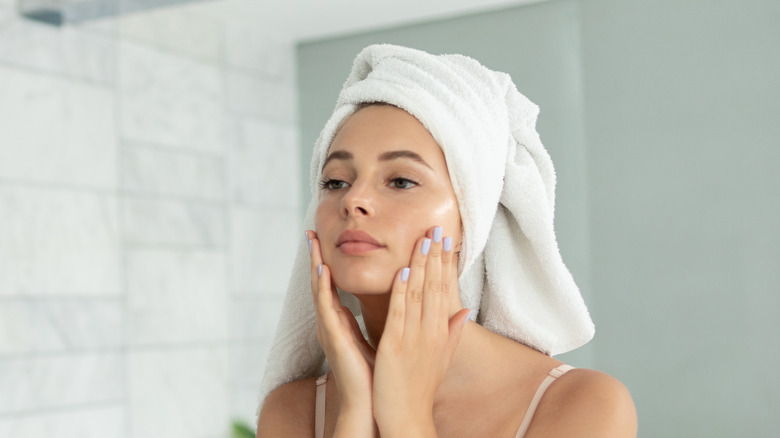 popcorner/Shutterstock
You may have heard of melatonin gummies, pills, or other infused products, but what about skincare? Recently, there has been an influx of research into how melatonin can do more than help you to sleep. Let's start with the basics so you know exactly what melatonin is. 
Insider reports that melatonin is an effective sleep aid. However, it is not as regulated as a drug would be due to its classification as a dietary supplement by the FDA — word to the wise, you should always be careful with the dosage as well as where you purchase melatonin from. According to the National Institutes of Health, melatonin use has steadily increased over the years. Quintupling from the first study in 1999, the highest percentage of melatonin users was found in 2018, showing that it is clearly popular for a reason.
It's common knowledge that a good night's sleep can help us look and feel our best, so the combination of melatonin into our daily skincare routine could provide extra benefits for both us and our skin. No longer just confined to insomniacs and those desperate to catch a few winks of sleep, it could be the skincare savior you need. 
Melatonin has several benefits in different areas, from UV exposure to antioxidants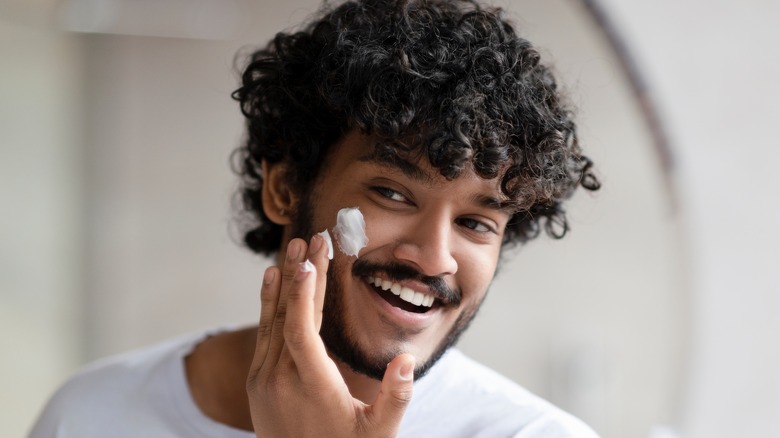 Prostock-studio/Shutterstock
As outlined by Byrdie, one of the most popular products infused with melatonin is Milk Makeup's Melatonin Overnight Serum. Retailing for $36, the serum promises to replenish the skin on your face overnight so you will see "visibly bouncier" skin in the morning. It is also vegan and cruelty-free — always bonus features. Dianna Ruth, co-founder of Milk Makeup, states that their serum is effective for your evening skincare routine due to the inclusion of lavender oil and chamomile extract, both ingredients that have a naturally calming effect. Additionally, cosmetic chemist Krupa Koestline shared that melatonin can act as a preventative measure for UV damage to the skin when applied before any exposure takes place. 
So, how does melatonin-infused skincare actually work? According to dermatologists who spoke to Elle, melatonin works by helping to stimulate vital antioxidants that protect us from pollution and UV exposure. Plus, by applying a product with melatonin to our skin at nighttime, dermatologist Dendy Engelman states that the antioxidant enzymes seen throughout the day can be produced as you sleep (via Allure). This will create dewier and firmer skin over time.
Like all skincare, melatonin-infused products aren't for everybody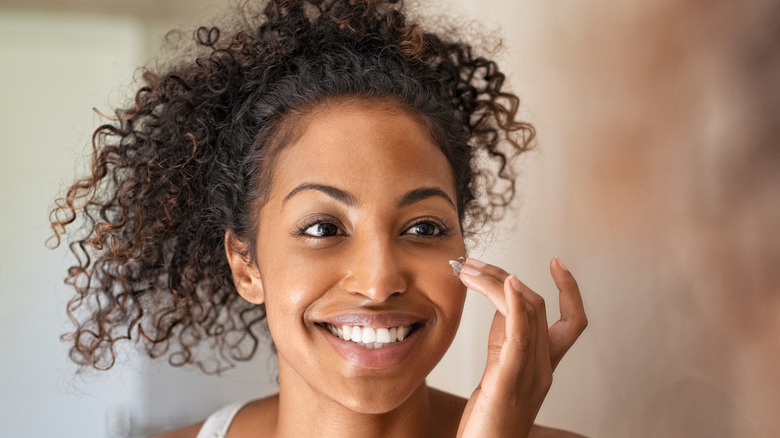 Rido/Shutterstock
With all this in mind, should you jump on the bandwagon? The answer is yes and no. Dermatologist Kenneth Howe spoke to Allure about the potential benefits of melatonin, but he also pointed out that not every product will work for your skin. Our skin and how it reacts to products is a highly individual process, so, as Howe said, don't rush out to buy a melatonin-infused product just because it's the latest skincare craze. 
However, dermatologist Dendy Engelman confirmed that melatonin-infused skincare could mirror the antioxidants our body naturally produces during the day. If used daily, melatonin can have a visible effect on your face and on your skin in general. Melatonin also doesn't have any damaging side effects when added to skincare, either. A 2016 study found that, unlike taking melatonin orally, melatonin-infused skincare doesn't cause unpleasant effects like nightmares, nausea, or headaches. 
Still, the research on melatonin as an ingredient is limited, especially when it comes to its use in skincare. Therefore, proceed with caution by speaking to a dermatologist or doing your own further research. Melatonin-infused skincare could greatly benefit your skin if you feel it looks tired and dull, but, as with all skincare, its main claims won't work for everybody.