Is The MakeUp Eraser Worth It?
Using beauty and makeup tools is a staple part of many people's daily routines. Trending tools in the wellness and beauty world like gua sha and different types of face rollers make great additions to the list of self-care habits you might already have. After all, self-care is key for your overall well being, according to Everyday Health.
For some, putting on makeup can also be a form of self-care – makeup is an art, a form of self-expression, and a way to enhance your natural beauty. Taking the time to put on a "full face" and create a look you love can be therapeutic for some, and has been proven in some studies to boost self-esteem and a sense of identity (via Polaris Teen Center). While getting ready for a glam night out or simply creating that natural look for a workday in the office can be a fun way to get your day started, most makeup enthusiasts can agree that taking your makeup off at the end of the day is much less fun.
There are plenty of options when it comes to makeup removal, but one product in particular has been a hot ticket item in the beauty community: the Original MakeUp Eraser. Like many trendy products, it's hard to know if the MakeUp Eraser is worth the hype, so read on for some honest reviews.
The MakeUp Eraser is 'pure magic'
When you're dealing with oily or dry skin, it can be a long process of trial-and-error to figure out which products work best for you. Even people with combination skin can have issues like dry patches or blemishes to deal with, so it's rare for there to be a product that works universally for all skin types. Enter: the MakeUp Eraser. This brightly-colored cloth is, according to writer Ashley Rebecca, "pure magic" (via Byrdie). It is made to work for all skin types, and helps remove even waterproof makeup. She even says, "My makeup came off extremely easily with the MakeUp Eraser cloth. It took off my full face of makeup, which even included long-wearing lipstick. I also really loved the fact that it didn't spread lipstick or mascara all over my face, as sometimes happens with wipes."
According to writer Lauren Hubbard at Allure, the MakeUp Eraser even took off every bit of her eye makeup, which typically sticks on her eyes even after using a traditional makeup wipe. In her words, "It was pretty impressive, actually."
The MakeUp Eraser can help you make a difference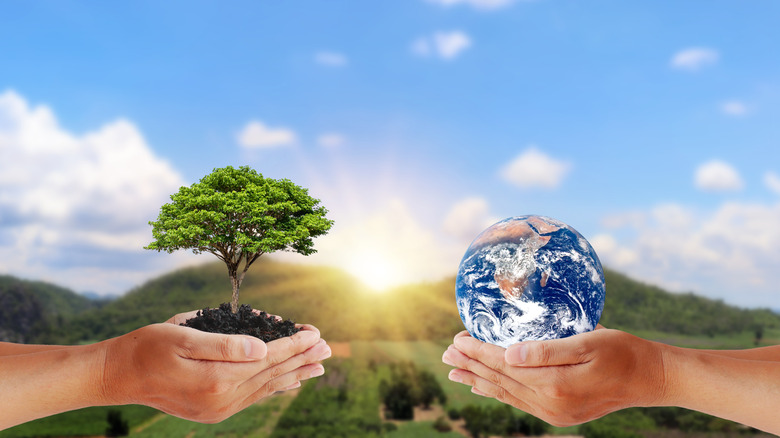 MEE KO DONG/Shutterstock
While makeup has tons of benefits for boosting self-esteem and making a creative statement, it's no secret that the beauty industry has a lot of room to grow when it comes to its environmental impact. Per the Plastic Pollution Coalition, the global beauty industry creates a significant amount of waste — namely 120 billion units of individual packaging each year.
Micellar water with cotton pads or makeup wipes might be habitual products you reach for in terms of makeup removal, but their impact on the environment is pretty considerable. Because 1.3 billion wipes are used and thrown away every single day (via The MakeUp Eraser website), an alternative and eco-friendly method has been much needed. Like Byrdie writer Ashley Rebecca, many makeup enthusiasts have been looking for an environmentally friendly way to take off their makeup, rather than tossing away makeup wipes each day. As a vegan, cruelty free, and long-lasting option, the MakeUp Eraser is a great answer to that problem.