Are The Tanner Sisters All Friends In Real Life?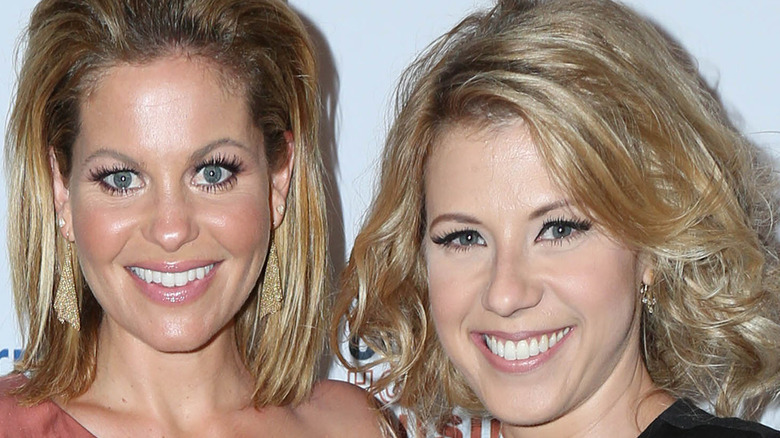 Kathy Hutchins/Shutterstock
Television viewers watched Candace Cameron Bure, Jodie Sweetin, and Mary-Kate and Ashley Olsen grow up as the Tanner sisters — D.J., Stephanie, and Michelle — on "Full House." And everyone was thrilled when the cast (with the exception of the Olsen twins) reprised their roles on the Netflix reboot, "Fuller House." In fact, no one was happier than the cast themselves that the show was getting a second life.
"If I am forever known as D.J. Tanner and everyone's big sister, I will be thrilled and happy," Bure told Good Housekeeping. "'Full House' and 'Fuller House' have brought so much joy, comfort, and love to so many people. There's nothing more I want to be associated with than wonderful and positive things. I embrace the show as an adult just as I embraced it back when I was 10 years old."
Unfortunately, Netflix canceled "Fuller House" after five seasons, but the cast, which also included John Stamos, Dave Coulier, and the late Bob Saget, remained close, keeping in touch via group text. "The 'Full House' group chat is, like, it's the OGs: John, Bob, Dave. The only one that's on both [cast chats] is Scott Weinger — oh, and Jodie and Andrea [Barber], of course," Bure explained to Us Weekly. Bure and Sweetin, in particular, appear to have an unbreakable bond that has lasted for almost 30 years.
Candace Cameron Bure and Jodie Sweetin are lifelong friends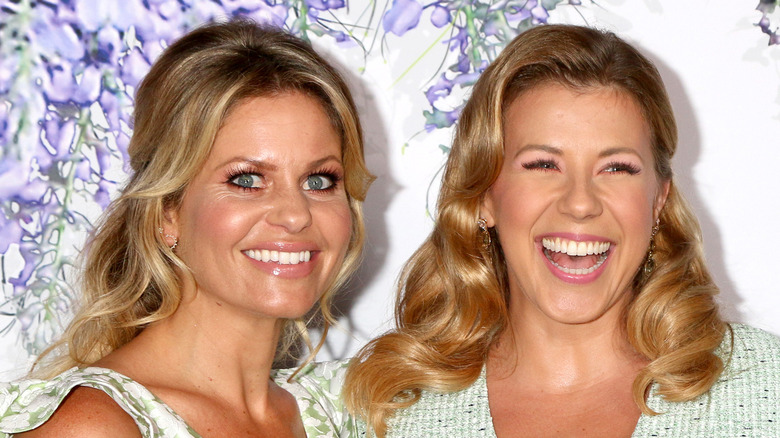 Kathy Hutchins/Shutterstock
Cameron Candace Bure and Jodie Sweetin played sisters D.J. and Stephanie Tanner on "Full House" and "Fuller House" — and they are just as close off-screen. "We have a family. I don't think that there's anything that we go through, good, bad, or daily stuff, that we can't share with each other and enjoy and support and love each other. We've known each other for almost 30 years now," Sweetin told E! News. "When you are as close to people as we are to each other, for that long, you become a family."
Through the years, Bure and Sweetin have indeed shown that they are there for each other during both good and bad times. In 2017, Sweetin was going through a tough breakup that resulted in her taking out a restraining order against her then-fiance Justin Hodak after he allegedly got violent during a heated argument. He was arrested twice for violating it, and Bure told E! News at the time that the entire "Full House" cast was "super supportive of her."
And when Sweetin got engaged in 2022 to her boyfriend of four years, Mescal Wasilewski, Bure was one of the first to reach out with her well wishes. "Congratulations sis. Love you," Bure wrote (per Cinema Blend) in response to Sweetin's Instagram announcement. 
The Olsen twins aren't as close with their TV sisters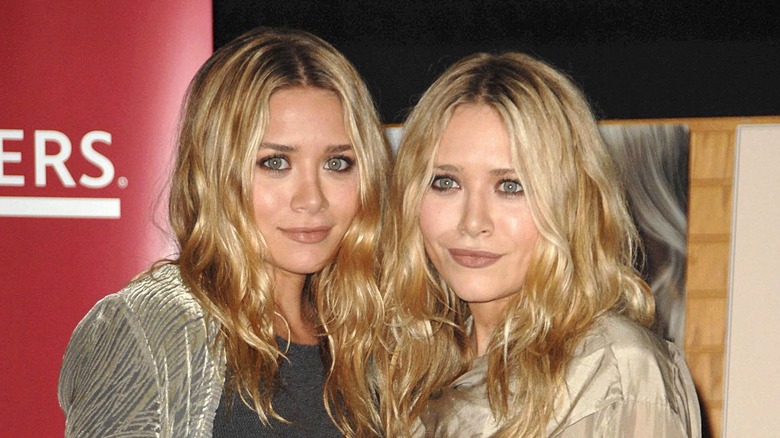 Everett Collection/Shutterstock
While Candace Cameron Bure and Jodie Sweetin have remained close throughout the years, Mary-Kate and Ashley Olsen, who shared the role of Michelle Tanner on "Full House," have not stayed in regular contact with their former television sisters and even declined to make a cameo on "Fuller House."
Bure revealed to Us Weekly that she doesn't keep in touch with the Olsens, but does sometimes speak to their younger sister, Elizabeth. And in 2016, Sweetin said that the cast had given up trying to convince the twins to make an appearance on the Netflix show. "We've tried everything," she told Entertainment Tonight. 
Bob Saget's heartbreaking death in January 2022 shook the entire "Full House" cast, including Mary-Kate and Ashley, who were reportedly close with their on-screen dad. The sisters were both in attendance at his private memorial service in Los Angeles. "Bob was the most loving, compassionate, and generous man," they said in a statement, per E! News. "We are deeply saddened that he is no longer with us but know that he will continue to be by our side to guide us as gracefully as he always has. We are thinking of his daughters, wife, and family and are sending our condolences."