Emma Roberts On How Being A Mother Influenced Her Role In Abandoned - Exclusive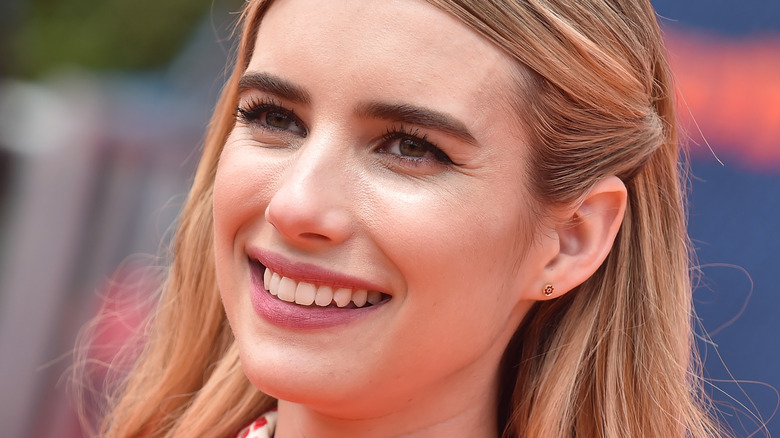 DFree/Shutterstock
Thanks to her famous aunt, Julia Roberts, Emma Roberts grew up with an inside eye into Hollywood, and she practically raised an entire generation thanks to her roles in "Unfabulous," "American Horror Story," and "Scream Queens," among other popular series and films. Now, she's a mother to more than her viewers. As noted by Teen Vogue, Emma welcomed her first child, a boy, into the world on December 27, 2020, and has since fallen into the parent role quite well. She named him Rhodes.
"Having a newborn in the pandemic has been a lot harder than either of them expected, but they're really, really trying their best to figure things out," a source close to Emma told People soon after Rhodes was born. This doesn't come as a surprise, as Emma always appears to confront any challenge she faces head-on. After all, there's a reason she's looked up to by so many people across the globe.
Now, her adventures in motherhood are coming in handy in her career, as she plays a new mother in her latest film, "Abandoned." In this film, she portrays a woman married to a man played by John Gallagher Jr., who is also a horror veteran ("Hush," "10 Cloverfield Lane"). In an exclusive interview with The List, Emma even detailed how being a mother influenced her on-screen role as a new mother.
Being a mom helped Emma Roberts bring her character to life
For Emma Roberts, being a mother proved beneficial to playing a new mom in "Abandoned." In fact, she told The List, "It was funny because my son was probably five or six months old when I read it, and they were scared to send it to me at first. They were like, 'We don't know how you're going to feel about this, being a new mom. It might freak you out.'" 
"But I read it, and I don't mind a little haunting or that vibe," she joked. "No, I thought it was a really well-told story. I don't know. I would never let something get in the way of a well-told story." Of course, Roberts actually prefers playing nuanced characters that allow her to explore her craft in new ways — and challenge the horror genre to be deeper.
"I didn't take it home with me, and my son would come and have lunch with me every day. John [Gallagher Jr.] got to meet him," she continued. "It was actually a really nice atmosphere on such a scary set, but we all were in North Carolina together every day in this house." Because of this, the set became a family. "It became close-knit and nice and cozy. When you see the movie, it's crazy to think that we were all having fun, all eating lunch together, sitting outside on a blanket, and then that's what we were filming."
"Abandoned" is now in theaters and lands on digital and On Demand on June 24.