Royal Expert Believes Harry Is More Of A Danger To The Royals Than Andrew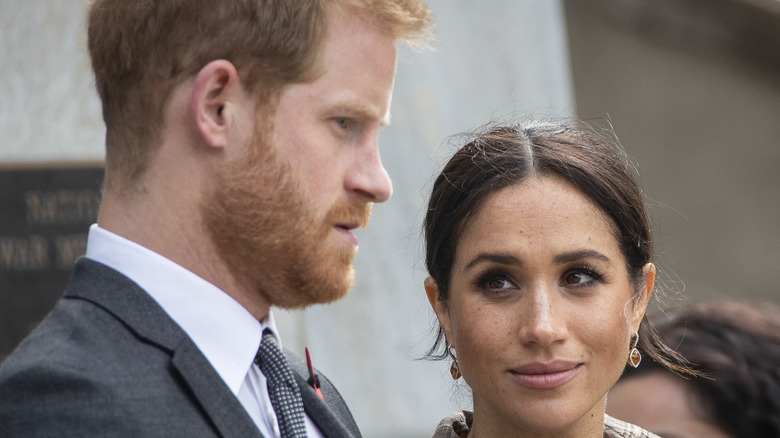 Pool/Getty Images
Ever since they defected from the royal family, Prince Harry and Meghan Markle have lifted the lid on what really happens behind the scenes of one of the most notoriously private institutions in the world. The celebrity couple kicked things off with their groundbreaking Oprah Winfrey interview, during which Harry detailed how he, father Prince Charles and brother Prince William, were all "trapped" in the monarchy, though thankfully the duke was able to break free. Elsewhere, Meghan detailed her extensive mental health issues, and the lack of support she received from higher-ups (via CBS News). 
In the weeks leading up to the queen's Platinum Jubilee, there were concerns the Sussexes might steal focus from her after making the trip over, their first as a family since moving to California. Thankfully, a source subsequently told Hollywood Life Meghan and Harry felt the visit went well overall, particularly since Her Majesty finally got to meet namesake great-granddaughter Lilibet. And yet, they weren't well received by the royals in general, with Express reporting The Mirror's royal editor, Russell Myers, claimed during an appearance on Sky News Australia that the reception to them was "frosty."
Clearly, certain wounds will take longer to heal than others. To that end, another royal expert reckons that, in the long run, Harry actually poses more of a threat to the royal family than even disgraced fail-son Prince Andrew. 
Prince Harry is more of a loose cannon than his uncle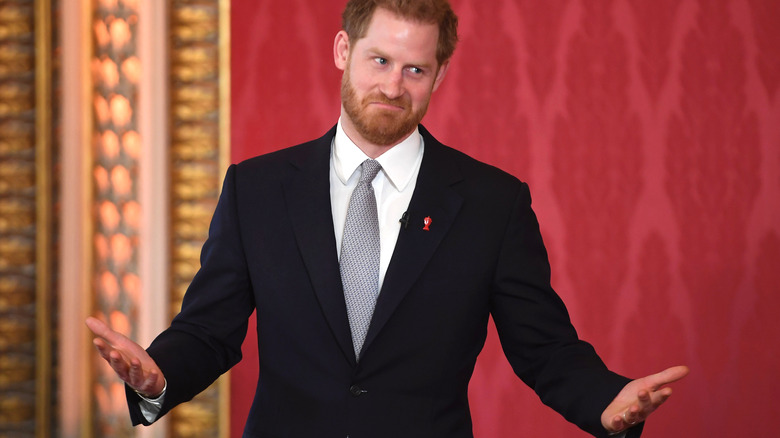 Wpa Pool/Getty Images
Prince Andrew's sex abuse scandal reportedly hurt the queen's reputation, but as far as one royal expert is concerned, Prince Harry is a more significant threat to the monarchy's ongoing success. During an interview on Bloomberg's "In The City" podcast, former Vanity Fair editor Tina Brown explained how the royal family is in a precarious position at the moment, "because everybody knows this is the last jubilee of Queen Elizabeth II and the question of how they will feel British after the queen dies is a big one."
Brown acknowledged Andrew hasn't exactly helped their case, asserting his appearance at Prince Philip's memorial service — notably, Prince William and Prince William weren't impressed with Andrew escorting the queen at the event — was in bad taste. However, she also argued that there will still be occasions when Her Majesty wants him with her, which is perfectly understandable. As far as the "Palace Papers" author is concerned, though, once Charles and William take the throne, Andrew won't be afforded such courtesy.
Surprisingly, Brown contended, "I think Harry is a bit more of a problem, because you never quite know what he's going to do next ... He keeps them all on the back foot wondering where the bombs come from." Thankfully, Charles can handle him. Harry's upcoming tell-all memoir is causing panic among the royal family, with a source teasing The Mirror that it will "shake the monarchy to the core."
The duke's upcoming book will not offend the queen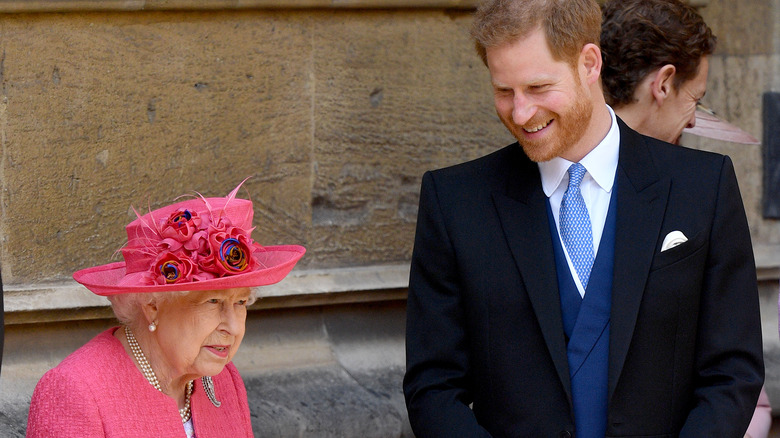 Pool/max Mumby/Getty Images
Despite reports to the contrary, Prince Harry's upcoming autobiography will not be an attack on his family. According to Omid Scobie, royal expert and close friend of the Sussexes, the prince is particularly concerned about protecting his grandmother's legacy. "Harry is really going out of his way to make sure that there isn't material in there that can be seen as negative towards the Queen or her reign in any way whatsoever," Scobie said, in a recent appearance on the "Royally Obsessed" podcast.
In fact, the royal defector wants to honor her. Scobie revealed, "As much as the press want this to be a burn book and an attack on the institution, this is more just about his story," reasoning it's about sharing certain untold aspects of Harry's life rather than taking shots at his estranged family-members. As Scobie pointed out, "His story is so much more than just the few years of his life as the Duke of Sussex." Harry's book was announced in July 2021. He earned a whopping $20 million for the deal with Penguin Random House.
Per The Guardian, during a "Today" interview, Harry caused major controversy after claiming he wanted to ensure "the right people" were around the queen. Although his book was expected this year, a Penguin spokesperson told The Sunday Times (via Cosmopolitan) there's no release date as of yet due to "some uncertainty" over when it should come out.