Yvette Nicole Brown Shares Her Favorite Memory From Starring On Drake & Josh - Exclusive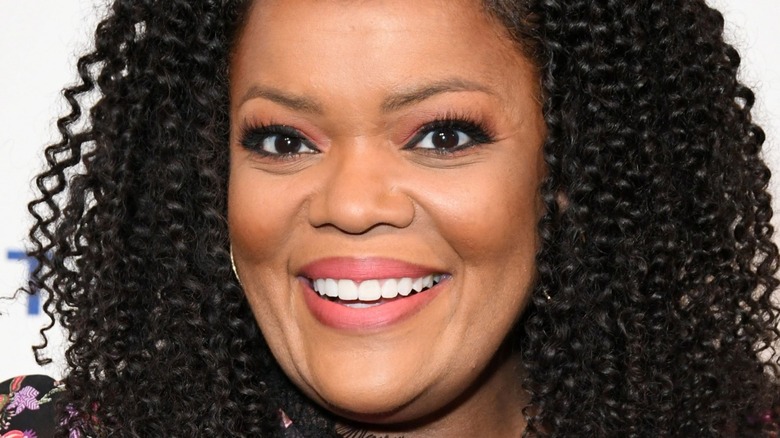 Quinn Jeffrey/Shutterstock
If you happen to be one of the fortunate few who grew up on 2000s Nickelodeon, then you definitely remember "Drake & Josh." The two hysterical stepbrothers always found a way to make us laugh throughout their four seasons on television.
When they weren't busy being pranked by their mischievous little sister, Megan, the two were often seen hanging at the local movie theater causing their own kind of trouble. The only thing that seemed to keep them in line was the fact that Josh worked there — and his boss, Helen, hated him. 
The series simply wouldn't be the same without the woman who was always giving Josh a hard time, and it was thanks to actress Yvette Nicole Brown. Looking back, some of Brown's favorite moments in show business happened on the set of "Drake & Josh." Remember the episode where Helen received laser eye surgery? "Everybody loves the eye surgery," the actress said during an exclusive interview with The List. "But my favorite [episode] was the storm."
The Storm from Season 4 will forever be her favorite episode
During Season 4, practically everybody on "Drake & Josh" is miserable when they miss the concert they were promised and get stuck at the boys' home during a storm. However, actress Yvette Nicole Brown was having the best time starring in that episode. "It was my favorite," she told The List. "Because almost every guest star that had ever been on 'Drake & Josh' was under one roof, so those of us that never worked together got to meet each other."
Everyone who worked at the movie theater was in attendance — including Helen, Crazy Steve (Jerry Trainor), and Gavin (Jake Farrow) — as well as the nerds from school and all of Drake's ex-girlfriends. "There were all these different vignettes, everybody being silly together," Brown said.
At one point, her character Helen even leads the group into singing a rendition of "We Will Rock You" — giving all the characters the musical evening that they had originally planned (even though the character would be sure to tell you, "That is not my job!"). "That's my favorite episode," Brown said.
Today, Yvette Nicole Brown is partnering with "It's Bigger Than Me" to help stop the stigma surrounding weight. For more information, visit ItsBiggerThan.com.