Lyrica Okano On Press Play And Her Dream Collaboration - Exclusive Interview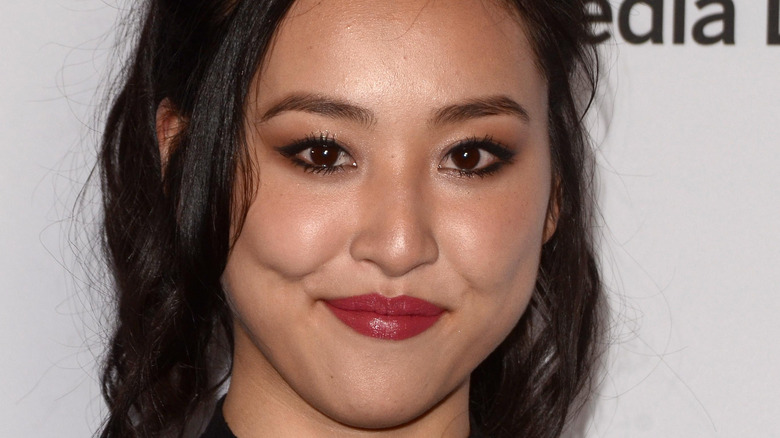 Kathy Hutchins/Shutterstock
Sometimes, a song takes us back in time to when we first heard it. It's like we're reliving the moment in perfect detail. In "Press Play," Laura (Clara Rugaard) literally travels back in time to the first moment that she heard the songs on a mixtape she and her deceased partner Harrison (Lewis Pullman) put together. In the process, she attempts to pull off the sort of time heist you'd see in the Marvel Cinematic Universe, but instead of saving the whole world, she's trying to bring Harrison back to life. It's a love story that could compete with the best Hallmark movies, but it's far from cheesy.
Unfortunately, time travel isn't an exact science. As she works her way through the playlist, she has fewer opportunities to make things right. And she's messing with other people's lives while attempting to save her own. While Laura's risky adventure plays out, Lyrica Okano steps in as Chloe — Laura's best friend and Harrison's step-sister — to help weave the threads together. Okano's character steals several scenes with her wit and vibrancy, and it's drastically different from the breakout role Okano played as the witchy Nico Minoru in Hulu and Marvel's "Runaways." 
Below, Okano exclusively speaks to The List about what drew her to the film, which also features appearances from the likes of Christina Chang, Matt Walsh and Danny Glover. The actress also gives us a peek at the musicians that would end up on her mixtape. Spoiler alert: She's featuring the likes of Japanese Breakfast, who landed on the movie's soundtrack. We even talk about how "Press Play" differs from "Runaways," Okano's dream collaborator, and her favorite memories from shooting on location in Hawaii.
Lyrica Okano likely would have followed in Laura's footsteps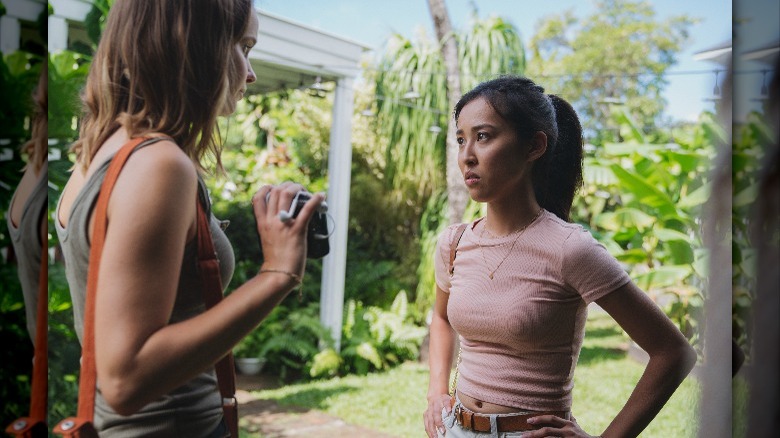 The Avenue
I watched "Press Play" last night, and it's wonderful. I thought the concept was so unique. What was your biggest takeaway from working on the project?
The message is pretty clear. It was to enjoy every moment you have with the people that you love. Not to sound bleak, but you never know when that's not going to happen anymore. It would be really nice to be able to have an opportunity like Laura does in the film and go back in time and get to relive those beautiful moments. But, it might not happen so enjoy the very moment that you get to be with someone that you love.
That's interesting because I wanted to ask if you were in Laura's shoes, would you have used that time the same way or would you have done something different?
When I was reading the script, I was getting frustrated and also watching Clara work as Laura, running all over the place, all this nervous energy, [because] she needs to save her boyfriend. I get it. It was frustrating though, 'cause I was like, "Listen to Danny Glover." Nobody else gets to do this, so enjoy it. Don't try to fix things and then screw up Chloe's love life while doing that. In truth, I probably would react the same way that Laura does because I'm not actually that woke.
How do you avoid that when you have that opportunity?
I would probably be messing with that tape recorder for sure. And then get the same speech from Danny Glover, go "Duh," and then still do it.
We learn after sometimes.
That's right.
What songs would be on your mixtape if you were in this situation?
Definitely [songs by] Japanese Breakfast. [I'm a] huge fan. They're amazing, and they're in the film. Go watch it. [I would choose] Japanese Breakfast [and] Mitski, who's also amazing, and my playlist would be very depressing. It would probably be Nirvana, Fiona Apple, maybe a lot of the Beatles and Rolling Stones, but mostly, it's probably going to be pretty emo.
Chloe gave Lyrica Okano a chance to play a totally different character
What drew you to the role of Chloe?
I read the script, and I [enjoy] love stories. I've always been a sucker for them, but what really drew me in was how they incorporated music so beautifully into the story. When it got to the time travel part with the tape recorder, I was like, "Oh my gosh, that's genius." I love music, and every time I listen to music, it's a very nostalgic experience for me where I do travel back in time in my own mind. To put that into movie form and have people see ... that's amazing, and I wanted to be a part of it in any way.
It's honestly such an interesting concept. As I was watching last night, I was blown away by how the idea evolved. It's so fun.
Yeah. It is really fun. It's so cute.
It's different from what you've done before, in a way. How would you say a project like "Press Play" differs from "Runaways?"
That's definitely one of the other reasons why I said yes to this project. It was after shooting the last season of Marvel's "Runaways." I'll be honest, I was exhausted, and I felt like I  needed to laugh a little bit. I wanted to have some fun and bring some lightness back into my life, and I read the script. It was in Hawaii, and it was a love story and thinking about the idea of getting to play Chloe, who brings all the fun. She loves the boys, she loves her best friend and her stepbrother, and she wants to have fun. That really excited me. With my other projects [like] Marvel, I played mainly a really goth emo witch, and she's really fun to play, but it's dark.
You got to be the light in this moment.
I got to be Karolina Dean, which is the light in our show in "Runaways." That was nice. I got to smile more.
Smiling a lot more is always welcome. I saw that it looks like you're reprising the role of Nico Minoru for a video game.
I don't think I'm allowed to talk about it, but I've heard the rumors. It sounds really cool and fun if I were to reprise the role for a video game. Who knows? It's a good idea. You're going to have to [wait to] know when it comes out, guys.
Lyrica Okano enjoyed her time in Hawaii with her costars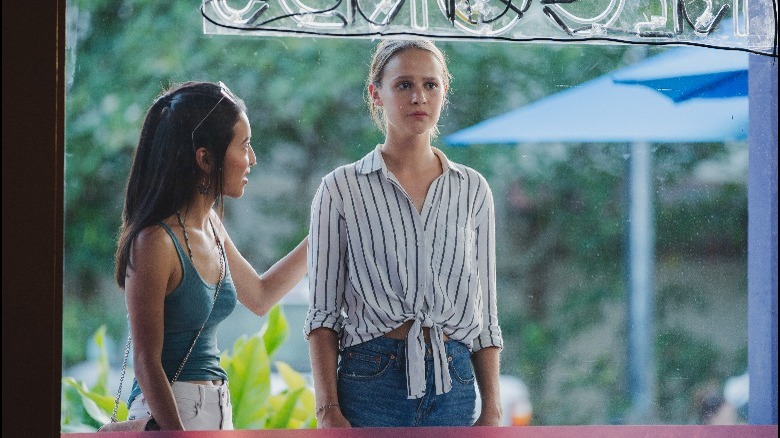 The Avenue
Did you have a favorite memory from working on "Press Play"?
I was there for two and a half months with Greg and Clara and Louis and Danny and all those lovely people. There's so many beautiful memories. We were in the same hotel, Clara and I. We would hang in the pool. Is it called the infinity pool? It looks like it's going ... That was crazy, and we're in Hawaii. I remember small moments where I'm hanging out with a new friend, [and] every time I think about this movie, I see snippets of that.
I know that the movie premieres very soon. How are you feeling about that?
It's exciting but also very surreal 'cause we shot this film before the pandemic, [right around] the end of 2019. It's been a minute, and I'm so happy and excited that it's coming out, but I'm like, "Oh my god." Now, I live in West Chester, Pennsylvania and things are so different. Meanwhile, this film is coming out. Life is wild. It is pretty here [in Pennsylvania].
I'm in Ohio, so it's more similar than Hawaii, at least.
Really? I was just in Ohio this past weekend. I was in Cincinnati for a wedding. But it was really cool.
Is there anyone who you'd love to work with if you had a chance in the future?
What would you want to do together?
I don't want to say I want her to play my mom, because I feel like I'm too old for that. I'm too old to be her daughter now. Anything. I'll be there to be her assistant while she plays a boss on a TV show, carry her coffee, whatever, and I'll be in the background. I don't care. I want to be around her.
I hope it works out for you. That would be incredible.
Put it out in the universe, please.
I'm sending out those vibes right now.
Thank you!
"Press Play" is now playing in select theaters and is available for rental and purchase digitally and on demand.