Michelle And Barack Obama React To The Overturning Of Roe V Wade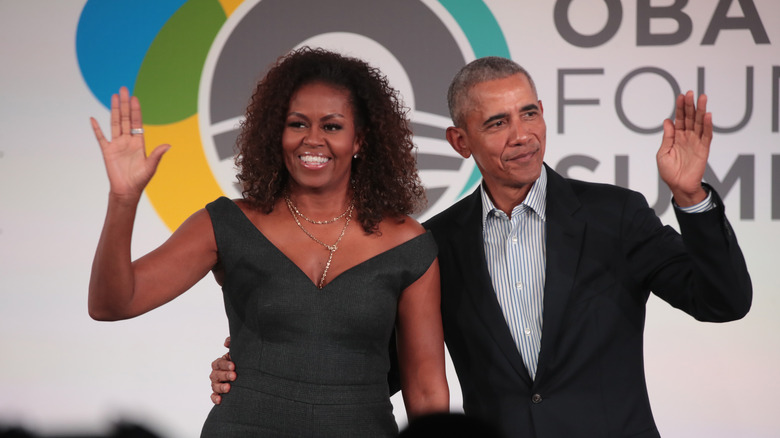 Everett Collection/Shutterstock
This morning, Friday June 24, news broke that the Supreme Court has officially overturned Roe V. Wade, the landmark ruling that made access to abortion a federally-protected right for nearly half a century (via The New York Times). This ruling, while shocking to many, did not come as a surprise, as documents showing the court was planning to officially overturn Roe were leaked back in early May. The news at the time resulted in countless protests across the nation as those who support the right to abortion hoped to make their voices heard before the court's decision was final. But today, it seems those protests were in vain. 
Social media immediately exploded with reactions from celebrities, politicians, and citizens alike, some celebrating the decision, and others enraged by it. Among the people mourning the court's decision, which will leave abortion rights and access to reproductive healthcare up to the states, are former President and First Lady Barack and Michelle Obama, who took to Twitter to share their thoughts. 
The Obamas share their thoughts and advice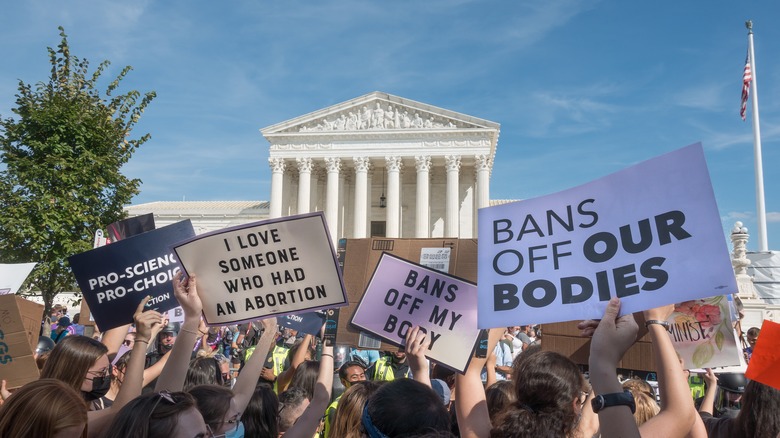 Bob Korn/Shutterstock
Via his Twitter account, Barack Obama said the following when the news broke: "Today, the Supreme Court not only reversed nearly 50 years of precedent, it relegated the most intensely personal decision someone can make to the whims of politicians and ideologues—attacking the essential freedoms of millions of Americans." He went on to give supporters of abortion rights some hope and some actionable tasks, saying, "If you're looking for ways to respond, @PPFA, @USOWomen, and many other groups have been sounding the alarm on this issue for years—and will continue to be on the front lines of this fight." 
Former First Lady Michelle Obama also spoke her mind via the social network, tweeting a full-page short essay of her thoughts. In the piece, Mrs. Obama states that she is "heartbroken" at the court's decision, and fears that the nation is about to "learn the painful lessons of a time before Roe" when women "lost their lives getting illegal abortions" and when the "government denied women control over their reproductive functions." 
Michelle also sends up a rallying cry to those who feel the way she does not to let despair cause them to give up. Rather, she urges them to get organized and involved with organizations like Planned Parenthood and The United States of Women. "Our hearts may be broken today," she said, "but tomorrow we must find the courage to get up."