Get A First Look At All-New Episodes Of Buttah Skin's Series Beyond The Surface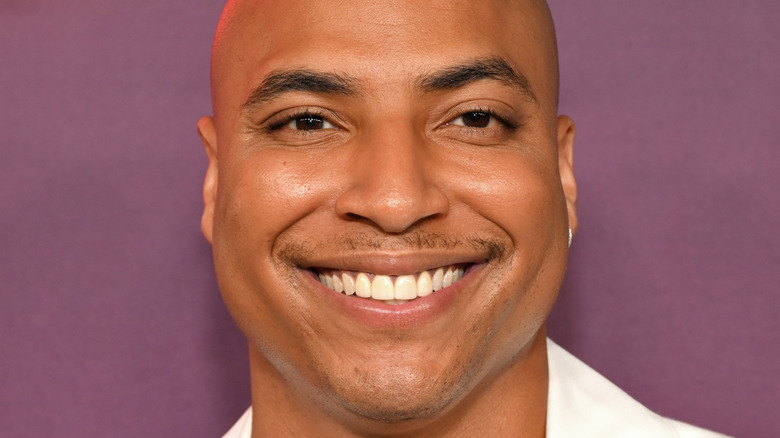 Michael Kovac/Getty Images
If you've been shopping around for skincare products that will leave your body "smooth like butter," then you may already be familiar with Buttah Skin. Buttah Skin is an organic, cruelty-free skincare brand created by actor Dorion Renaud. Products from the Black-owned brand contain emollients like shea and cocoa butters, which have traditionally been popular as skincare remedies among the African diaspora (per LoveToKnow Health & Wellness).
Inspired by his personal skincare journey and struggles with acne, Renaud started Buttah Skin to help other people, particularly those with melanated skin (via Byrdie). But Renaud went further than starting Buttah Skin — he also used his platform to highlight the stories of Black public figures through a series called "Beyond the Surface." 
Shae DeWaal, director of publicity and influencer marketing at Newhouse, said of the series, "'Beyond the Surface' highlights Black creatives and changemakers in their respective fields and examines the stories that have shaped their lives and careers." The series initially launched on February 3, 2022, with episodes posted on the Buttah Skin website and streamed on the company's Instagram page.
Some of the past guests that have been featured on "Beyond the Surface" include "New Girl" actor Lamorne Morris, CNN host Cari Champion, and five-time All-American 100 m. sprinter Angela Manuel-Davis. When the show launched, Dorion Renauld told Ebony, "It's important for me to continue to uplift our voices and showcase the beauty behind our stories, especially during Black History Month, and in the current times in which we're living." Now, new installments of the series are gearing up to drop. 
The new episodes of Beyond the Surface will cover wellness and relationships
Ahead of the return of "Beyond the Surface," as new episodes are set to drop on July 8, we got a look into what celebrities, inspirational leaders, and actors are preparing to share on camera. Including "intimate sit-downs" with actresses Amber Riley, Estelle, Ashley Blaine Featherson-Jenkins, and Jennifer Freeman, the new, upcoming episodes will dive deep into balancing careers, relationships, and mental health amidst the global pandemic. Natalie Manuel Lee — TV producer, journalist, and wardrobe stylist – is the host and executive producer of the series.
"The trauma and the things that we deal with when we're growing and how it affects our brain, I now realize why I was going through depression. And we just ignore it. We ignore the feelings because we're not taught to deal with our feelings. We're not taught to sit in our emotions," Riley emphatically said in the impactful trailer for the all-new episodes.
Of the important work and poignant series, Lee told Essence, "With the plight of humanity, we felt it was imperative to have a dialogue about transitions in life, motherhood, and the balancing act we all do with our careers, finding the silver lining in the 'bad' and navigating the uncertainties in life. One of the greatest ways to serve is to tell your truth and when you share your story, it can be someone else's survival guide." 
The series will return on July 8, 2022, at 7 a.m. PT / 10 a.m. ET.