Why Celebrities Can't Get Enough Of Ultrafragola Mirrors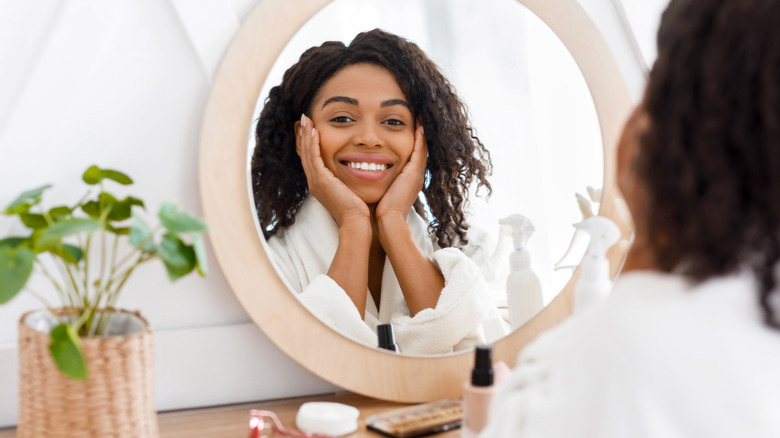 Prostock-studio/Shutterstock
It's no secret that celebrities have more money than most of us, which is why it's so intriguing to see the latest trends pop up in the celeb world. Whether it's fashion, beauty, or architecture, there's no doubt we take inspiration from the looks and furniture pieces celebs have in their homes. 
You may be looking for inspiration for decorating your home, or simply curious to see how the other half lives. Just by looking at the slew of celebrity homes featured in Architectural Digest, both online and in print, it's clear there's a demand for seeing how stars decorate their homes. Every so often, a piece stands out due to being spotted across celebrity Instagrams or featured in a magazine. That's exactly what happened a certain mirror started to sporadically appear across the social media pages of celebs and was then noticed by the public. We've found out all the details about this intriguing mirror so you can understand the history and significance behind it. 
Many celebrities have been spotted with the famous mirror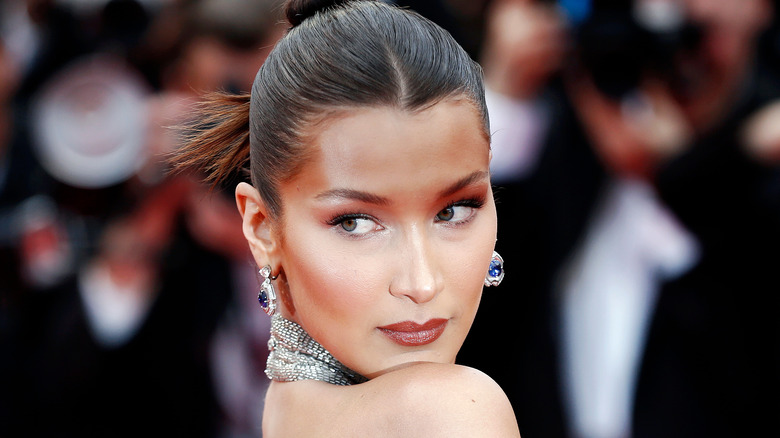 Andrea Raffin/Shutterstock
As mentioned above, the latest celebrity furniture obsession is none other than a mirror. However, this isn't just any mirror. According to House Beautiful, celebrities like supermodel Bella Hadid, singer-songwriter Frank Ocean, and businesswoman Sophia Amoruso have all been spotted posting photos or posing with the mystery mirror. 
Known as the Ultrafragola mirror, the piece is a one-of-a-kind luxury item. Currently retailing for over $10,000, the name is Italian and means "the ultimate strawberry." Very fitting, as the mirror itself only comes in one shade, a stunning light pink which is illuminated by neon lights (via Poltronova). Pink is very on-trend for this summer, which could definitely be contributing to the mirror's popularity. 
When speaking to The Strategist, Keith Johnson, president of Urban Architecture, said he believed the mirror was made as a tribute to the femininity of women. He elaborated by stating, "if you mention a woman's 'strawberry' in Italy, everyone knows what you're talking about." It seems then that the mirror is designed to highlight the sensuality of women, which is perhaps why Hadid, amongst other women, appears to like it so much. 
The Ultrafragola mirror was first designed over 50 years ago
According to Poltronova, the company which the mirror was originally commissioned for, it was first created in 1970 by Ettore Sottsass. Crafted from opaline PETG as well as glass and LED lighting, its unique beauty makes it as much a display of wealth and art as the person posing in the photo with it. The mirror was displayed at various exhibitions when first designed, but did not come back on the market until recent years.
The version available to buy now is a replica of the original, though The Strategist notes that each mirror is made from the original mold in Florence, Italy. Designer Alex Eagle thinks that the mirror's popularity is down to the gentle pink light it emits, which complements most skin tones and creates a glow from within. Additionally, Raquel Cayre, designer and curator of the Instagram account @ettoresottsass, called it "the ultimate selfie mirror" when speaking to Architectural Digest, always a massive plus when it comes to Instagram hype.
There's no doubt that the Ultrafragola mirror is a stunning statement that combines art and beauty. Despite the hefty price tag, we don't think the hype surrounding it will fade any time soon.