The Surprising Movie Musical That Gave Hallmark Star Maxwell Caulfield His Start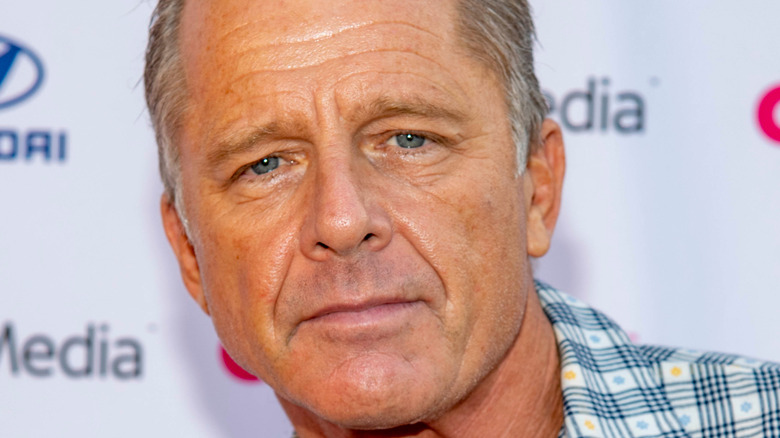 Eugene Powers/Shutterstock
Maxwell Caulfield has been acting for more than 40 years, appearing on both the small and big screen as well as the stage. The British-born actor is probably best known for his role as Miles Colby in the primetime soap "Dynasty" and its spin off "The Colbys," per IMDb. He also played fictional 1980s pop icon Rex Manning in the film "Empire Records." While the movie didn't do well at the box office, it has developed a cult following through the years, with fans celebrating April 8 as "Rex Manning Day."
"It initially eluded me because the film had been such a box office disappointment, so I didn't give it the credence that it has developed over the years. It just won't go away. It's one of those showbiz oddities," Caulfield told The Hollywood Reporter. He added, "The movie holds up. It was a lovely experience. I just wish the studio had backed the film more at the time."
Caulfield sang Manning's hit song, "Say No More Mon Amour" in the film, which surprisingly didn't make it onto the "Empire Records" soundtrack, per ABC News. But those familiar with Caulfield's prior work shouldn't have been surprised to see him belting out a tune — he got his big screen start in a movie musical years before.
Maxwell Caulfield made his film debut in Grease 2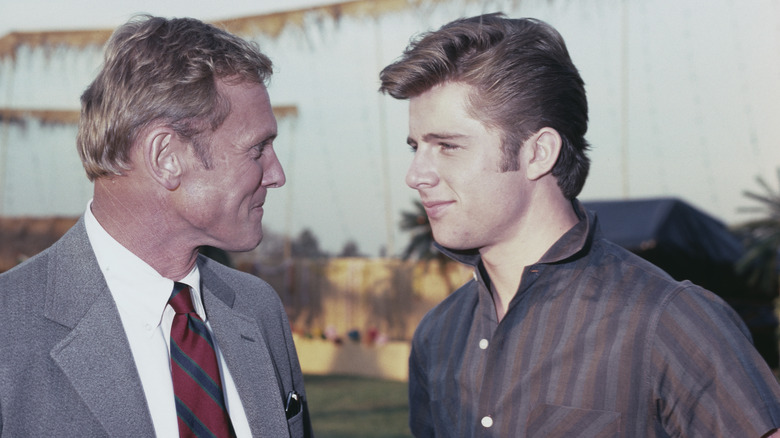 Michael Ochs Archives/Getty Images
Maxwell Caulfield made his film debut in the 1982 film "Grease 2," a sequel of sorts to the original "Grease" starring John Travolta and Olivia Newton-John. Caulfield played Michael Carrington, who comes to the U.S. from Great Britain to attend Rydell High School. There, he falls for fellow student and head of the Pink Ladies, Stephanie Zinone, played by Michelle Pfeiffer. In order to win her heart, Michael tries to become a T-Bird while also professing his love through song. 
The movie bombed at the box office, but like "Empire Records," has found a following due to its catchy tunes and dance numbers. In fact, 40 years later, people are still enjoying "Grease 2" thanks to cable reruns and streaming services. "I only recently began to realize how beloved the movie is with a particular generation and possibly with subsequent generations who continue to discover it," Caulfield told Forbes. 
And while its continued popularity feels "a little odd" to Caulfield, he gets the film's staying power. "When you go and watch iconic acts from previous decades, the audience wants to hear them sing that song they love that the band's been singing for 40 years," he explained. "'Grease 2' is one of our songs, so I'm sort of duty-bound to be only enthusiastic about it, particularly if it's been validated by people who now realize the film was half decent."
The actor is up for a return to Grease 2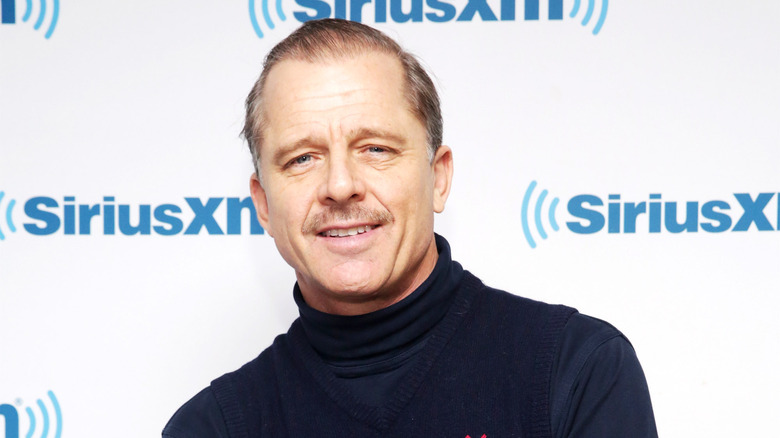 Mireya Acierto/Getty Images
While Michelle Pfeiffer hated filming "Grease 2," Maxwell Caulfield is open to making an appearance in a London stage production of the film. "Maybe they'll bring me back to play the Tab Hunter role. I don't know. Perhaps I'm too old for even that one?" he told Forbes. "I'd be down for it if it didn't detract from the show. My coming on stage suddenly would be a bit of a gimmick, and as long as it didn't suddenly pull the audience off of the production and the narrative, it could be great."
In the meantime, Caulfield has joined the Hallmark Channel family, playing Charles Willoughby in "Butlers in Love." While he doesn't know much about being a butler, Caulfield was familiar with Hallmark's work because of the women in his life. "I know the channel is wildly popular, particularly as a lot of my wife's friends and their daughters watch it," he explained to Media Village. "They get a lot of pleasure from the stories, particularly over the last couple of years when everyone's felt so stressed, and the world's been stood on its head. It was nice to go back to some heartwarming romance."