Emmy Raver-Lampman On The 'Unique' Experience Of Starring In Hamilton On Broadway - Exclusive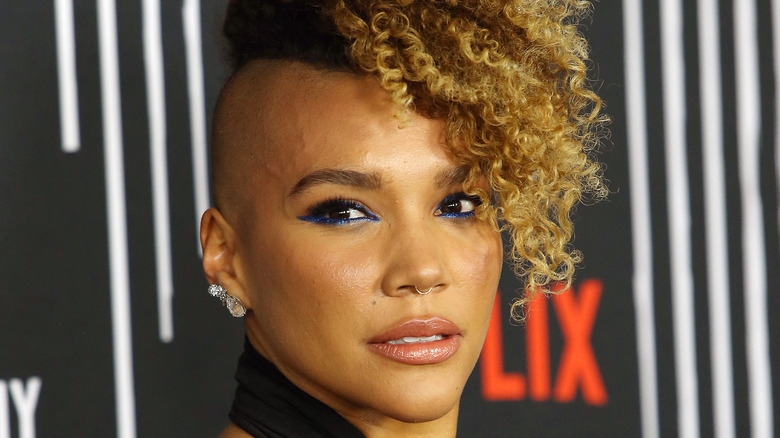 Joe Seer/Shutterstock
From appearing in Channing Tatum's directorial debut "Dog" to playing Allison on "The Umbrella Academy" to voicing Molly on "Central Park," Emmy Raver-Lampman has had a busy few years. Now, she's starring in the supernatural comedy "Gatlopp," which is available to watch on digital and demand. 
"Gatlopp" focuses on four old friends who decide to play a strange drinking game, which ends up being more "The Conjuring" than "Jumanji." With their lives on the line, the group is forced to work together to win before sunrise — unless they want to spend eternity playing board games in hell, that is. Undoubtedly, the fun indie film is further evidence that Raver-Lampman is a burgeoning talent with a huge career ahead of her.
Aside from her movie and TV roles, Raver-Lampman is also a stage performer who starred in "Hamilton" during its original Broadway run and subsequent national tour. "Everything about 'Hamilton' was unexpected," she told The List. "All of it. I almost didn't audition for it. No one saw it coming; no one saw what ended up being 'Hamilton.'"
The List talked to Emmy Raver-Lampman about her experience performing in the original Broadway production of "Hamilton" and taking the iconic musical on tour around the country. Unsurprisingly, starring in the show in its infancy was pretty incredible.
Emmy Raver-Lampman remembers the 'really unique' experience of starring in Hamilton
There's perhaps no better show to be a part of than "Hamilton." As part of the original ensemble cast, and later playing Angelica Schuyler in the national tour (via Los Angeles Times), Emmy Raver-Lampman's experience was pretty jaw-dropping. 
"It was getting to meet the Obamas on multiple occasions, that we were on a first name basis with the Obamas," she told The List. "That was insane, getting to go to the White House and perform for them. So many unbelievable people came through that theater, and when I was on tour, we got to sing the National Anthem for Game 7 of the Warriors finals in 2017 and they won that night and it was insane." 
Above all, though, Raver-Lampman remembers the people she worked with on "Hamilton," which is where she met her partner, Daveed Diggs. "[There are many] unbelievable people that I've met, but honestly, at the end of the day, the thing that I remember the most are the relationships that it brought into my life." She continued, "Some of my best friends came from working on that show and being in that building with those people and going through it."
As fans of the musical will be all too aware, there's only one "Hamilton." "We all, as a cast, experienced this really unique thing that will never happen again in our lifetime, I don't think," Raver-Lampman explained. "It was the people that it brought into my life. I'm forever grateful for that experience."

"Gatlopp" is available to watch on demand and on digital from June 23, 2022.