How To Know If You Should Leave The Friend Zone And Date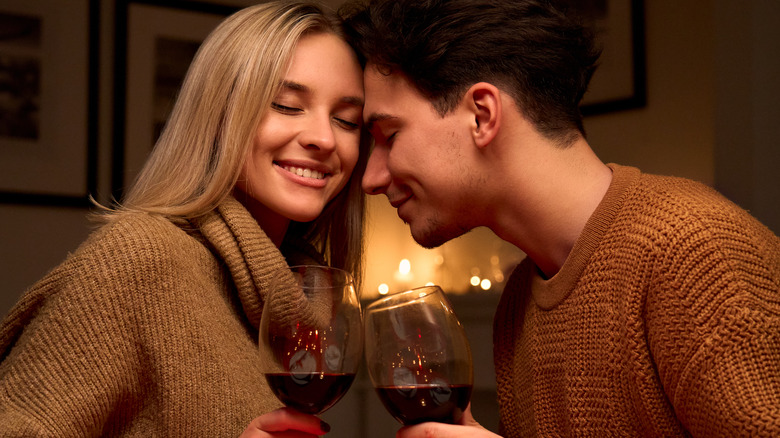 insta_photos/Shutterstock
Even though technology has made it much easier for people to find love while sitting at home thanks to online dating platforms, it could still be a daunting task. According to the BBC, many women reported facing a "disproportionate amount of harassment and online abuse" on dating apps and websites, while six out of 10 men, according to a Pew Research Survey, revealed that they failed to grab the attention of women on dating apps and ended up receiving fewer messages on the platforms as compared to their female counterparts.
Owing to such patterns, many people decide to bid farewell to online dating altogether because they find the process frustrating and time-consuming. As a result, they search for dates the old-fashioned way as opposed to looking for someone online. But even then, a Pew Social Trends study found that in 2020, 67% of singles looking for a relationship or dating reported that their love lives were either "going not too well or not at all well."
Considering the hardships associated with finding a romantic partner, many people end up dating their friends. Researchers at the University of Victoria in Canada, based on seven separate studies, revealed that 68% of romantic relationships start from friendship, per Psychology Today. So, when should you know to take the leap to more than friends?
Why should you be dating a friend?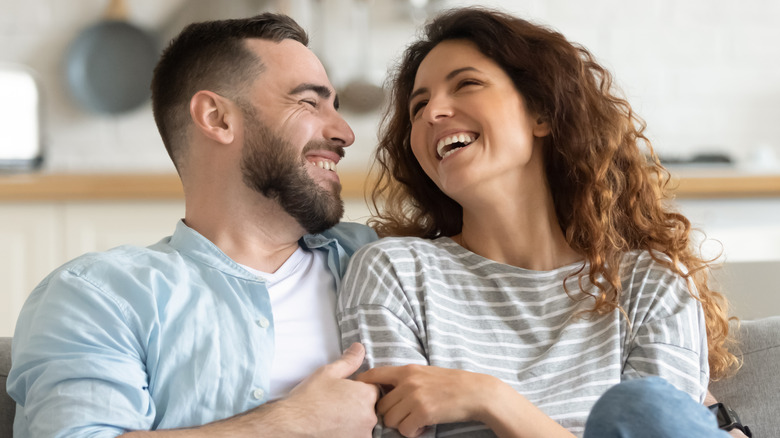 fizkes/Shutterstock
As explained by Better Help, there are several advantages of dating a friend. Firstly, you already know the person, so you wouldn't have to make the effort to find out things about them from scratch. Secondly, your friends and family are also familiar with your potential partner, so the chances of them approving your new relationship and accepting this person as part of your romantic life are higher as compared to a complete stranger.
Thirdly, and very importantly, it's highly likely that you and your friend already know about the negative aspects of each other's personalities, yet you accept each other as friends. According to Bustle, it's a great feeling, therefore the chances of your relationship becoming successful are also high.
Shedding light on the topic, Georgia-based licensed marriage and family therapist Shontel Cargill told Very Well Mind, "Friendships create an opportunity for both individuals to be open, honest, and truly get to know each other, without judgment or pressure of being 'the perfect significant other.' When two friends discover they desire to take the next step, they know who they are taking that risk with, which is someone they love, trust, and truly understands who they are."
Exiting the friend zone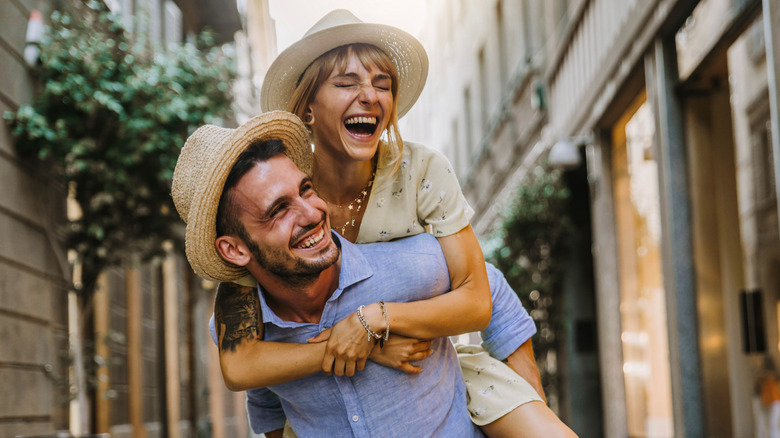 DavideAngelini/Shutterstock
While the advantages of dating a friend outweigh its disadvantages, the process is not so straightforward. Integrative sexologist Dr. Valeria Chuba told The Zoe Report that before expressing your feelings, it's always a good idea to be prepared for all sorts of outcomes, and carry out a "cost/benefit analysis" of the relationship before making a move.
Once you're certain about your feelings, make sure that your friend is equally attracted to you and is not seeing anyone else. Brides suggests you should also ensure that you two are looking for a similar type of relationship. Next, since humans are not so good at hiding their feelings, the outlet suggests you should look for signs of flirting. If you receive a green signal, it's safe to proceed and make a confession.
Once both of you find yourselves on the same page, try to be direct and honest about your intentions because, as former relationship trends expert at Tinder Dr. Darcy Sterling says (via Brides), "Transitioning from a best friendship to a romantic relationship is a minefield."
Lastly, if your friend decides not to reciprocate your feelings, you should respect their choice so as not to damage your friendship. According to dating coach Julie Spira, let your friend know that you'd like to remain on good terms. "And then, be a good friend. Do not press the issue. One declaration and a clear conclusion should be the last time you discuss it," she told The Washington Post.