Twitter Puts Kamala Harris On Blast After She Posts About The Roe V. Wade Protests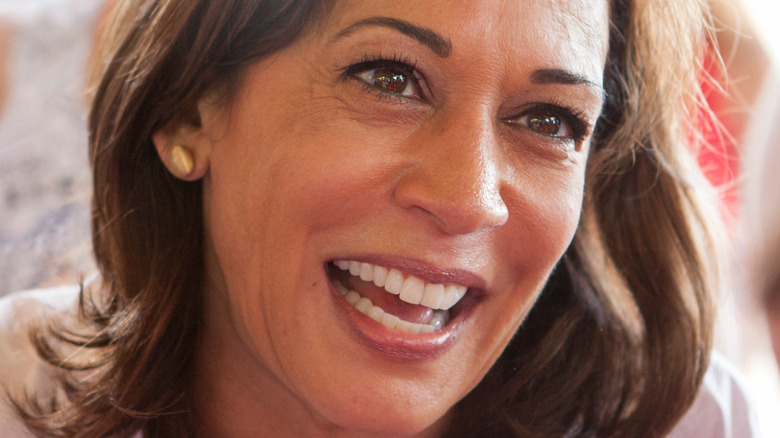 Michael F. Hiatt/Shutterstock
On June 24, the Supreme Court ruled to overturn the monumental Roe v. Wade ruling, which has kept abortion legal across the country since 1973. For many, this ruling was not shocking, as leaked documents revealed in May that the court had drafted documents on the subject.
Overturning Roe v. Wade meant that almost immediately, abortion became illegal in states across the country given the presence of already-existing trigger laws. Many American citizens are concerned that this could lead to more monumental Supreme Court decisions being overturned, including rulings in cases Griswold, Lawrence, and Obergefell, which granted the right to contraceptives, same-sex relationships, and same-sex marriages respectively. Categorizing the "substantive due process decision" as "demonstrably erroneous," Justice Clarence Thomas noted in the Dobbs v. Jackson Women's Health Organization roll back opinion that the court should revisit these landmark cases and "correct the error established in those precedents."
As a result of this ruling, many Americans are now more open to voting for progressive candidates that are willing to help preserve cases that are important to them, with 60% of voters surveyed in a NPR/PBS NewsHour/Marist poll more inspired to vote in the November midterm elections.
Emotions are high following the court's decision, with some voters taking to Twitter to call out politicians like Kamala Harris for not doing more to help the cause they are passionate about.
Harris' latest tweet faced backlash from the public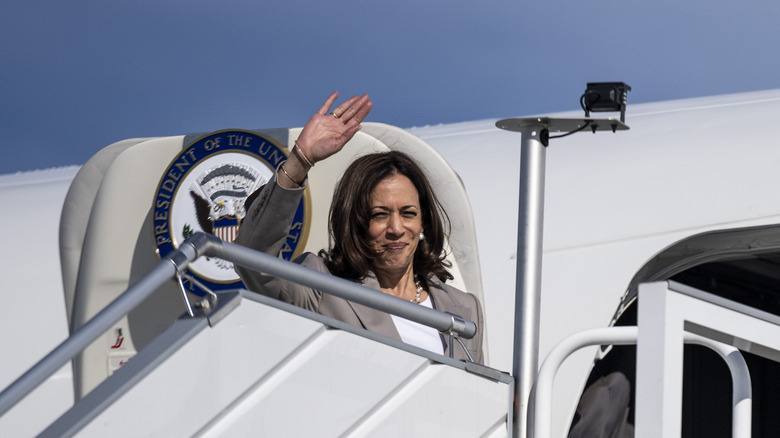 Bloomberg/Getty Images
Vice President Kamala Harris — who made an impassioned speech about the importance of reproductive health care following the Supreme Court decision draft leak in May — took to Twitter to post her support for protestors pushing back against the Roe v. Wade roll back. Despite her support, some found her message to be insincere (via the New York Post).
Harris' June 24 tweet read, "I know there are women out there who are afraid. To those of you who feel alone and scared: I want you to know the president and I are fighting for you and your rights. We are in this fight together," with a photo of her watching protest coverage from her private plane. Almost immediately, she received a slew of tweets that let the vice president know how they felt about the post.
One user replied to Harris, stating, "I love to fight for human rights by watching the news on a private plane." Another chimed in, "Less tweets more action please." Yet another wrote, "Your voters all deserve more specificity today. We need that more than we need visual & verbal depictions of your sympathy."
It is clear that some of the public took issue with the vice president's tweet and found it to be unproductive. Many are hoping that Harris will do more to help the fight than tweeting about it, with one Twitter user emphatically writing, "This is an emergency."