Viral Video Shows Nancy Pelosi's Odd Encounter With Congresswoman's Daughter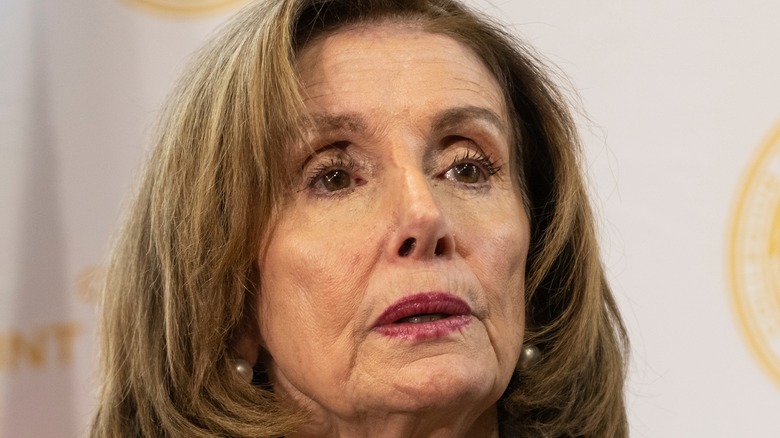 lev radin/Shutterstock
Republican Mayra Flores won the special election to become the representative for Texas' 34th Congressional District, and when she was sworn in, she became the first Mexican-born woman in the House of Representatives, per CNN. She will serve through at least January 2023 — the seat will be voted on again in the 2022 midterms. After she was sworn in, Flores tweeted "My very first day in office and it's a memorable one for sure. This is what dreams are made of; faith, family, and hard work." Within a week of holding office, Flores has found herself in national headlines. Not as the first Mexican-born woman to hold the office but because of what happened after she was sworn in.
The Speaker of the House swears in members of the House of Representatives, and the oath is often followed by a photo op. That's what happened for Flores, who was accompanied to the Capitol by her husband, who's a border patrol agent, and their four kids, per San Antonio Express News. At the ceremony, Nancy Pelosi said she was "grateful for [Flores'] leadership and her beautiful family who is here today," per Fox News. But it doesn't seem like Flores felt all that welcomed by Pelosi.
Mayra Flores feels Nancy Pelosi pushed her daughter aside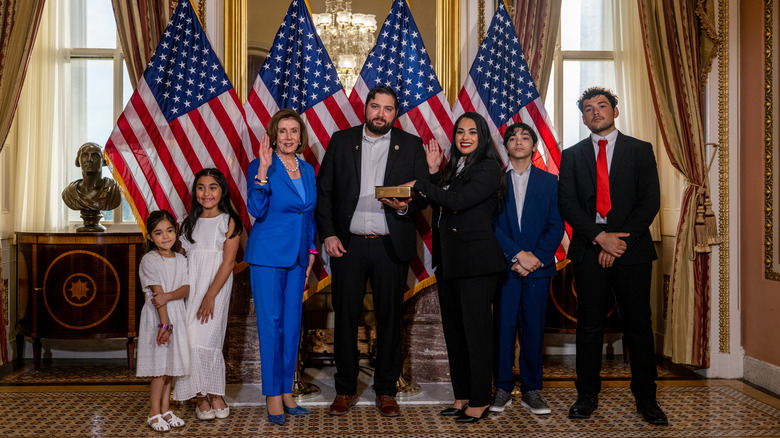 Brandon Bell/Getty Images
Congresswoman Mayra Flores tweeted a video of Nancy Pelosi that she felt showed Pelosi pushing her daughter aside at a photo shoot after she was sworn in, and Flores wrote "I am so proud of my strong, beautiful daughter for not allowing this to faze her. She continued to smile and pose for the picture like a Queen. No child should be pushed to the side for a photo op. PERIOD!!" The video has so far been viewed nearly 3 million times.
Some were equally as impressed with Flores's daughter's response — one person tweeted "She's amazing, unmoved by the demon pushing her, hand on her hip, 'Not today Satan.'" Another thinks it was definitely intentional on Pelosi's part.
Others aren't as convinced of the severity of what happened. One tweeted "You just want to make an issue out of absolutely nothing." Another said, "You can't be serious. I just watched the video and she nudged her. Big whoop".