Queen Elizabeth's Ensemble For Her Latest Public Appearance Has A Special Meaning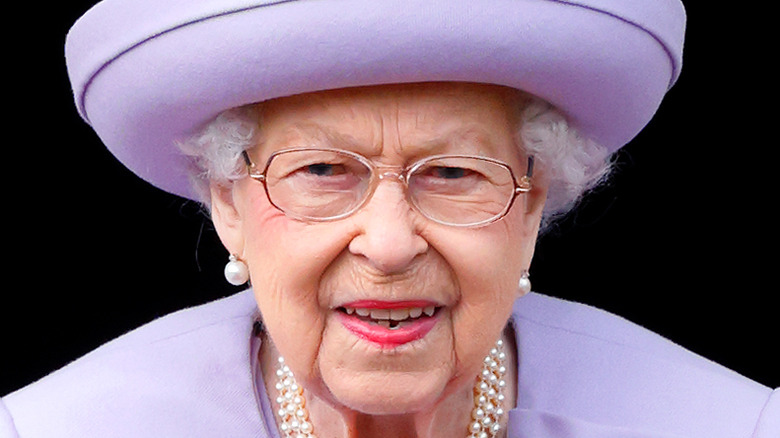 Max Mumby/indigo/Getty Images
It sure is nice to see Queen Elizabeth II up and about!
In recent months, the aging monarch has had to make the hard decision to step away from several royal duties due to her ongoing mobility challenges (via Newsweek). Then, just this week a new photo of the Queen had people buzzing, as it seems as though she has declined quite dramatically over the past year as compared to how she looked in a very similar image from June of 2021.
In both pictures, the 96-year-old wears a yellow floral dress and pearls. But in the more recent photo, Queen Elizabeth looks noticeably more hunched over and frail to a frightening degree, so much so that at least one royal expert said Her Majesty is fading away.
Happily, a day after the side-by-side photos of the Queen made international headlines, we see that she is well enough to have traveled to Scotland to continue celebrating her Platinum Jubilee.
Queen Elizabeth prefers to travel by Royal Train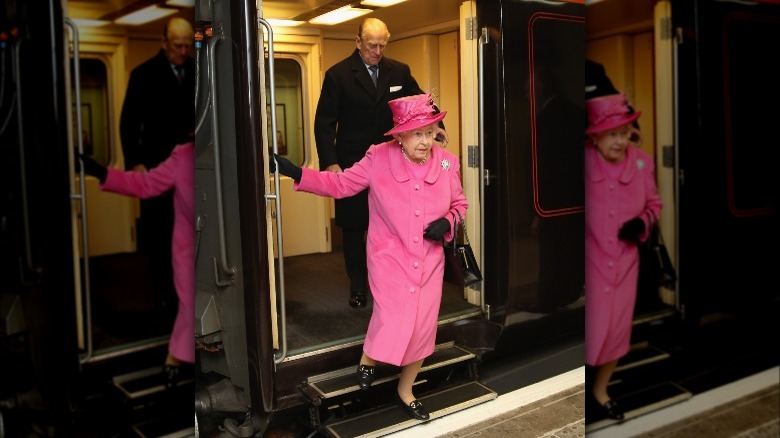 Christopher Furlong/Getty Images
According to People, Queen Elizabeth traveled via Royal Train to Scotland this weekend. As Condé Nast Traveler notes, she has been using this mode of transport for 70 years and prefers the efficiency and security of the bright burgundy-painted train reserved only for senior royals. Inside, the British ruler enjoys the convenience of a private carriage with her own bedroom, bathroom and sitting room.
On this occasion, the monarch traveled from Windsor to Edinburgh, where she enjoyed the Armed Forces Act of Loyalty Parade. Always one to dress to impress, Queen Elizabeth donned a silk wool dress, along with a coat and a hat, which People reports was created by the Queen's personal dresser Angela Kelly.
Meanwhile, the 96-year-old was sure to pay homage to Scotland by choosing a special color for the visit. The hue we speak of is heather, a beautiful, soft purple that reflects the importance of a flower long-associated with the region's rolling hills (via Travelness).
Queen Elizabeth pays homage to Scotland's most famous flower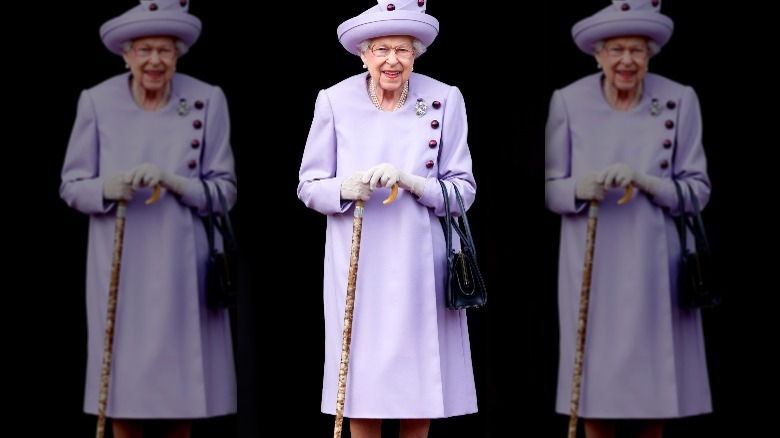 Max Mumby/indigo
As Travelness notes, Scottish heather is everywhere in the country, and as such, this was the most appropriate color Queen Elizabeth could have chosen for her engagements this week.
Of course, Scotland is also known for its tartan pattern, which the monarch has also worn on many occasions (via Romper). It remains to be seen if she will don plaid in the coming days. As BBC reports, the Queen will be staying at her royal residence in Scotland until July 1st.
Although royal fans are sure to be thrilled that she was well enough to make the trip, the Queen is not expected to attend all of the planned events for the Scottish celebration of her Platinum Jubilee, with her son and the heir apparent to the throne Prince Charles stepping in on her behalf at the upcoming Holyroodhouse garden party.